HO CHI MINH CITY – The porridge attracts customers by the sweetness of fresh snakehead fish meat, the coolness of the gourd fibers served with bitter vegetables, bean sprouts, sliced ​​ginger, and dipped in soy sauce.
Located in a small alley on Tran Binh Trong Street, District 5, Huyen's snakehead fish porridge with bitter gourd is always crowded.
Huyen said that 5 years ago, she had the opportunity to enjoy snakehead fish porridge cooked with gourd with bitter vegetables during a visit to Cu Chi. After 2-3 times being treated to this dish by friends, she remained forever the same unique taste as the first time and decided to open a small restaurant to share delicious dishes with diners.
Ms. Huyen is scooping each bowl of porridge to serve diners at noon. Photo: Ha Lam
According to Ms. Huyen, in order to have snakehead fish cooked with fragrant and round bitter gourd, the step of choosing fresh and delicious ingredients is the decisive factor. In particular, snakehead fish needs to be preliminarily processed by using lemon, salt and wine to soak, then rinse the fish to dry, put it in the refrigerator to firm up the meat. Thanks to this method, the fish meat here is praised by many diners for its fragrant, chewy and non-fishy taste.
Huyen's porridge is cooked from upland rice grains – a specialty of Phan Thiet (Binh Thuan) – called Mong Chiem, only for two crops a year. The characteristics of this rice grain are slightly milky white, elongated. The rice is washed, then roasted until the porridge becomes soft when it blooms.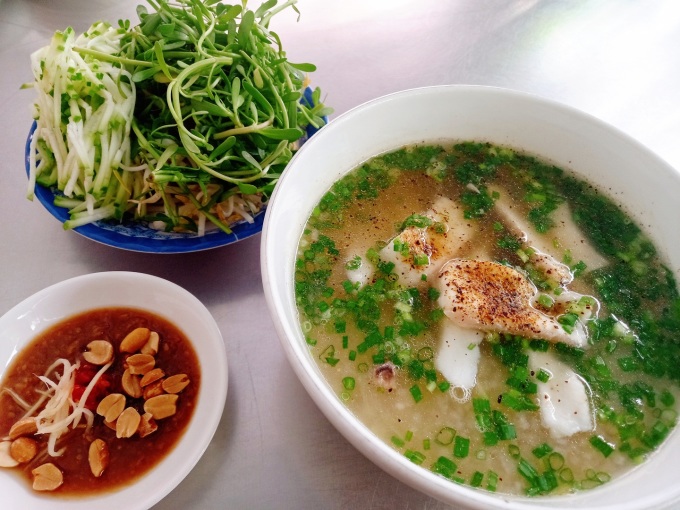 A bowl of sweet snakehead fish porridge served with a plate of bitter vegetables, price… Photo: Ha Lam
An important component of the fish porridge at Ms. Huyen's shop is how to choose the gourd so that the fruit is still fresh to ensure the sweetness. The gourd must be firm when held, still hard, not soft, elongated, not too big nor too small, the skin is still green, not yellow… In addition, the gourd stalk is still green, on the skin and stalk latex remains, freshly picked to ensure freshness. In addition to the sweetness from fish, gourd… in Huyen's porridge pot, there is also a special sweetness from stewed chicken bones.
When the customer ordered the dish, Huyen started to fillet the fish and then cooked it. After that, put the sliced ​​gourd in a bowl, then scoop up the porridge and put thin slices of snakehead fish on top, add a little pepper and green onion for fragrance.
A portion of porridge comes with a plate of bitter vegetables and raw bean sprouts (can be ordered with sliced ​​gourds) dipped with spices such as soy sauce, roasted peanuts, lemon, minced chili, sliced ​​fresh ginger, and clear fish sauce. Diners make their own dipping sauce according to their taste).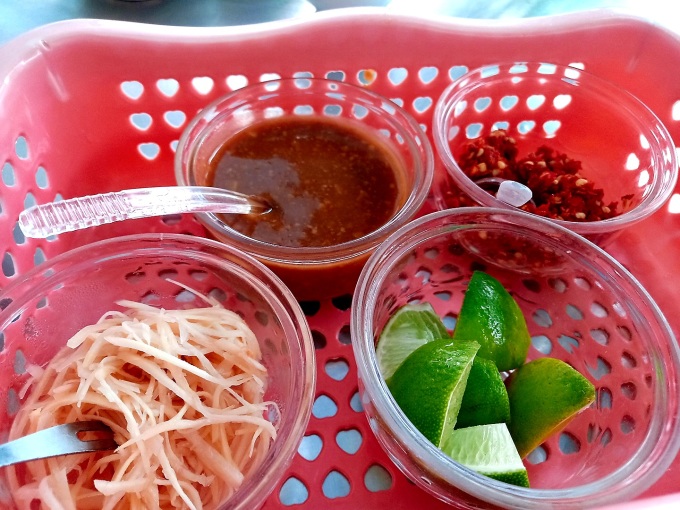 Diners make their own fish sauce from spices such as bean paste, chili, lemon, sliced ​​ginger. Photo: Ha Lam
As a regular customer who enjoys fish porridge of Ms. Huyen, Tuong Vi, Ho Chi Minh City, said that because she is from the South, she is especially fond of porridge. Although I have enjoyed many porridge dishes such as heart porridge, chicken porridge … but especially impressed with snakehead fish porridge cooked with gourd.
"The dish is attractive thanks to the sweet taste of fish and gourd served with bitter vegetables dipped with sweet soy sauce, enjoying in the Saigon weather in the old days is nothing like it," Tuong Vi shared.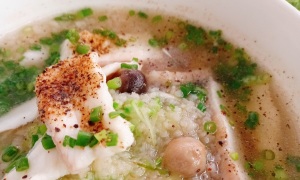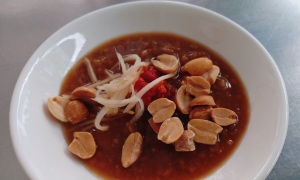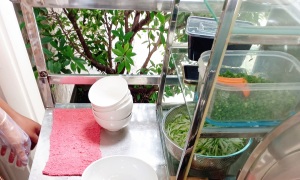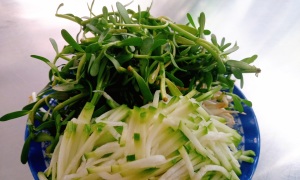 If you ever try the snakehead fish porridge cooked with bitter gourd at Ms. Huyen's restaurant, you will never forget the delicious taste that skillfully combines between snakehead fish and gourd, bitter vegetables… In addition to snakehead fish fillet porridge, diners come here. The shop can order more basa stomach, Bac Thao eggs or fish head to serve. A bowl of porridge here costs from 30,000 to 50,000 VND. In particular, the restaurant also serves diners fish hot pot and fish head hot pot, with prices from 45,000 VND to 55,000 VND per person. The shop is only open for sale from 11:30 to 18:00 from Monday to Saturday every week.
You might be interested in