The company surpassed the evaluation of the exclusive Total Engagement Assessment Model (TEAM) from the HR Asia organization by prioritizing the human element and focusing on diversity, equity, and inclusion within the work environment. Based on valid information gained through an in-depth analysis, unique 360-degree insights into employees' engagement, motivation, expectations as well as comparative data against industry and market averages, DKSH Vietnam has maintained its top position for another year.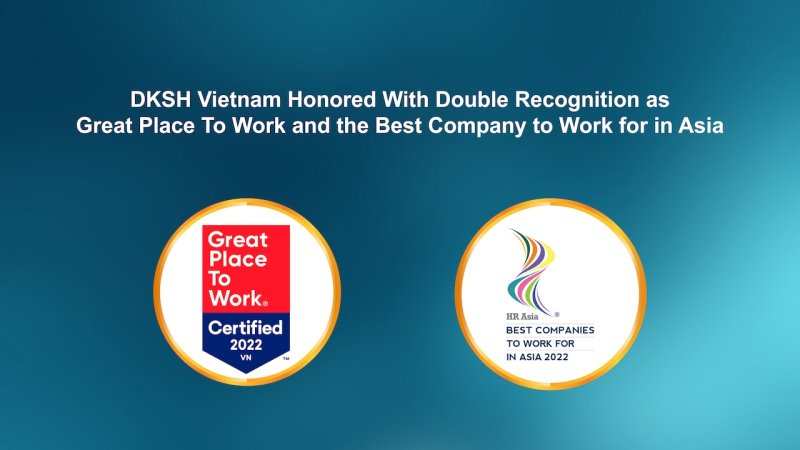 In addition, DKSH Vietnam has also been certified as a Great Place to Work, based entirely on the employees' voice through the Trust Index© survey, a research-backed employee survey proven to help companies quantify their organizational culture, measure employee engagement, and drive meaningful impact with business and people.
These recognitions demonstrate DKSH's commitment to its values and culture that the company has consistently built for over 30 years in Vietnam. To adapt with changes and new demand in the workforce, DKSH has been implementing various people-related initiatives that promote the health and well-being of the employees, such as flexible working hour arrangements, work from home policy or mental and physical health supports.
Pham Thi Thuy Van, Country HR Director, DKSH Vietnam, said: "As a people-centric company, we focus on building a strong culture of trust and empowerment at the workplace. Creating an ideal workplace for employees is line with our core values and culture. These recognitions reinforce the sense of belonging to DKSH among our employees, while also attracting and retaining top talent for ourcompany. As we pursue our purpose of enriching people's lives and accelerate DKSH's PeopleDNA together, we strive to remain one of the best places to work for in Vietnam, Asia, and beyond."
PV
You might be interested in