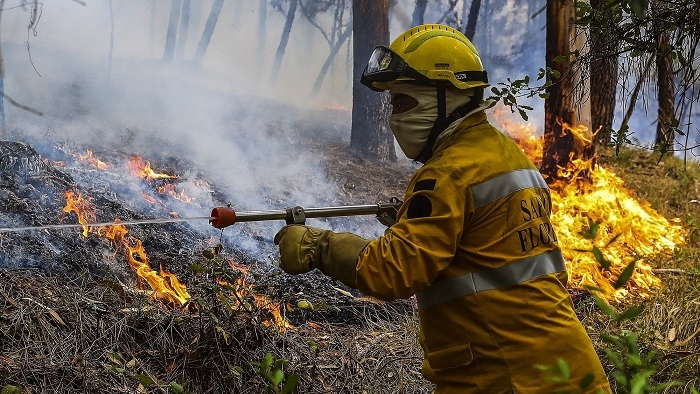 Portugal will remain in its "alert situation" until Thursday as the risk of wildfires continues amid the heatwave and drought that have been plaguing the country since early July, Minister of Internal Administration Jose Luis Carneiro said Tuesday.   
Sri Lanka's acting president, Ranil Wickremesinghe, won a vote in parliament on Wednesday to be the next president until 2024, taking over from former president Gotabaya Rajapaksa who resigned after fleeing the country last week.
* Mario Draghi said on Wednesday he was prepared to stay on as Italian prime minister if the parties in his broad coalition threw their weight back behind him.
* Iranian President Ebrahim Raisi and his Russian counterpart Vladimir Putin held talks in Tehran on Tuesday, agreeing to further strengthen bilateral relations and expand cooperation to ensure security in the region.
* Visiting Palestinian President Mahmoud Abbas on Tuesday called on Israel to cease "unilateral action that undermines the two-state solution."
* China is expected to see stable grain production this year, despite challenges including rare autumn floods last year, sporadic resurgences of COVID-19 cases and drastic fluctuations in the global farm produce market, an agricultural official said Wednesday.
* Indonesia's investment realization rose 35.5 percent year on year in the second quarter of this year, amid global economic uncertainties over the conflict in Ukraine and recovery from the COVID-19 pandemic, a senior government official said Wednesday.
* Russian gas flows via the Nord Stream 1 pipeline are likely to restart on time on Thursday after the completion of scheduled maintenance but at lower than its full capacity, two Russian sources familiar with the export plans told Reuters.
* The European Commission on Wednesday proposed a voluntary target for EU countries to cut their gas use 15% until March, which could be made legally binding if Russia cuts off gas supplies to Europe.
* The Ukrainian government will negotiate with its foreign creditors to postpone Ukraine's Eurobond repayments by 24 months, the Interfax-Ukraine news agency reported on Wednesday, citing a cabinet decree.
* The International Monetary Fund hopes to complete rescue talks with Sri Lanka "as quickly as possible," Nikkei Asia reported on Wednesday, quoting IMF Managing Director Kristalina Georgieva.
* Syria on Wednesday severed diplomatic ties with Ukraine in response to a similar move by Kiev last month.
* The New Zealand government said on Wednesday that it had created a new investor migrant visa to attract experienced, high-value investors to invest in domestic businesses.
* Asian shares extended a global rally on Wednesday as strong US corporate earnings and the expected resumption of Russian gas supply to Europe helped lift sentiment and ease fears of a recession, while the dollar was mired near two-week lows.
* After skyrocketing growth in the immediate past 2021-22 fiscal year (July 2021-June 2022), the Bangladesh government has raised its export target by over 11 percent to 67 billion USD for the current fiscal 2022-23 year.
* British consumer price inflation hit an annual rate of 9.4% in June compared with 9.1% in May, data showed on Wednesday.
* Egypt launched Tuesday a public bicycle sharing project to promote eco-friendly means of transport in downtown Cairo, the capital of Egypt, the Cairo Governorate announced in a statement.
* Fire brigades in Tuscany battled a wildfire on Wednesday that forced hundreds to evacuate and caused gas tanks to explode, as smoke from a blaze in northeast Italy forced shipbuilder Fincantieri FCT.MI to shut down a 3,000-staff plant.
* France must invest more money to fight wildfires, Agriculture Minister Marc Fesneau said on Wednesday, as President Emmanuel Macron prepared to visit the Gironde region which has been hit by devastating blazes.
* Temperatures in western and southwestern Germany are expected to reach 40 degrees Celsius on Tuesday, breaking this year's heat record, the country's National Meteorological Service (DWD) has said.
* A wildfire fuelled by gale-force winds raged in the mountainous region of Penteli near Athens on Wednesday morning, burning homes and prompting authorities to order the evacuation of at least nine areas and a hospital.
* UN Emergency Relief Coordinator Martin Griffiths on Tuesday approved 15 million USD to help 200,000 food insecure people in the Central African Republic, a UN spokesman said.
* China reported 1,012 new coronavirus cases for July 19, of which 150 were symptomatic and 862 were asymptomatic, the National Health Commission said on Wednesday.
* Australians admitted to hospitals from COVID-19 neared record levels on Wednesday as authorities urged businesses to let staff work from home and recommended people wear masks indoors and get booster shots urgently amid a major coronavirus outbreak.
* European nations must accelerate vaccine uptake and bring back mask wearing to tackle a surge in COVID-19 cases driven by an Omicron offshoot and avoid stricter measures later in the year, a senior World Health Organization official said on Tuesday.
* The Fijian government has stepped up efforts to accelerate economy despite challenges posed by the COVID-19 pandemic, said Fiji's Prime Minister Voreqe Bainimarama on Wednesday.
* The US Centers for Disease Control and Prevention (CDC) on Tuesday recommended use of Novavax Inc's NVAX.O COVID-19 vaccine for individuals aged 18 and above.
Xinhua/Reuters/VNA
You might be interested in