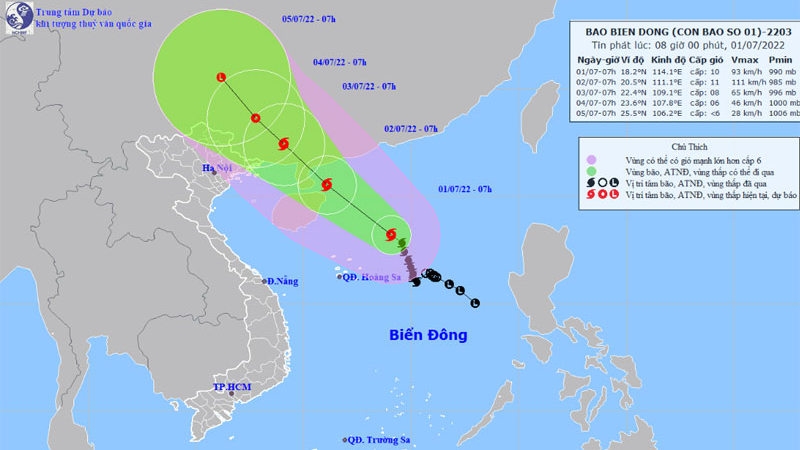 The projected path of Chaba (Photo: NCHMF)   
NDO - Tropical storm Chaba, the first storm to affect Vietnam this year, is gathering strength, with wind speeds near its centre reaching 89-102 kilometres per hour.
According to the national weather service, the system was located at 400 kilometres east-southeast of China's Hainan Island at 7am on July 1.
Chaba is forecast to travel in a northwest direction for the next 24 hours at a speed of 15 kilometres per hour and is likely to strengthen further, packing winds of 103-117 kilometres per hour.
At 7am on July 2, the tropical storm will be located about 370 kilometres east-southeast of Quang Ninh Province, before continuing northwest and to make landfall in the southeast of China's Guangxi Province the following day.
Strong winds and high waves are expected in the northern waters of the East Sea/South China Sea, including the Hoang Sa (Paracel) Islands, while coastal provinces from
Quang Ninh to Ninh Binh face the risk of storm surges inundating low-lying areas.
Chaba is also forecast to bring heavy rains to Vietnam's northern region from July 2-7, raising the risks of flash floods and landslides in mountainous provinces.
You might be interested in