Electronics, textiles
Hai Duong currently has more than 130 large projects producing supporting industry products, with those in the field of electronics accounting for over 30 percent.
The province has established 14 industrial parks covering ​​​​nearly 3,000 hectares, with nearly 500 foreign investment projects totaling US$9.1 billion from 26 countries and territories, mainly in manufacturing high-tech and electrical products, electronic components, automobiles, cement, iron and steel, textiles, mechanical and precision mechanical equipment. These manufacturers offer a huge and diverse downstream market for supporting industry products.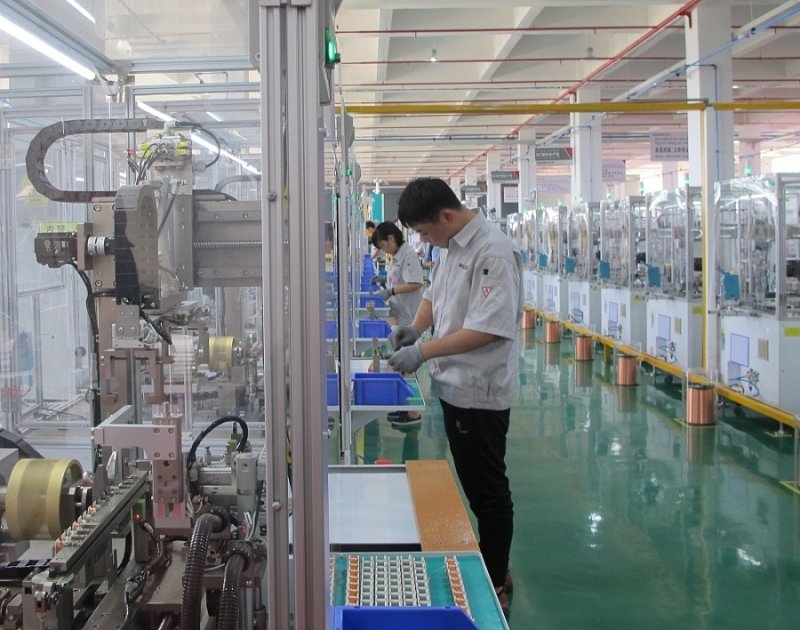 Many transnational corporations operate in Hai Duong Province
A senior official of Hai Duong's Department of Industry and Trade said that the province's supporting industry has made some progress in terms of both quality and quantity, particularly in mechanical engineering, electricity-electronics, and textile-footwear.
The growth rate of industrial production value of these three supporting industries exceeded 15.4 percent per year and the proportion of their production value accounts for nearly 60 percent of the province's industrial production value. Not only supplying components and spare parts for domestic enterprises, local supporting industry enterprises have also begun participating in global supply chains, forming a link in the production of multinational corporations.
Provincial leaders have set a goal of raising the production value of supporting industries to VND132.317 trillion by 2030, with average growth of 12.9 percent annually in the 2021-2030 period. By 2025 and 2030, the industrial production value from high, advanced and clean technology and support industries will account for about 35 percent and 45 percent of the province's industrial production value, respectively.
Master plan design
To achieve the above goal, Hai Duong's agencies are creating a foundation for supporting industry development by building transport and industrial park infrastructure, completing mechanisms and policies, improving the investment environment, and gradually attracting investment in the field.
To attract investment in supporting industry, the Hai Duong Province People's Committee has designed a master plan, which will form a system of local enterprises capable of supplying products for assembly enterprises, especially for the large foreign-invested enterprises of the northern key economic region.
The authority has also adopted encouraging policies to promote the transfer of electrical and electronic components production from foreign-invested enterprises to domestic ones. In one such move considered a breakthrough for the development process, the Ministry of Industry and Trade coordinated with the Samsung Group to organize consultant training programs to support Vietnamese enterprises.
By 2025 and 2030, Hai Duong Province strives to have hundreds of supporting industry enterprises in the
fields of high-tech, clean technology and assembly, which will yield high economic value.
Nguyen Duyen
You might be interested in