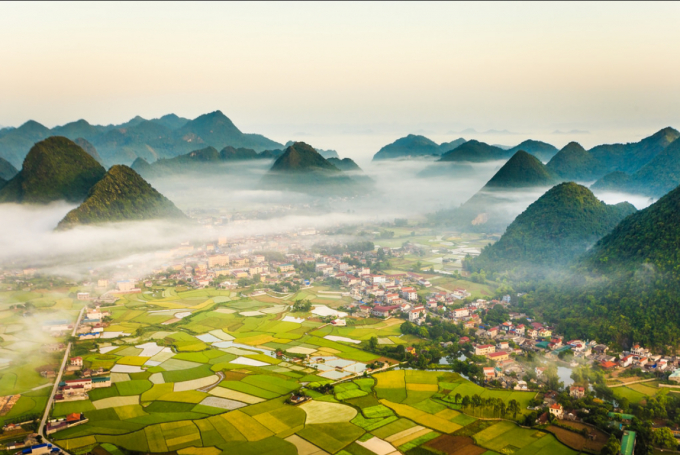 Established in April 2021, "Tourism development in Lang Son towards 2030" has been urgently and effectively implemented by the province with the goal of developing Lang Son tourism into a spearhead economic sector.
Promotion through agricultural products
Since mid-2021, the dissemination of information and investment promotion for tourism development has been carried out following the project's plan. In addition, adjustments are made to ensure the effective, quality and suitable targets for the realistic situation.
The project's activities include organizing cultural and tourism events, fairs, investment promotion workshops; encouraging and honoring titles, brands, and unique provincial tourism products: focusing on developing tourism products that are local agricultural products; honoring valuable agricultural products in the top 100 list of Vietnamese culinary specialties and souvenirs.
In addition, the project implemented the one commune one product (OCOP) program with specific, diverse and quality products to serve the shopping needs of tourists; coordinate in organizing festivals to promote tourism products such as: tangerine, custard apple, anise, roast duck, roast pork, wine, etc.
Due to the temporary control of the Covid-19 pandemic in the first 6 months of 2022, tourism activities in Lang Son province had seen many new changes. The promotion of Lang Son tourism image is increasingly extensive and effective.
2 Famtrip delegations have been organized throughout 2 years to invite experts and local tourism businesses as well as introduce Lang Son provincial community tourism products, organize workshops on community tourism development in Lang Son province and participate in tourism promotion activities outside the province at key international tourism fairs held in Hanoi and Ho Chi Minh City.
More solutions are needed
Some tourism products of the province have asserted their brands, tourist zones and spots have been invested to improve the quality of tourism products; the quality of tourism services is increasingly diversified and raised.
However, Lang Son admits that the province's tourism sector still suffers from many limitations. Accordingly, a group of solutions suggested by the province include: renewing awareness and mindsets; strengthen promotion, publicity, establish a safe and healthy environment for tourism development.
In addition, the province recommends to supplement and refine mechanisms and policies, create a favorable environment for tourism development and develop tourism infrastructure, build tourism products, especially those imbued with the cultural identity of the provincial ethnic groups.
The province has determined to renovate the structure of the tourism sector, strengthen linkages with other localities in the region to develop tourism and human resources, improve the capacity and effectiveness of state management in tourism.
Authors: Tung Dinh - Van Viet
Translated by Nguyen Hai Long
You might be interested in