Binh Dinh people like the simplicity of ingredients and the rich taste of shrimp vermicelli.
Binh Dinh people often choose frugal dishes such as eel porridge, rice vermicelli , shrimp vermicelli for breakfast, in which, shrimp vermicelli is a dish that is loved by many people, from children to adults. In Binh Dinh, the dish is a specialty of Phu My district, now many places in Quy Nhon city also sell this dish.
Usually, food in Quy Nhon is sold from about 6 am. Diners can enjoy a bowl of shrimp vermicelli on Tran An Tu, Hoang Van Thu, Ngo Gia Tu or Chuong Duong streets. If you've ever tried Phu Quoc noodle soup, you should eat shrimp vermicelli, because this is considered the origin of the famous pearl island dish.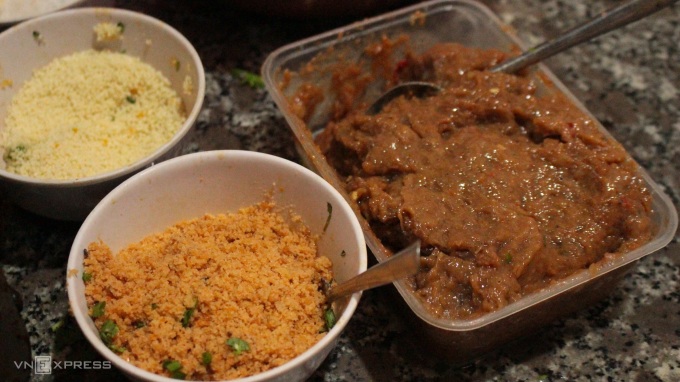 Minced ground shrimp meat next to seasoning spices for vermicelli. Photo: Huynh Nhi
Shrimp vermicelli attracts customers by the freshness of the ingredients, must be the crayfish caught in Tra O lagoon (Chau Truc lagoon) brought home and pounded, seasoned to taste, less salt, less chili. As for vermicelli, which is pressed by machine, customers order a new dish to get rice flour pressed into fibers, cooked in boiling water. This method helps to make the noodles soft and smooth while the boiling water still retains the aroma and sweetness of the rice.
"The vermicelli dish does not use stewed bones, cooked for many hours, like noodle soup, cake soup. Shrimp vermicelli is delicious or not thanks to the freshness of the shrimp and the slightly sweet vermicelli broth, creating a delicious dish, Hot vermicelli helps relieve colds, relaxes alcohol very well or lightens the stomach after parties," said Lam Huu Hoang, 28 years old, the owner of a restaurant that attracts customers with shrimp vermicelli and vermicelli in Quy Nhon City.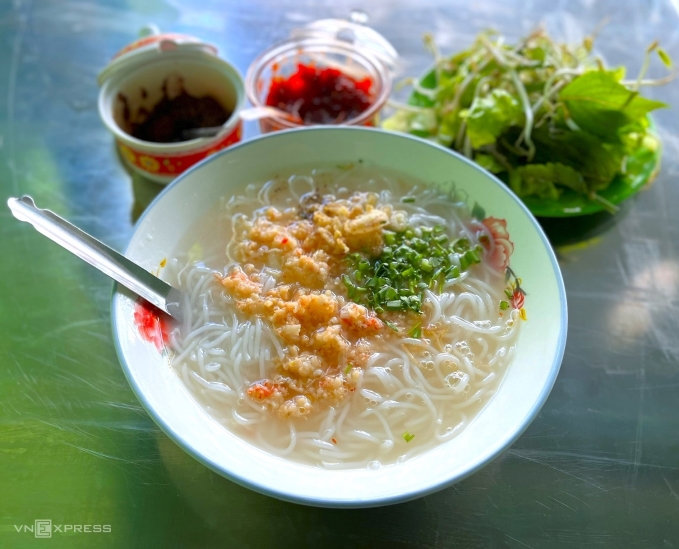 Binh Dinh shrimp vermicelli, a delicious breakfast dish loved by many people. Photo: Huynh Nhi
At first glance, the bowl of shrimp noodles looks "bland" because the ingredients are simple but the flavor is very rich. When a customer orders, the seller takes minced shrimp meat and puts it in a stainless steel bowl, seasoning it with a little fish sauce, salt, chili, seasoning… just to taste, adding hot vermicelli broth and whisking until the shrimp meat is rare. Noodles in and pour into a bowl, sprinkle with chopped cilantro for aroma.
The noodle dish can be served with crispy grilled rice paper and assorted raw vegetables. When enjoying shrimp noodles, diners can feel the sweetness of shrimp meat, the aroma of rice mixed in hot, thick broth. Depending on the taste, the restaurant will guide customers to add salt and chili sauce or stir-fried chili sauce with a sweet, slightly spicy taste to make the dish just right. Shrimp noodles are affordable, only 17,000 to 20,000 VND per bowl. If you like to eat a lot of shrimp meat, you can order a cup of rare shrimp for an additional price of 12,000 VND.
You might be interested in