Authorities in Tuyen Quang Province, northern Vietnam have combined hat then (then singing) performances with tourism services on a trial basis, aiming to bring tourists new experiences during tours of famous local historical spots.
"Then singing is a form of art combining literature, music, and dancing that has long been a religious and cultural practice of Tay, Nung, Thai ethnic groups in the northern mountainous area of Vietnam," as defined by the Vietnam National Administration of Tourism.
This summer, tourists visiting the Tan Trao historical relic complex in Son Duong District can enjoy then singing performances during a trip by bamboo raft on Na Nua Lake.
According to the management board of tourist sites in Tuyen Quang, this is an effort to meet the demand of tourists by combining historical tourism and cultural experiences in one tour.
After a visit to the Tan Trao historical relic complex, visitors can enjoy a trip around Na Nua Lake by mang, a kind of raft, while listening to then singing by Tay ethnic artists.
It takes visitors more than one hour to fully explore the lake as well as enjoy then performances and talk with local artists.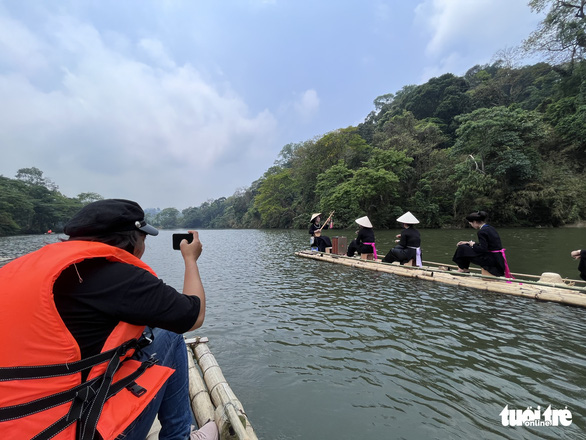 Tourists enjoy 'then' singing performances on Na Nua Lake, Tuyen Quang Province, Vietnam. Photo: N.Binh / Tuoi Tre
Le Thi Thu Hoa, head of the management board of tourist sites in Tuyen Quang, said then singers and raft drivers are local residents who have been well-trained to serve tourists.
Then singing by the Tay, Nung, and Thai ethnic communities has been recognized as an Intangible Cultural Heritage of Humanity, Hoa said.
Meanwhile, mang is actually a raft that locals used to travel on rivers or get over cascades, and the local trait is now developed to offer a cultural experience to tourists, she added.
The Tan Trao historical relic complex is among the most important historical relics of Vietnam in the 20th century, according to Hoa.
The complex includes Na Nua Shack, Tan Trao Temple, and the Tan Trao banyan tree.
Tours that include then singing performances are meant to augment the experience of tourists and keep them visiting the sites longer, as well as spending more.
Like us on Facebook or follow us on Twitter to get the latest news about Vietnam!
Vuong Anh - N. Binh / Tuoi Tre News
You might be interested in