The Trai Tim Hong Cooperative was established in early 2015 and employs disabled workers. It produces wooden mats, car seat covers, massage pillows, handicraft bags, bracelets, and Padauk wood round beads, among other products.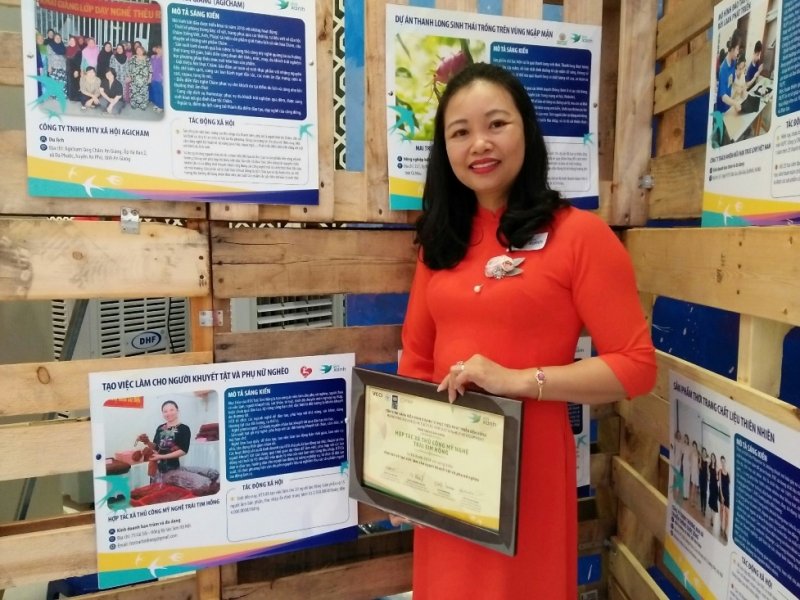 Dinh Thi Quynh Nga and her Trai Tim Hong Cooperative won the 2019 Green Swallow contest honoring sustainable development-oriented business initiatives
Cooperative Director Dinh Thi Quynh Nga said that she had an idea of turning Padauk wood production waste into activated charcoal. Since her idea was realized, the cooperative has created charcoal for use in households and restaurants in Soc Son District in particular and Hanoi in general.
The cooperative produces 40 tonnes of activated charcoal per month and employs 10 workers for its 250-square-meter activated charcoal production facility. It is seeking cleaner production and contributing to development of a circular economy in Vietnam for sustainable production and consumption.
Vuong Dang Hoa, Deputy Director of the Hanoi Department of Industry and Trade's Industrial Promotion and Development Consultancy Center, said the cooperative's project encourages enterprises in the field to invest in cleaner and environmentally friendly production. Turning production waste into new products helps businesses increase revenue, optimize production and business costs, and minimize environmental protection cost, Hoa said.
Apart from turning waste into activated charcoal, the Trai Tim Hong Cooperative uses sawdust (discharged from wood processing) for clean mushroom production.
Thu Huong
You might be interested in