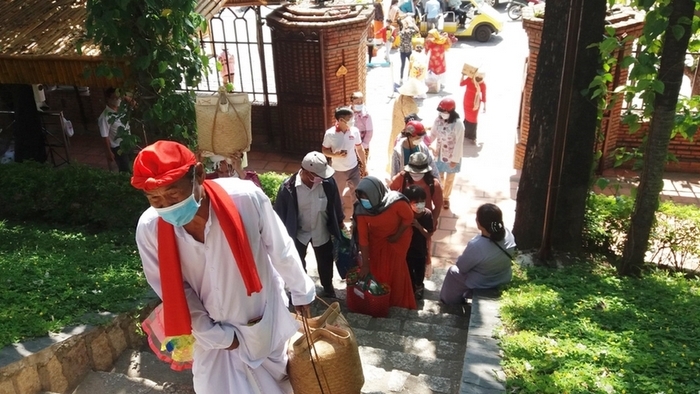 A number of pilgrims flock to the festival on the opening day. (Photo: qdnd.vn)   
NDO - The traditional Ponagar Temple Festival of the Cham ethnic people officially opened at the Ponagar Temple Relic Site in Nha Trang city, in the coastal province of Khanh Hoa, on April 21.
The festival is observed annually from the 20th day to the 23rd day of the third lunar month to commemorate the Goddess Yang Po Inu Nagar - the Holy Mother of the Cham community in the Southern Central region.
On the opening day of the festival, thousands of pilgrims in Khanh Hoa as well as from neighbouring localities including Ninh Thuan, Binh Thuan and Gia Lai flocked to the main tower at the relic site to offer offerings to the Holy Mother.
This year's festival will feature traditional rites such as clothes changing for the Holy Mother, the statue bathing rite, a ceremony to pray for peace and prosperity, and an incense offering.
In addition, a wide variety of art programmes honouring the cultural values of the Cham ethnic minority people and other groups in the south-central provinces featuring Tuong (classical drama), traditional Cham dances and pottery making crafts amongst others.
The Ponagar Temple is located in Vinh Phuoc ward, Nha Trang city and was built and designed in the unique architecture of the Cham people over 1,200 years ago.
The tower was recognised as a national historical relic site in 1979 and the Ponagar Festival was recognised as a national intangible heritage in 2012.
You might be interested in