You can choose to go to Dong Nai or Binh Phuoc with a two-day and one-night schedule, with diverse experiences from cycling, SUP rowing, and mountain climbing to camping.
Visitors who love nature and enjoy outdoor activities can spend 2 days and 1-night trekking and camping in Bu Gia Map National Park; cycling on Tri An lake, crossing Ma Da forest; Exploring Gia Canh forest – Mai waterfall, or going to Cat Tien National Park for cycling, trekking, kayaking.
Bu Gia Map Journey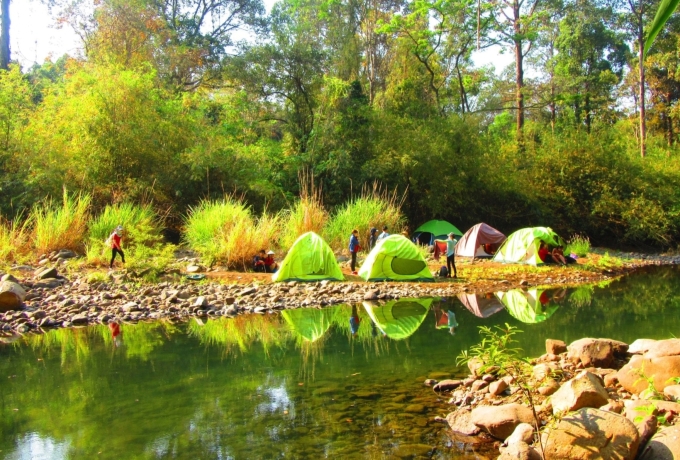 Photo: Kieu Dinh Thap
Bu Gia Map National Park is nearly 200 km from Ho Chi Minh City, located in the northeast of Binh Phuoc province, on Phu Nghia commune, Bu Gia Map district. To the east of the national park is Dak Nong province, and to the northwest is the Vietnam – Cambodia border, with a total area of ​​more than 25,000 hectares.
Coming to the National Park, visitors can experience activities such as trekking, watching the forests of giant umbrellas, oilseeds and many other typical tree species of the transitional forest from the Central Highlands to the Southeast; visit the Center for Conservation and Development of Creatures, learn and introduce about ecological behavior and interesting features of primates and some animal species of the National Park.
On the journey, guests will discover, camp by Dak Ca stream, Dak Manh green lake, where the water is clear, cool… can go down to the lake to catch fish, cool off, cook rice, set up a tent. .. enjoy typical dishes such as wild vegetables, potted soup, roasted duck with macadamia leaves. These activities help visitors have a panoramic view of the harmonious rhythm of life in the nature of Bu Gia Map National Park.
The tour costs 2.2 million VND/person, lasts 2 days and 1 night, and departs on April 30 and May 1. Each tour receives 10-14 guests.
Ma Da Adventures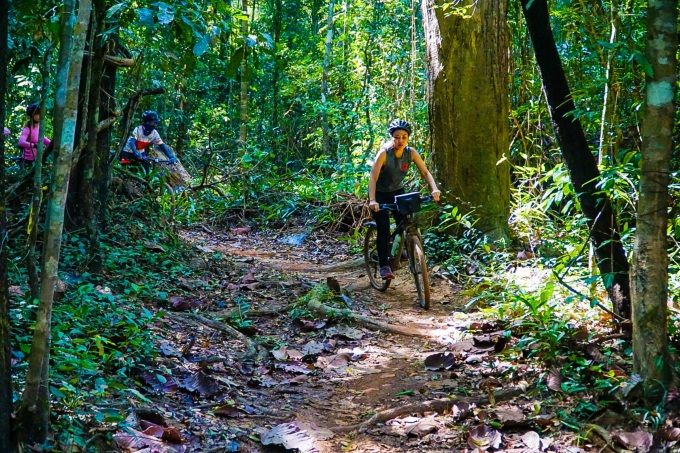 Photo: Scratchy Adventures
This is a cycling tour, combining SUP rowing, and camping in Ma Da – Tri An area for families with young children, people who love cycling and outdoor activities. Tour 2 days 1 night, departing on 2/5. Cars will carry passengers from Ho Chi Minh City to Bien Hoa, participate in activities such as cycling around Tri An Lake, through Ma Da forest, picnic lunch… the total cycling distance is from 15 to 30 km depending on physical strength. Participants.
After that, visitors will rest at a natural farm stay by Tri An Lake, enjoy a nutritious meal, paddle SUP to watch the sunset and mingle with the cool water of Tri An Lake. At night, a BBQ dinner by the lake will be a memorable experience. In addition, visitors will also participate in gardening activities, planting and harvesting vegetables at the farm or rest, read a book to relax gently the next day, have lunch and return to Ho Chi Minh City.
The package tour price is 2.5 million VND/pax for groups of 10 or more, excluding VAT. Guests with personal bicycles can take part in the program and will receive a discount on the tour.
Plum Adventures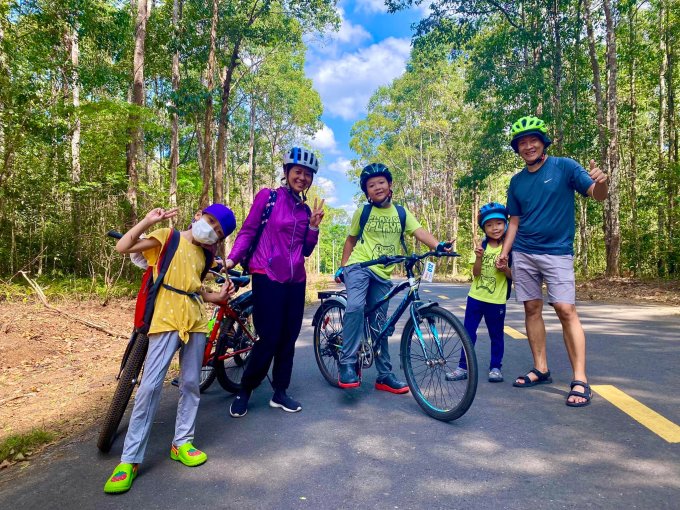 Photo: Thac Mai Adventures
The 2-day one-night tour departs on May 1 and takes guests to explore Gia Canh forest – Mai waterfall, boiling water Bau in Dinh Quan district, Dong Nai province, 110 km from Ho Chi Minh City. This is a tour with many experiences connecting with wild nature such as cycling, climbing, camping, learning about animals like deer, elk, an iguana in the forest, and precious trees such as rosemary, camellia, persimmon, etc. oil… in the rainforest.
The journey of traveling a lot by bicycle with a route from 35 to 45 km, from big roads to deep forests, crossing narrow roads, crossing streams… is not easy, challenging participants to overcome their own limits. In between, you will relax with a natural forest stream, cool off, and enjoy a local meal.
In the afternoon, visitors will climb mountains and camp, watch the stars at night, and light a fire to enjoy BBQ in the wild. In the early morning when the sun has not yet risen, the mist covers the vast old forest creating an impressive landscape, visitors enjoy the quiet space "just me and me" and breathe in the fresh air, breakfast with shredded chicken porridge, coffee before cycling back.
The tour price is 2.45 million VND/person including a shuttle bus from Ho Chi Minh City, excluding VAT.
Cat Tien Adventures 3 in 1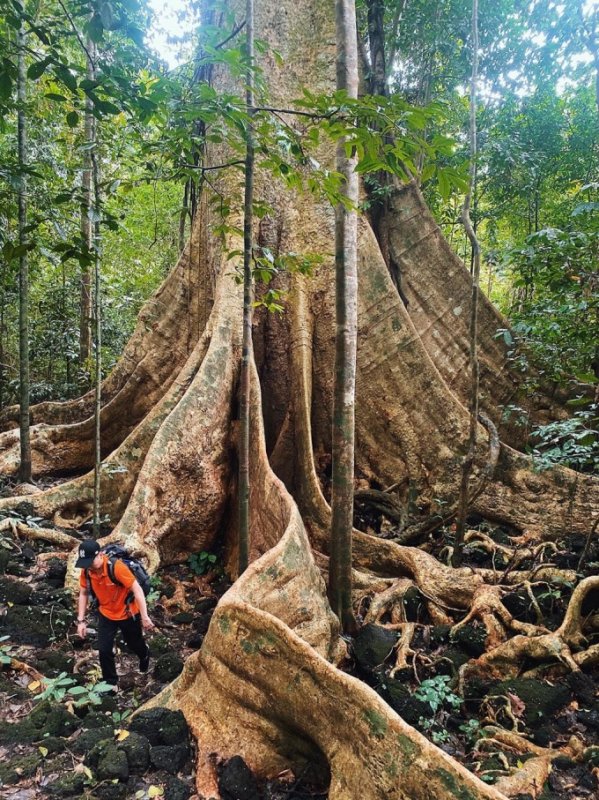 Photo: Nhat Tan
Cat Tien National Park is about 150 km from Ho Chi Minh City, stretching over 3 provinces of Dong Nai, Lam Dong and Binh Phuoc with more than 80,000 hectares, surrounded by 90 km of Dong Nai River. This is one of the national parks with diverse resources, an ideal destination for eco-tourism, observing and photographing wildlife in Vietnam. This is also a journey worth experiencing with a combination of cycling, trekking, kayaking to explore the deep forests, playing, entertaining and cooling off in the lake…
The tour departs from Ho Chi Minh City to Cat Tien National Park at noon, after having a meal, guests rest and receive bicycles to visit the garden, learn about ancient routes in the garden such as: the 400-year-old tung tree, 5-top mausoleum tree, 10m long root tree, 400-year-old natural tree, visit Ben Cu rapids while there is still time… Total distance is about 30 km. At night, guests taking part in the wildlife watching tour, watching animals go foraging in the garden brings a feeling of excitement mixed with excitement.
In addition, the program also introduces the Ta Lai Community tourist house, an opportunity for visitors to learn about local culture from local ethnic minorities such as Chau Ma, S'tieng and Tay.
Tour costs 2.55 million VND/pax, excluding VAT.
You might be interested in