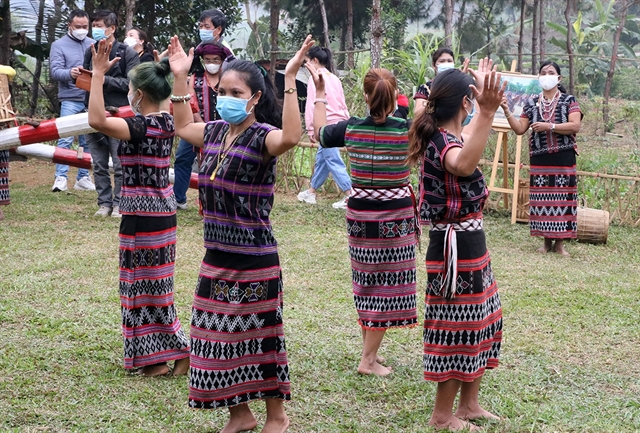 HÀ NỘI — A series of activities marking Vietnamese Ethnic Groups' Culture Day are taking place at the Viet Nam National Village for Ethnic Culture and Tourism in Ha Noi's suburban of Sơn Tay until May 3.
According to the Ministry of Culture, Sports, and Tourism, the highlight of the cultural event will be a traditional market from the northern province of Sơn La, scheduled for the upcoming National Reunification Day (April 30) and May Day (May 1) holidays.
It will feature ten stalls of Sơn La introducing local farm products and food and 20 others displaying specialities from other northern localities – Đien Bien, Ha Giang, Hòa Bình and Thai Nguyen Provinces, and Ha Noi's Ba Vì District, along with two tourism stalls.
Visitors will also be treated to a photo exhibition, a musical programme, folk games, and performances of the art of khen (panpipe) of the Mong ethnic group in Sơn La's Moc Chau District.
Two ethnic festivals will be re-enacted in the national village during April, which are the dance festival – the biggest traditional one of the Dao ethnic group; and a festival praying for rain of the Thai ethnic group.
Vietnamese Ethnic Groups' Culture Day is celebrated on April 19 annually to honour the cultural values of ethnic groups and Viet Nam's cultural diversity.
Viet Nam is home to 54 ethnic groups, each of which has its own unique cultural identity. At the Viet Nam National Village for Ethnic Culture and Tourism, ethnic minority people join State agencies and experts in preserving and introducing their communities' cultural values to visitors.
The village, located in the Đồng Mo tourism area in Ha Noi's Sơn Tay suburb, is described as a "common home" of the 54 ethnic groups across the nation. It has a total area of 1,544ha with seven functional zones. Among them, the zone for ethnic minority villages is considered the heart of the culture-tourism village.
So far, people from 13 ethnic groups have come from every corner of the country to reside here, including Tay, Dao, Mường, Thai, Khơ Mu, Ta Ôi, Cơ Tu and Khmer, who have showcased their original cultures through not only their traditional houses or places of worship, but also the daily activities and festivals celebrated in the village. — VNS
You might be interested in