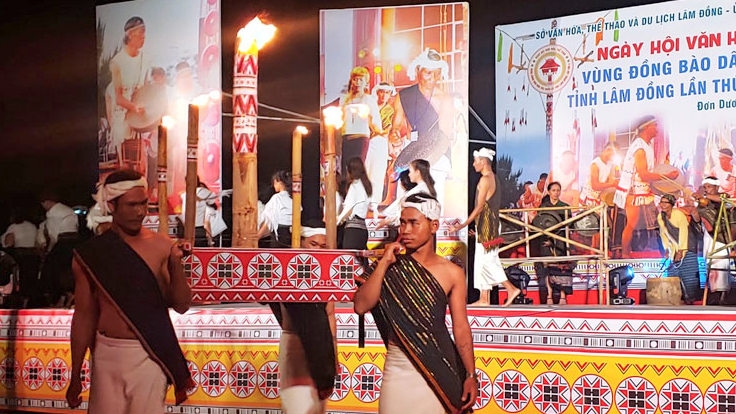 A fire procession of the Chu Ru ethnic group at the opening ceremony (Photo: baolamdong.vn)   
NDO – The fifth culture and sports festival of ethnic minority groups in Lam Dong Province kicked off on March 29 in Ka Don Commune, Don Duong District, attracting the participation of more than 300 artisans from 12 districts and cities across the province.
The festival opened with a procession worshipping the Gods of Fire and Gong and a traditional Arya dance staged by Chu Ru ethnic people of Don Duong District.
It was followed by gong performances and folk dances and songs by K'Ho, Ma, and Chu Ru ethnic groups.
The two-day festival includes a music night, a cuisine festival, sporting events, folk games, and gong performances.
Addressing the opening ceremony, Vice Chairman of the Lam Dong Provincial People's Committee Dang Tri Dung spoke highly of the responsibilities and efforts made by ethnic groups in preserving and promoting traditional cultural values in Lam Dong province, especially the gong culture.
He expressed his hope that ethnic minority groups, especially artisans, will continue uphold the treasured cultural values of the ancestors and join hands to develop local tourism.
You might be interested in