Ten startup teams in technology areas such as smart cities, augmented reality (AR), artificial intelligence (AI), Internet of Things (IoT), agriculture, environmental sustainability, and machine learning will each receive a grant of US$10,000 in cash prizes to further develop their proposals during the 10-month technical and business incubation program, along with intellectual property training. Each startup team may be eligible to receive patent filing financial incentives, and may be eligible to compete for cash prizes of US$100,000, US$75,000, and US$50,000 in the finale.
The shortlisted companies were selected based on a variety of qualifications including technical skill, innovative products, and a focus on patentable technologies, as well as relevancy to Vietnam's digital transformation and Industry 4.0.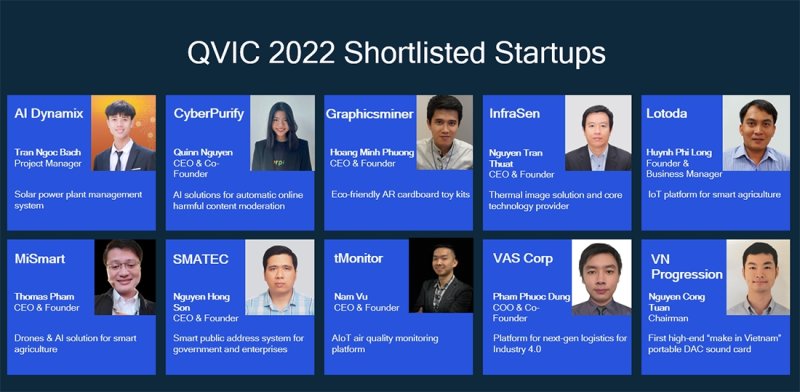 The shortlisted companies are (sorted by alphabetical order):
- AI Dynamix Company, Ltd. – Solar power plant management system
- Cyberapply Vietnam Company Limited – AI solutions for automatic online harmful content moderation
- GraphicsMiner Vietnam Company Limited – Eco-friendly AR cardboard toy kits
- InfraSen Thermal Image Core Technology JSC – Thermal image solution and core technology provider
- Lotoda Technology Solution Co., Ltd. – IoT platform and smart agriculture
- Mismart Smart Technology JSC– Drones & AI solution for smart agriculture
- SMATEC JSC – Smart public address system for government and enterprises
- tMonitor JSC – AIoT air quality monitoring platform
- VAS High Technology Solution Corporation – Platform for next-gen logistics for Industry 4.0
- Vietnam Progression Technology JSC – First high-end "make in Vietnam" portable DAC sound card
Launched in December 2019, the Qualcomm Vietnam Innovation Challenge is designed to identify and nurture innovative startups in promising new technology areas in Vietnam. This Challenge, which involves the support of Vietnam's Ministry of Science and Technology (MOST), is designed to enable the development of Vietnam's rising technology ecosystem by identifying and nurturing innovative small- and medium-sized companies who are designing products in 5G, IoT, machine learning, smart cities, wearable devices, and multimedia utilizing mobile platforms and technologies from Qualcomm Technologies, and can benefit from Qualcomm Technologies' expertise in a number of areas.
The shortlisted companies will be offered incubation support including business and technical guidance, access to Qualcomm Vietnam's R&D lab in Hanoi, as well as problem-solving support from our local teams. Lab capabilities include ML/AI enablement, camera lab, audio lab, RF chamber, thermal, and modem troubleshooting.
"Congratulations to the shortlisted companies of this year's Qualcomm Vietnam Innovation Challenge," said Alex Rogers, President, Qualcomm Technology Licensing & Global Affairs, Qualcomm Incorporated. "We're looking forward to seeing the results these teams will produce, as well as our continued collaboration and support of Vietnam's technology ecosystem."
With the support of the National Agency for Technology Entrepreneurship and Commercialization (NATEC), Qualcomm has attracted promising startups to participate in QVIC 2022. A selection of these excellent companies that will contribute to Vietnam's new technology future" emphasized by Deputy Minister of Science and Technology Tran Van Tung.
In addition to the US$10,000 cash grant awarded to each startup team, Qualcomm Technologies will offer each company business coaching, technical support, IP training, and financial incentives for filing patents as part of the challenge. The finale of the challenge will be held August 2022, where the top three finalists will be selected by a jury of industry leaders and will receive a share of the total cash prizes of US$225,000.
Qualcomm is the world's leading wireless technology innovator and the driving force behind the development, launch, and expansion of 5G. When we connected the phone to the internet, the mobile revolution was born. Today, our foundational technologies enable the mobile ecosystem and are found in every 3G, 4G and 5G smartphone. We bring the benefits of mobile to new industries, including automotive, the internet of things, and computing, and are leading the way to a world where everything and everyone can communicate and interact seamlessly.
PV
You might be interested in