You can try Banh Can or fish vermicelli in the morning, Lac Canh grilled beef and eel in the afternoon, seafood or squid hotpot at night.
If you only have one day to travel to Nha Trang, you can still try many delicious dishes at affordable prices from seafood to typical and exclusive dishes of the coastal city. With an amount of about 25$ / 2 people, you will have a day to discover Nha Trang cuisine.
Can cake
Starting the day, Banh Can is an option. Cakes are sold everywhere at address 151, Hoang Van Thu. Banh Can be used at different times of the day, another famous shop that only sells in the afternoon you can visit located at 51, To Hien Thanh.
Banh Can is made from rice flour, has porosity, light crispy shell, the seller adds beaten egg yolk to increase fat. The dish is diverse and has a large size with quail eggs, shrimp, squid or beef, minced pork… The full portion of 8 pieces is 60,000 VND. Depending on your preferences, you can choose the cake according to the taste, the price can be adjusted. Banh Can is hot and spongy, with a gentle and warm aroma from the charcoal stove. Diners eat with onion fat seasoning sauce with grated raw mango.
Photo: Huynh Nhi
Fish noodles with pickled fish
Another suggested breakfast dish is fish vermicelli, a popular dish that can be found on the streets of the sea. The famous address is Nam Beo restaurant in Dam market area with prices from 30,000 VND/bowl.
The vermicelli with clear broth is cooked from high-protein sea fish, has the aroma of cilantro, is not fishy, ​​and is low in fat. Fish vermicelli uses small soft noodles, combined with tuna pieces, chewy fish cakes and crispy jellyfish, the broth is full of flavor. Indispensable dish of lettuce, fresh bean sprouts and a cup of salty chili sauce dipped in fish cakes.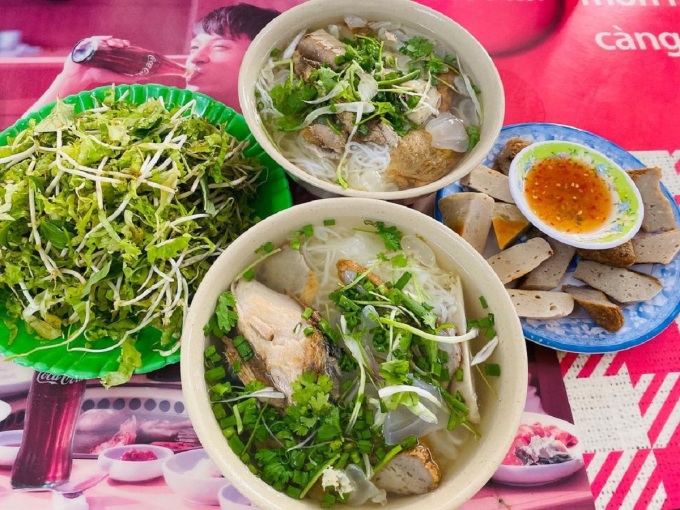 Photo: Instagram taonguyen210194
Lac Canh Grilled Beef
This is a famous culinary address with more than 40 years of customers in Nha Trang, located on Nguyen Binh Khiem Street. The dish is served with a small square plate of beef, marinated according to a traditional recipe from honey and more than 10 other ingredients, in which the spicy taste of satay is soaked in red. Grilled beef cooked on a soft charcoal stove, dipped with chili salt and lemon, served with toast and salad. Each portion of grilled beef is about 160,000 VND.
In addition, the restaurant is also quite famous for its eel dish, which is wrapped in a layer of fish fat, inside is eel meat, a little mushroom, vermicelli, pepper, spices … nicely marinated, helping customers feel the eel meat. Sweet, fatty, and spicy, blended in the scent of galangal, lemongrass served with crispy grilled rice paper.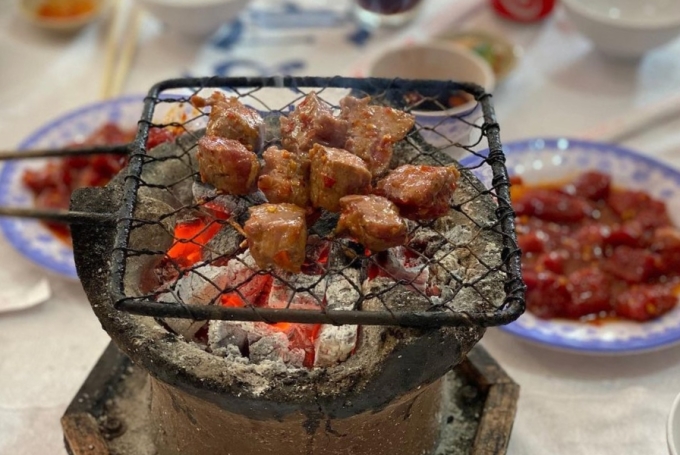 Photo: Instagram jjungelove
Luong Son snail
Want to enjoy fresh seafood, you can go to Luong Son fishing village, about 15 km north of Nha Trang city. The food here is affordable and varied with fresh ingredients. But snail is a suggested address with hundreds of dishes. The highlight is all kinds of suckling snails, fried snails with coconut, pomelo snails, crab claws roasted with salt… The shop is located at number 7, Thu Bon street, Vinh Luong ward. Each piece of snail costs an average of 60,000 VND.
The shop has the secret to attracting customers in the variety of delicious sauces, affordable prices, and variety. When customers order, the restaurant will bring out about 5 different sauces such as: soy sauce, garlic fish sauce, ginger chili, mustard, salt and pepper lemon, sweet and sour tamarind sauce, add a plate of raw vegetables and sliced ​​green mango to taste. accompaniment. In particular, the shop serves soft and refreshing mineral water with a unique quality of Khanh Hoa.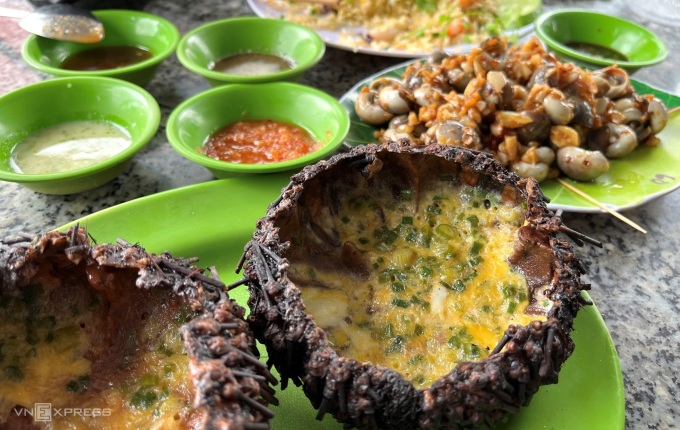 Photo: Huynh Nhi
Squid hotpot
At night, it is suitable to eat warm dishes and squid hotpot is the right choice with fresh ingredients from cut squid and cobia. Squid hotpot broth is not too picky, harmonious sweet and sour taste from minced pineapple, red color from sliced ​​tomatoes and spicy taste from chili, ensuring not to overwhelm the fresh and sweet taste of seafood. Squid is arranged on a plate, cut into thick pieces, and the meat is clean and fresh.
Wait for the hot pot to boil, you put the squid in the pot, when it's cooked, take it out and dip it with salted chili fish sauce, add vermicelli, add hot and spicy broth with spinach, Centella Asiatica, fenugreek, broccoli .. . Then enjoy the space filled with a sea breeze. Each squid hot pot costs 160,000 VND. The suggested address is Dai Lanh Squid Hot Pot, located near the end of Tran Nhat Duat Street, towards the airport resettlement area. The shop also has jellyfish salad and Dai Lanh fish cake with attractive taste.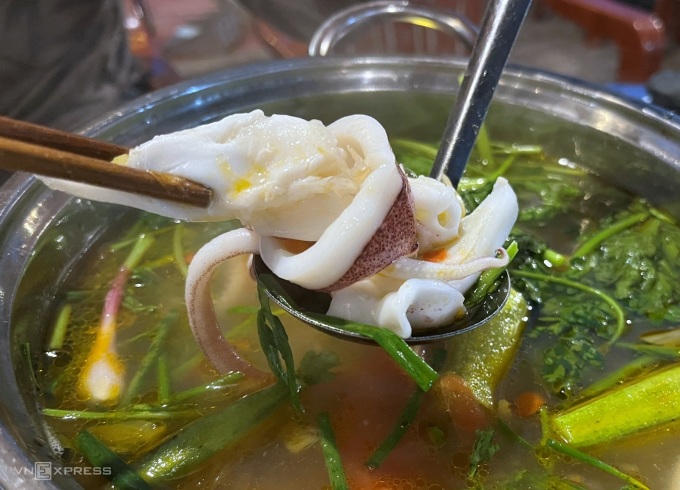 Photo: Huynh Nhi
Follow (vnexpress)
You might be interested in