BINH THUAN – People go to the mangroves of Phan Thiet to catch green saplings, earning a few hundred thousand to one million dongs per day.
These days, the mangrove forest in the middle of the triangle of 3 wards Phu Thuy, Phu Hai, and Thanh Hai (Phan Thiet City) is vibrant because it is the harvest season, also known as a green clam – the shape is similar to clams and scallops but large. 2-3 times more. This species lives in mangrove forests near estuaries and creeks bordering the sea.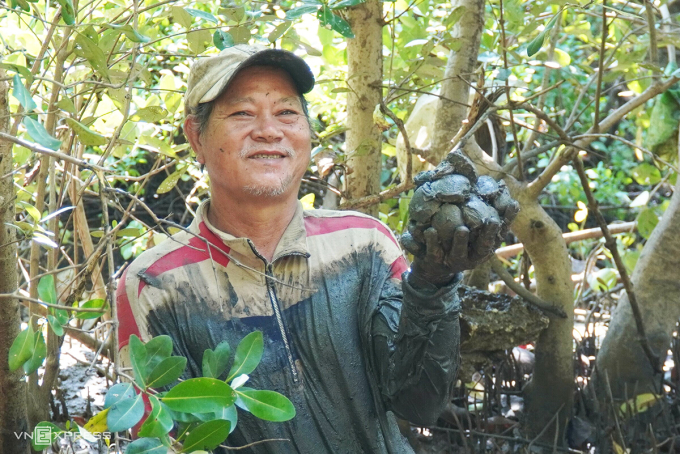 Mr. Le Sach is catching squirrels in the mangroves of Phan Thiet. Photo: Viet Quoc
At 6 am, Mr. Le Sach, 61 years old, drove a motorbike for 3 km from his house in Xuan An ward through the mangrove forest. When he got there, he parked the car next to the shady cork tree next to the trail, then carried the basket and bag straight into the middle of the cork, fish and mangrove forest.
The water in the mangrove forest this season is full, Mr. Sach sits with one knee on the muddy ground, moves forward, uses his hand to hook down, and picks up each one of them as big as a fist (5-6 cm) out of the mud. black torch.
Less than half an hour, Mr. Clean caught more than half a basket. When the basket was full, he piled it up, and at the end of the session, he collected it all at once. After sitting under this tree, he moved to another tree. "At the end of the rainy season, the sump is big and fast, it's very good to catch it," said Mr. Sach, and picked it up and put it in the basket continuously.
On the other side of the ditch leading to the Cau Ke river, a few people were sitting on the mud. The canopy of the forest is shaded, the faces of people cannot be seen clearly, only a few glimpses of young people can be seen from afar.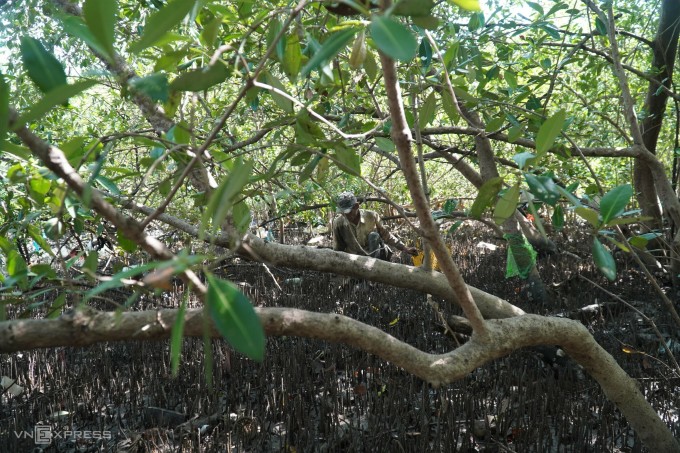 People are fishing under the mangrove canopy in Phan Thiet, December 2021. Photo: Viet Quoc
Mr. Ho Van Dien, 53 years old, was busy digging his hand in the mud, startled when he saw a stranger approaching. Seeing that he was taking pictures, he smiled, threw the slugs he had just caught in the basket, and said: "This job is very dirty, I can't take pictures, brother". Every day he went to catch fish at 6am until nearly 12pm to stay healthy, because he couldn't soak in muddy water for longer.
In the area where Mr. Dien stood, few people caught him, so the water was very thick, every 2-3 hands he had a big child. From morning to noon, he caught about a 50-70 kg bag. This amount can be brought to him to wholesale to traders for 15,000 VND per kg, retail at the market for 20,000 VND per kg. Every day he and many workers earn an income of 600,000 VND to 1 million VND.
"This job is very hard, but it is still freer and much better income than working as a maid," said Mr. Dien.
Mr. Dien is from Ca Mau and has been living in Phan Thiet for the past two years. Initially, he worked as a bricklayer for works in the new urban area, but his age could not keep up with the heavy work, so he followed an acquaintance to do this job. "Recently, when we heard that the mangrove forest was kept by the Binh Thuan government to protect the environment, we were very happy that we still had room to make a living," he said.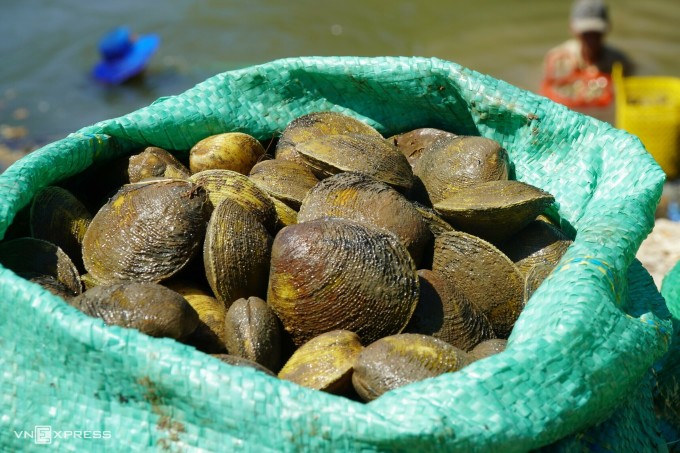 Phan Thiet mangrove forest greens are washed and packed in bags, ready to be sold. Photo: Viet Quoc
After being caught, they are sold to traders. In addition to retailing at markets, traders also send bags of Western passenger cars to Ca Mau to consume a few kilos per day. "In Ca Mau, Dop is a specialty, tourists and locals eat a lot, so it sells very well," said Le Thi Ngoc Bich, who specializes in the trade of Dop.
The flesh is yellow-white, tough and juicy, contains many nutrients, can be processed into many specialties to eat or drink. In addition to steaming ginger and roasting onions, hops are also used for baking, stir-frying, cooking soup, porridge… In Phan Thiet, this dish is mainly sold in shops and restaurants with human owners or chefs. western origin.
Dop has been exploited in the mangrove forest of Phan Thiet (32 hectares wide) for about ten years by the people from the West coming here to live. The fall season is usually from September to March of the lunar calendar. At the end of the season, more than a dozen catchers switched to hunting calendula, calendula, spawn, and shrimp… also in mangroves and mudflats along the rivers of Phu Hai and Ca Ty.
Follow (vnexpress)
You might be interested in