HA TINH – Dozens of fishermen in Loc Ha district put net hundreds of meters long in an arc, catching about 500 kg of croaker per day, selling for millions.
At 6:00 a.m. on the last day of February, Mr. Nguyen Van Hau, 49 years old, residing in Thinh Loc commune, Loc Ha district, together with 10 fishermen, put a net 2 m high and 400 m long on a small bamboo boat and carried it offshore. about a kilometer and then dropdown.
Two hours after releasing the first net, the fishermen on Mr. Hau's boat divided into two groups, each group of 5 people stood in a line at both ends of the net to collect the line. When he saw the fish struggling, Mr. Hau shouted: "Be careful". Everyone immediately stood close to each other, narrowing the arc of the net so that the fish could not escape.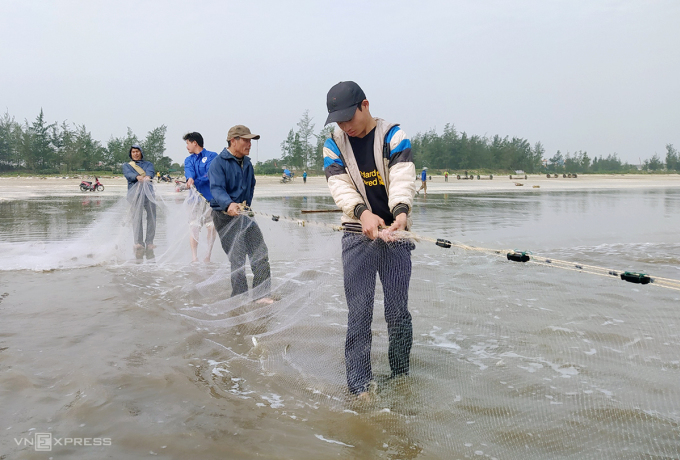 Fishermen pull nets to catch sharks in the waters of Thinh Loc commune, Loc Ha district, February 27. Photo: Duc Hung
After 30 minutes, the trawler's net was smooth, about 300 kg of croaker was collected. Focusing on removing the fish caught in the net and putting them in plastic baskets and aluminum pots, the group of workers on Mr. Hau's boat continued to line up the nets to start a new batch. On average, they pull about three batches a day, catching about 800 kg, sometimes more than a ton.
From November to the end of February of the lunar calendar, flounders appear near the coast of Loc Ha district. Along the coastline of Thinh Loc commune, about two kilometers long, dozens of fishermen, mostly members of a family, pull boats and carry nets out to sea to catch "heavenly fortune". On a sunny day, there is little wind, fish appear a lot. The days of rough seas, heavy rain, or strong winds are almost absent.
According to Mr. Tran Van Tan, 65 years old, croakers often appear in schools, when they are lucky, they will catch about a tonne in the stream. Going out to sea from the 6th of the Lunar New Year until now, Mr. Tan's boat has caught about 500 kg of croaker every day. In addition, sometimes it is also hit with herring and some types such as squid, jellyfish…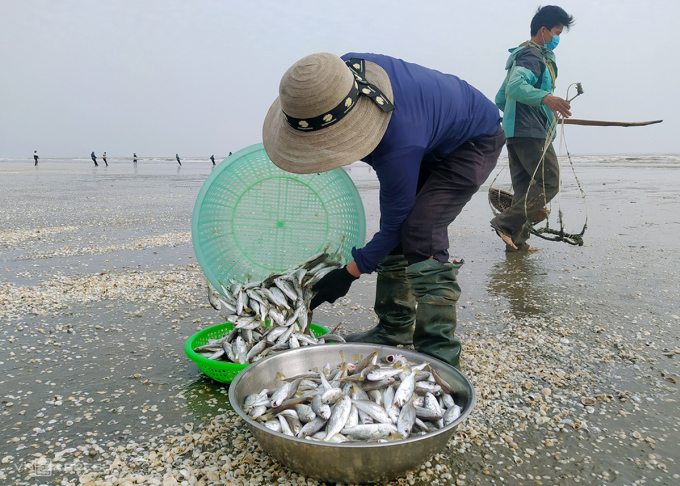 A batch of croakers is washed and sold to traders. Photo: Duc Hung
On this occasion, each time a boat goes out to sea, a boat earns about 10 million VND. After deducting the costs of labor, fuel, and depreciation of fishing gear, an average worker earns about one million dongs, Mr. Tan said.
Around 9am to nearly noon every day, many traders on motorbikes bring buckets of ice to the fishermen's boats to buy fish and then sort it out. Fish sold at sea for a kilo for 20,000 VND. When brought to the market in the area or imported to restaurants, the price is higher than 5,000-10,000 VND/kg.
Crocodiles live near the shore, oval body, big head, dorsal fin with hard spines in front, soft behind. This species has few bones, sweetmeat is rich in nutrients, and is favored by the market. Traders often buy and sell for restaurants and hotels to process dishes such as salad, sweet and sour rim, grilled, braised with turmeric, fried with garlic and chili…
You might be interested in