The Ethereum Foundation stated that the terms "ETH 1.0" and "ETH 2.0" will be replaced by "execution layer" and "consensus layer."
In a blog post, Ethereum announced that there is no more "ETH 1.0" and "ETH 2.0". From now, they will use the terms "execution layer" and "consensus layer" instead. They described Ethereum now as the result of an addition of Execution layer and Consensus layer.
There are 4 reasons for this change:
Mental models
One major problem with the Eth2 branding is that it creates a broken mental model for new users of Ethereum. They intuitively think that Eth1 comes first and Eth2 comes after. Or that Eth1 ceases to exist once Eth2 exists. Neither of these is true. By removing Eth2 terminology, Ethereum saves all future users from navigating this confusing mental model.
Inclusivity
As the roadmap for Ethereum has evolved, Ethereum 2.0 has become an inaccurate representation of Ethereum's roadmap. Being careful and accurate in our word choice allows content on Ethereum to be understood by the broadest audience possible.
Scam prevention
Unfortunately, malicious actors have attempted to use the Eth2 misnomer to scam users by telling them to swap their ETH for 'ETH2' tokens or that they must somehow migrate their ETH before the Eth2 upgrade.
Ethereum hopes this updated terminology will bring clarity to eliminate this scam vector and help make the ecosystem safer.
Staking clarity
Some staking operators have also represented ETH staked on the Beacon Chain with the 'ETH2' ticker. This creates potential confusion, given that users of these services are not actually receiving an 'ETH2' token. No 'ETH2' token exists; it simply represents their share in that specific providers' stake.
The Ethereum Foundation confirmed that this change does not affect the Ethereum roadmap. The features on Ethereum's current roadmap (i.e. the merge, sharding) and future features will still happen on the same timeline.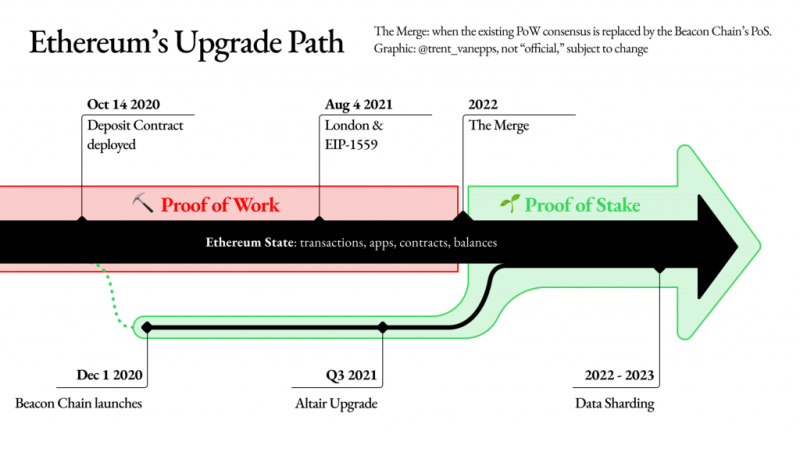 For more details, please read the Ethereum post here.
Join CoinCu Telegram to keep track of news: https://t.me/coincunews
Follow CoinCu Youtube Channel | Follow CoinCu Facebook page
Hazel
CoinCu News
ETH 2 ETH 2
You might be interested in