According to the agreement, the two parties will take advantage of their own strengths to offer comprehensive financial solutions and the best services to customers. Specifically, Viettel Post will distribute Hanwha Life Vietnam's products that have been trusted by nearly one million Vietnamese customers, including Investment Linked Product "LIFE FUN:D – SONG THOA CHAT", An Life Plan and Yen Life Plan, An Khang Tai Loc, Medical Reimbursement Rider, Hospital Income Rider and other health insurance products.
Besides, Viettel Post's customers can access Hanwha Life Vietnam's comprehensive financial solutions via direct sales and referral. At the system of post offices, stores, and transaction points of Viettel Post, professional and dedicated financial advisors of Hanwha Life Vietnam will offer consulting services to customers.
Diversifying distribution channels through strengthening cooperation with partners in other fields to take advantage of customer service networks of each other for further development is a direction promoted by enterprises in recent years.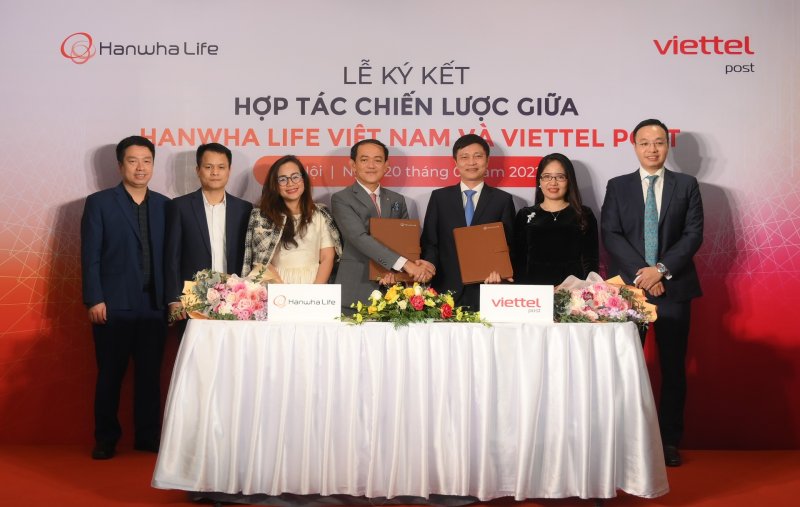 Sharing about the signed agreement, Mr. Dao Duy Ninh, Hanwha Life Vietnam's Chief Distribution Officer, said, "We are comprehensively cooperating with Viettel Post from fee collection service, fee payment by Viettel Pay,… and today, we are glad with cooperation between Hanwha Life Vietnam and Viettel Post, a leading company in the logistics-telecommunications field with a broad network covering 63 provinces and cities, has officially stepped up to a new level from today in the distribution of life insurance products. I do believe that this cooperation not only contributes to accelerating the development of Vietnam's life insurance market, through the expansion of distribution channels for the big market of 96 million people just 10.5 percent of whom have had life insurance policies, but also creates new business development opportunities for both parties, and a chance for Hanwha Life Vietnam to provide comprehensive financial solutions and add more values to Viettel Post's customers in the coming time."
Mr. Nguyen Thanh Nhuong, Deputy General Director of Viettel Post, said, "The network of more than 800 telecom service outlets, nearly 1,000 post offices and over 30,000 points of sale in all 63 provinces and cities nationwide will be an advantage for Viettel Post to bring comprehensive financial solutions of Hanwha Life Vietnam to the people, as well as life insurance to offer more added values and services to customers of Viettel Post."
In a bid to realize the mission to bring comprehensive financial protection solutions to all Vietnamese people, together with the product development strategy and strong investment in developing digital technology platforms, Hanwha Life Vietnam is striving to diversify distribution channels and expand its network. Meanwhile, Viettel Post aims to increase the customer experience with quality products in the most accessible way.
Hanwha Life Vietnam's strategy is to build comprehensive distribution channels from traditional agents, banks, institutional agents to non-financial, fintech and healthcare organizations to create favorable conditions for customers to access insurance products. The collaboration with Viettel Post - the enterprise with leading logistics network nationwide, will enable Hanwha Life Vietnam to bring its products to clients and enhance different experiences to them. Not only serving urban customers, this cooperation is also expected to help the people in remote and rural areas save time in choosing suitable insurance products so as to protect firm future for them and their families.
Hanwha Life Vietnam has more than 500 staff members and 37,000 agents working at over 160 customer service points nationwide. As of December 2021, the company had had nearly one million customers.
Viettel Post is present in 63 provinces and cities nationwide, post office systems, transaction points to remote areas and island districts. This is also the strength of Viettel Post to expand distribution points and increase utilities for Viettel Post's customers as well as Viettel's customers nationwide.
PV
You might be interested in