Cormorant is a traditional cake with a pointed shape like a cow's horn, made all year round and sold in many markets.
Coming to Tuyen Quang, visitors can not only immerse themselves in the beautiful natural scenery of Na Hang, Thac Mo, Tien cave… but also have the opportunity to enjoy the traditional dishes of the Tay people. The cuisine of the Tay people here is very diverse with many typical dishes such as rice lam, five-color sticky rice, sour pork and indispensable cooc Mo cake.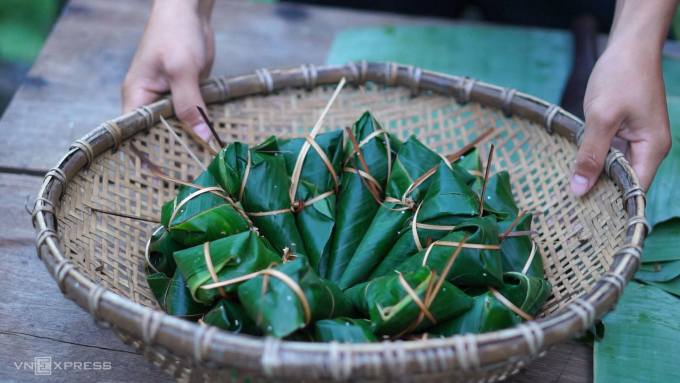 Not only in Tuyen Quang, but also in areas with Tay and Nung ethnic groups such as Thai Nguyen, Quang Ninh, Bac Can, Cao Bang, Lang Son… all sell Cooc mo cakes in fairs. Photo: Ma Thi Dung
In the Tay language, the cake is called "peng tui", a familiar cake in Chiem Hoa, Tuyen Quang. In addition, people also call it a croissant because it has a pointed pyramid shape, which looks like a cow's horn. Currently, it is usually only the elderly who often make Cooc Mo cakes because of the special way of wrapping that not everyone knows how to make.
Coriander is made from glutinous rice, black beans mixed together, wrapped inside banana leaves or chit leaves and then tied outside with lattes made from bamboo. In addition to black beans, people in many other regions use peanuts or green beans, which make the cake more delicious.
Yellow-flowered sticky rice is the main ingredient for making cormorant cakes more fragrant, delicious and flexible. Sticky rice after soaking for about 2-3 hours will be mixed with peanuts or beans. When wrapping the cake, you must compress the rice tightly, so that the water does not soak in, the cake will be delicious. When the water is bubbling, the cake is dropped into the pot and boiled for about 2-3 hours.
Ma Thi Dung is a Tay from Ban Rua, Chiem Hoa, Tuyen Quang. She shared: "The childhood of children in Chiem Hoa on winter nights, sitting watching her pot of coco ma cake by the wood stove in the middle of the house. the floor, then the whole family enjoyed the hot cake, scented with banana leaves and sticky rice. When I was in school, every time I brought this cake to class, the whole family would come and compete to eat."
It is not difficult to enjoy Cooc Mo cake, because the cake is available all year round and is sold in bunches and pairs in fairs. Or if you go to the Tay families in Chiem Hoa, almost every family knows how to make this cake. Cooc Mo cake is best eaten with peanuts, salt, and crushed sesame. Bite into a piece of Cooc Mo cake, you will feel the aromatic flavor from the round, fragrant glutinous rice grains from black beans, green beans, the fat of peanuts and the sweet scent of chit leaves and banana leaves.
According to tradition, on the full day of the month of children, regardless of the season, the Tay people also make Cooc mo cake. Small, beautiful cakes are placed in the hands of children with the wishes of good eating, growing quickly, being healthy and obedient from grandparents and parents. Coriander is not only a rustic gift but also represents the wish of a bountiful harvest, as well as a symbol of solidarity, affluence, and always side by side of the Tay ethnic group. Follow (vnexpress)
You might be interested in