The owner of a sidewalk snail shop in Ho Chi Minh City wears 115 gold trees to welcome guests and collect money every day.
About 3 years ago, the snail shop in Nguyen Thien Thuat apartment building, ward 1, District 3, Ho Chi Minh City was famous on social networks because of the "unusual" of the owner and his wife.
Standing selling snails on the sidewalk, Dung (49 years old) – the owner of the shop wears hundreds of gold trees. His wife – Ms. Loan (46 years old) also wears gold bracelets on both hands.
Recently, some Youtubers shared information: Reopening the shop after a long time of social distancing, Mr. Dung "lifted" the amount of gold he wore from 100 gold trees to 115 gold trees. It is estimated that 115 gold trees are worth up to 7 billion VND. Video interviews with snail shop owners with "1-0-2" attracted tens of thousands of views. Many people who are curious about the truth, come to Dung's shop to see.
Sharing with reporters, Mr. Dung confirmed: "The total amount of gold I am wearing is 115 gold bars. Compared to before, I just bought a new set of "Covid-19″ gold shakers made from 15 gold trees. Reopening the shop after the epidemic, I ordered this shaker with the meaning of hoping to break the epidemic, so that life can return to peace."
According to Mr. Dung, he has a long-standing hobby of collecting gold. "This gold, my wife and I both work and save, accumulate to buy after nearly 20 years of business. People collect cars, watches, lighters… I like gold," Mr. Dung said.
The shop owner also frankly shared, a lot of diners came to the shop because they were curious about the amount of gold he was wearing.
"People see online and then flock to the shop very crowded. Some people believe that it is real, some people criticize fake gold. Each person has an opinion but I don't care too much. Whoever says fake gold just go straight to Kim Sen 10 gold shop in Cho Tin. If you ask, you know", Mr. Dung said while paying for the customer.
Mr. Dung also admitted that wearing gold on his body is a way he advertises for the shop, attracting many people's attention and coming.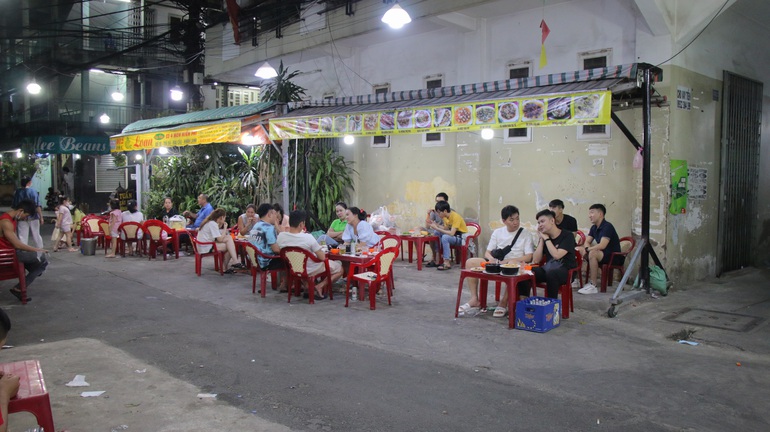 The snail shop has had a steady stream of customers for many years. (Photo: Thien Anh). 
This strange advertising method of Mr. Dung has brought certain effects. Every evening from dusk, Mr. Dung's shop starts to fill up, customers come until midnight. While Ms. Loan directly processed and quickly directed the staff in the kitchen, Mr. Dung was the one to receive guests and collect money.
"Now customers are only 50% before that epidemic. Before, we couldn't keep up with sweat," said the owner. 
The restaurant serves all kinds of seafood such as scallops, oysters, octopus, clams, snails… In addition to seasonally priced dishes such as red snails, snails, snails, crabs, shrimps… the price is for each dish. Here, it is about 60,000 – 150,000 VND/piece. This snail shop has 4 things "0 dongs" which are iced tea, dessert jelly, cold towels, and parking fee.
According to Mr. Dung, all snails and seafood at his restaurant are fresh. He and his wife and staff prepare ingredients early in the morning. The shop starts to welcome customers from 3 pm and sometimes opens until 1, 2 am the next morning.
"I have eaten here many times. In the past, I have seen the owner and the mistress wearing a full body of gold. Later, when someone posted his photo on the internet, people were excited, people believed it. People like me saw it. delicious, so I came back but didn't care much about it," said Quang Truong (District 1, Ho Chi Minh City).
Unlike Mr. Truong, Quan – Ha (Binh Thanh) group of friends learned about this snail shop through social networks and was curious to find it. "At the end of 2020, our group saw a video about this snail shop, saw that they said the owner was wearing hundreds of gold trees. This is a strange thing in this land, rarely does anyone wear gold nearby on the street. The group decided to pass. See and try. Seeing that the food is also new, delicious, and reasonably priced, I have come back 3-4 times."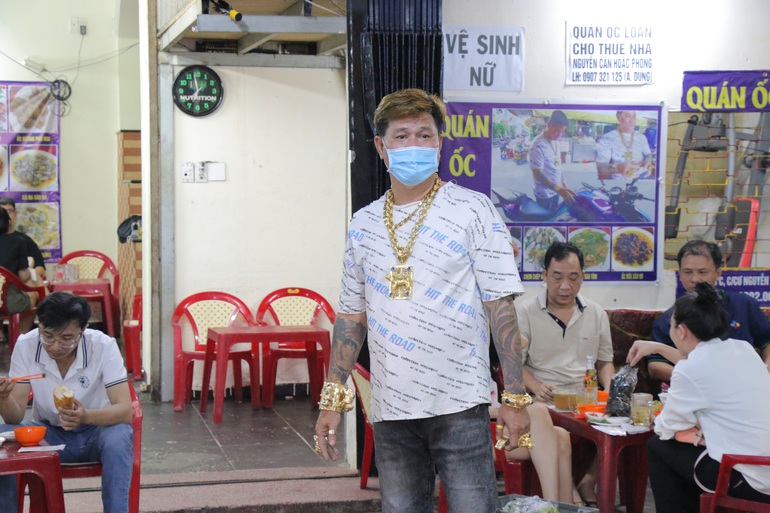 Many diners come to the shop because they are curious about the owner's gold wearing. (Photo: Thien Anh).
Mr. Dung, the owner of the restaurant, said that he's wearing of gold helps to attract a large number of diners. However, for customers to come back and stick, the most important thing is the quality of the food and the service attitude.
"My shop is a street-side restaurant, it's just a popular one. If customers have love, then my husband and I can do business. It's not good business, if we lose customers, we won't have money to buy gold," the shop owner said.
Follow (Dan Tri)
You might be interested in