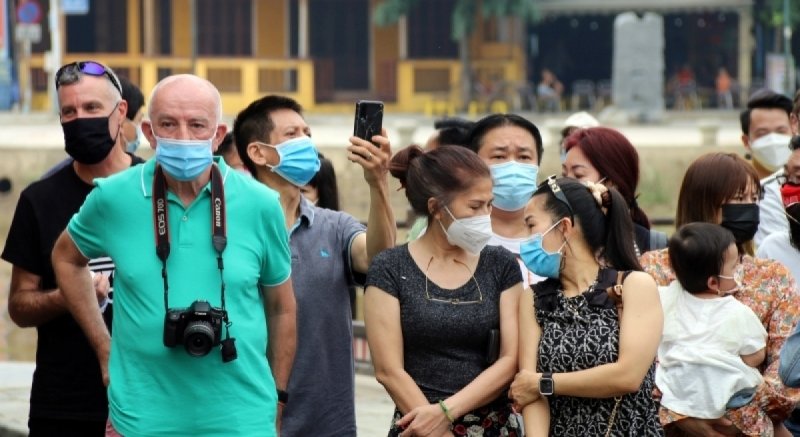 International visitors return to Quang Nam in November 2021. (Photo: Long Phi/VOV)   
NDO – Vietnam has set a target to welcome 65 million tourists in 2022, including about 5 million foreign arrivals and achieve a total tourism revenue of approximately 400 trillion VND (17.4 billion USD).
The information was mentioned at a conference on the development and recovery of Vietnam tourism, held by the Ministry of Culture, Sports and Tourism, the National Assembly's Committee for Culture and Education, and Nghe An province, on December 24.
Vietnam received 3.7 million visitors and 5.04 million international visitors more than ten years ago. The number of visitors continuously increased in the following years, reaching a record high of 85 million domestic visitors and 18 million foreign visitors in 2019.
However, due to the unpredictable development of the COVID-19 pandemic, the goal of welcoming 5 million international visitors to Vietnam in 2022 is said to be extremely difficult.
Only 3,500 foreign tourists visited Vietnam in 2021 after the country piloted the reception of foreign tourists in several localities according to the "vaccine passport" programme, since November.
According to the National Administration of Tourism, Vietnam will continue to welcome international tourists from the Republic of Korea, Russia, Uzbekistan, Kazakhstan, Thailand and India in January 2022.
Director General of the Vietnam National Administration of Tourism Nguyen Trung Khanh said that the Ministry of Culture, Sports and Tourism has proposed the Government to allow a 15-day visa exemption to target tourism markets of Vietnam. The pilot tourism programme is also expected to be expanded to welcome visitors via land and sea and to include two more localities, namely Binh Dinh and Ho Chi Minh City.
.
You might be interested in