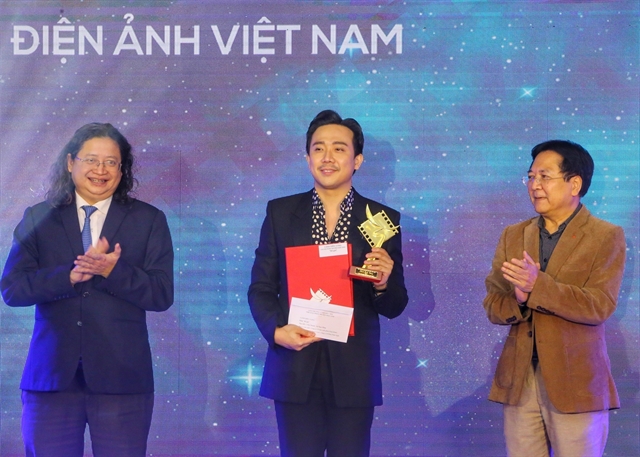 HÀ NỘI — Vietnamese record-breaker, Bố Gia (Dad, I'm Sorry) has been honoured as the Best Feature Film at the Golden Kite Awards 2020.
The comedy-drama by directors Trấn Thanh and Vũ Ngọc Đăng also bagged Best Leading Actor and Best Cinematography at the event held by the Viet Nam Cinema Association in Ha Noi on Wednesday.
"I wish to thank life for letting me experience the ups and downs so I can make films that touch the audience's hearts. The award is an honour but also a responsibility, motivating me to do better in following films," said Thanh.
Gai Gia Lắm Chieu – Những Cuoc Đời Vương Giả (Camellia Sisters) by Bảo Nhan and Nam Cito, and Trạng Tí Phieu Lưu Ký (Diary of Child Master's Adventure) by Phan Gia Nhật Linh were runner-ups and received Silver Kite Awards.
The Vietnam Television Film Centre won big this year, with its production Hồ Sơ Ca Sấu (The Crocodile File) by Nguyễn Mai Hiền named Best TV Drama Series.
Its three other projects – Hưong Dương Ngược Nắng (Sunflowers against Sunlight) by Vũ Trường Khoa, Tình Yeu Va Tham Vọng (Love and Ambition) by Bui Tiến Huy, and Yeu Hơn Cả Bầu Trời (Love More Than the Sky) by Nguyễn Khải Anh all brought home Silver awards.
The awards also honoured the Best Director, Best Cinematographer, Best Actor and Actress in Leading Role, Best Actor and Actress in Supporting Role, and Best Screenplay, and outstanding works in the categories of science films, documentaries, animations, and short films.
The event was initially slated for March but postponed until the end of this year due to COVID-19. The Golden Kite Awards 2020's awards saw 141 entries in total, including 12 feature films, 16 TV drama series, 60 documentaries, 12 science films, 20 animated movies, and 18 short films, according to VCA President Đỗ Lenh Hung Tu.
According to the jury, this year's entries have diverse content, with many improvements in storytelling, modern techniques and acting. Contemporary topics such as COVID-19 prevention were also integrated to evoke vivid and impressive feelings among audiences.
Dad, I'm Sorry sees actor and comedian Thanh take on various roles, including screenwriting, co-directing and starring. Released in March, the comedy-drama is Viet Nam's highest-grossing movie of all time (beating Avengers: Endgame), earning over VNĐ400 billion (US$17.4 million). It also fetched a further US$1 million after hitting US theatres in June.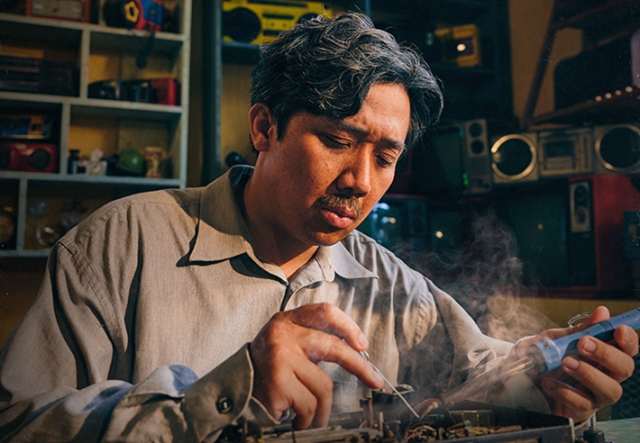 The film tells the story of a middle-aged xe om (motorbike taxi) driver, played by Thanh, who tries, and largely fails, to preside over a dysfunctional, exceptionally argumentative family in a poor area of HCM City.
Earlier, the film won four awards at the 22nd Viet Nam Film Festival, held at the end of November in the central province of Thừa Thien – Huế, including the Silver Lotus for "Excellent Feature Film". It also won the Blue Star award on December 19 and became Viet Nam's international feature submission at the 2022 Oscars.
Although highly appreciated at home, Dad, I'm Sorry failed to be nominated for the Best Foreign Film category at the Oscars.
According to Variety, the major disappointment in Thanh's film is that "the soap opera-level plot machinations, wild tonal shifts and ceaseless bickering deny foreigners a proper introduction to the life of a contemporary working-class Vietnamese family."
The Viet Nam Cinema Association Awards, popularly known as the Kite Awards or Golden Kite Awards, is an annual awards ceremony that recognises the excellence of Vietnamese films, television series and videos produced in Viet Nam. Last year's highest award went to Hạnh Phuc Của Mẹ (The Happiness of a Mother) by director Phạm Huỳnh Đong. — VNS
You might be interested in