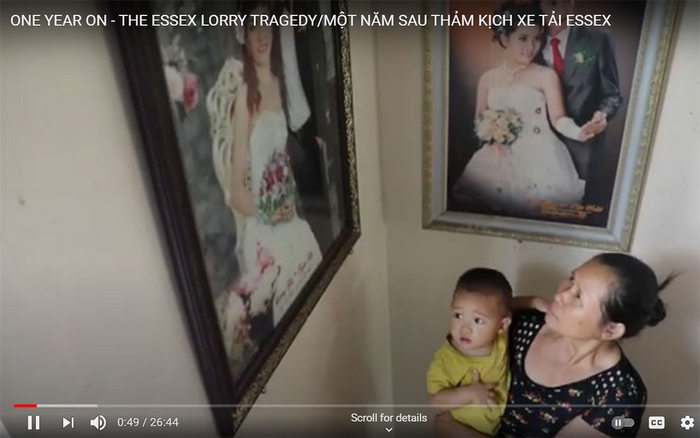 A scene from the film "One year on the Essex lorry tragedy". (Photo: screenshots)   
NDO – A documentary marking the first anniversary of the deaths of 39 Vietnamese migrants who were found in a lorry trailer in Essex (the UK) has won the first prize for the short documentary category at the 2021 Erie International Film Festival.
Entitled "One Year on: The Essex Lorry Tragedy", the nearly 30-minute film was made by Vietnam's major English language daily, Viet Nam News, under the Vietnam News Agency.
Journalists Paul Kennedy and Ho Hoang travelled to Yen Thanh District, in the central province of Nghe An, to record the pain and life of the families and relatives of the migrants one year on since the tragedy.
This is the 12th prize that the documentary won at the international film festivals held in various countries including India, Singapore, and Bhutan.
Producer Paul Kennedy said the prize is a reward for the crews' efforts in featuring the plight of the victims of the tragedy.
The documentary's success was thanks to the cooperation of the victims' families and relevant agencies in Nghe An Province.
The 2021 Erie International Film Festival took place over nine days from December 10 in Pennsylvania, the US, introducing around 60 independent movies, documentaries, animation productions and music videos.
You might be interested in