On December 20, MARD organized a seminar to review Component 3 of the Vietnam Irrigated Agriculture Improvement Project's (VIAIP/WB7) Support for smart farming techniques to adapt to climate change.
As MARD Deputy Minister Le Quoc Doanh said, despite the many risks posed by climate change and epidemics, agriculture must meet national objectives for food safety, economic development, poverty eradication, and social stability.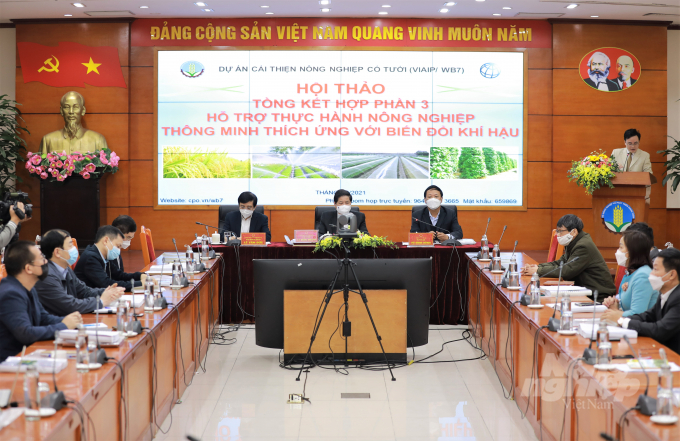 To attain these objectives, MARD suggested the Vietnam Irrigated Agriculture Improvement Project, which was supported by the World Bank for USD 210 million, comprising USD 180 million in preferential loans and USD 30 million in reciprocal capital. 
The project began in 2014 and was completed with the execution of all authorized items and activities in June 2021. The Project's development objective is to increase the sustainability of irrigated agricultural production systems on more than 93,000 hectares of cultivated land in selected provinces located in the northern mountainous region of Ha Giang, Phu Tho, and Hoa Binh, as well as the central coastal region of Thanh Hoa, Ha Tinh, Quang Tri, and Quang Nam.
The initiative supports up to 245,000 agricultural families, while seven provinces' irrigation systems have been modernized to include cutting-edge technology.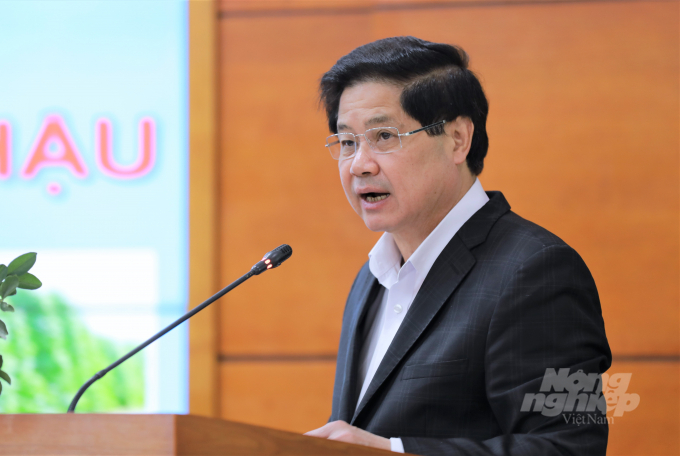 Additionally, the project developed 49 smart agricultural practice models to adapt to climate change, including 14 models specializing in rice and rice-crop crops; 12 models of vegetable production; 5 models of specialized vegetable cultivation; 12 models of fruit trees; and 3 models of long-term industrial crops (tea and pepper).
Cultivated crops in 49 practice models include rice, vegetables, fruiters, and other perennial plants that are critical for food security and are indigenous to each location.
With stakeholders' consent, the initiative increased productivity, quality, and production efficiency by 15% to 20% as compared to conventional farming practices, significantly improving the income of agricultural families.
"The Ministry of Agriculture and Rural Development expresses its gratitude to specialized agencies, Project Management Boards at all levels, and local governments in seven provinces and regions. The Project has worked closely with sponsors to ensure the project's success in the past "Deputy Minister Le Quoc Doanh said.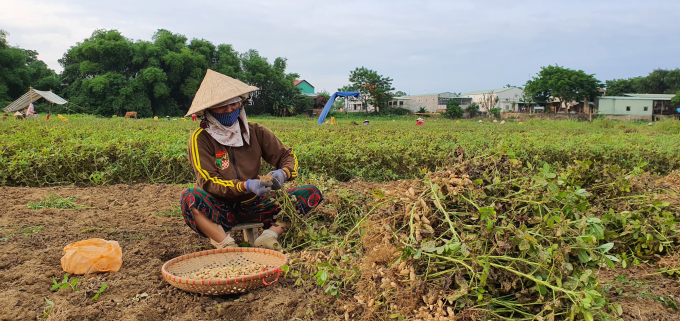 Scaling up packages of smart agriculture techniques
According to Deputy Minister of Agriculture and Rural Development Le Quoc Doanh, the initiative first collaborated with local officials, agricultural leaders, and particularly farmers from seven areas to identify priority crop items that benefited from local advantages.
Additionally, the initiative works with farmers to choose a farming technique that is appropriate not only for the target crop but also for the location and its circumstances.
Deputy Minister Le Quoc Doanh stated: "After about six years of execution and assessment, the project has acquired a high level of efficiency." All topics, from rice to fruit trees to vegetables and long-term industrial plants, demonstrated excellent performance.
Thus, it has aided in the improvement of productivity and quality, particularly via cost reduction and investment in inputs like as fertilizers, pesticides, manpower, and irrigation water. Cost reductions not only increase economic efficiency, but also have a beneficial effect on the environment by lowering greenhouse gas emissions.
Deputy Minister Le Quoc Doanh further underlined that MARD would work with sponsors to replicate the package by examining the full project's outcomes, particularly the lessons learnt.  This is also the expectation of local farmers, as well as the Ministry and sponsors for the future.
Author: Pham Hieu
Translated by Linh Linh
You might be interested in