HO CHI MINH CITY – Visitors can participate in rowing SUP to catch the sunrise, sunset, have dinner or take a river bus to see the city at night.
Down the Saigon River, visitors will see many landmarks such as Nha Rong Wharf, Ben Nghe Port, Phu My Bridge, Den Do Cape, Binh Khanh Ferry… Here are some relaxing experiences on the river, for You have a different view of the city.
Rowing SUP
SUP rowing is suitable for all audiences, whether you are just playing for the first time or have mastered the water, helping you relax and exercise. This sport is being participated by many young Saigonese on weekends at the Phu My Hung marina area, District 7 and Binh Quoi, Binh Thanh District. Having fun in the Binh Quoi area, you can admire the scenery of the tallest building in the city, Landmark 81, the bustling Saigon Bridge with high traffic… while the Phu My Hung area is surrounded by green trees.
Every week, SUP rowing clubs post notices about the tide schedule on the Saigon River, players can choose a suitable time frame to participate, usually in the afternoon from 14:00 to 18:00. Each turn of rowing SUP costs 450,000 to 550,000 VND for first-timers, there are instructions to learn how to row, turn the paddle properly, how to install oars, protective equipment, water refueling, etc. know how to play, just rent a paddleboard for about 250,000 VND / turn.
Check-in with Landmark 81 from Saigon River. Photo: PhD
River bus experience
If you are familiar with the river bus route departing from Bach Dang wharf, District 1 to Thanh Da, Linh Dong, Binh Chanh, and Binh An wharfs during the day, now you can experience more night bus routes. The route goes from Bach Dang wharf to Binh An side and vice versa, operating time from 5pm to 9pm daily, with 4 flights. This is an opportunity for you to watch the city shimmering at night, have more fun experiences at the price of 15,000 VND/way, 30,000 VND for both departures and return.
Dinner on the river
At Marina 1 in Saigon port area, District 4, there are about 10 yachts for guests to choose from according to their liking. With ticket prices from 260,000 VND to over one million VND, you can enjoy Asian and European dishes buffet or combo.
The boat departs every evening from Saigon port, taking visitors along the river, watching the beauty of Nha Rong wharf at night, and the scene of Ben Nghe. Crossing the Saigon Bridge, passengers can see the full shimmer of Landmark 81 building…
In addition, the ship also has art programs, musical performances, magic tricks to serve tourists. At the end of dinner, the boat will drop off passengers at Bach Dang wharf, from where you can take a walk on Nguyen Hue walking street to cool off, sip coffee and milk tea at restaurants.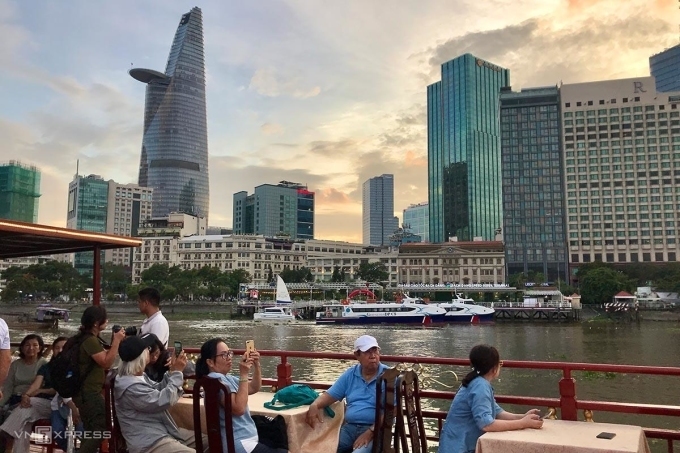 Guests take the train to have dinner on the Saigon River before the Covid-19 epidemic. If you want to watch the sunset, you can get on the train early from 16:30. Photo: Spirit
Follow (vnexpress)
You might be interested in