Although they only brought seedless grapes for trial planting in Nghe An, Hai and his wife did not expect to grow well, and visitors flocked to visit and buy.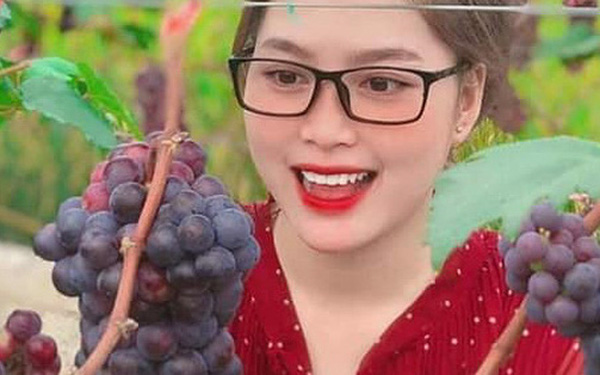 In the past few days, people in Vinh city and neighboring areas of Nghi Loc district (Nghe An) have told each other about a beautiful, dreamy, fruit-laden vineyard planted in the middle of a vegetable field. What people previously thought was that only in Ninh Thuan province could this specialty plant be grown.
Mr. Nguyen Ngoc Hai – the owner of a seedless vineyard planted in hamlet 9, Nghi Trung commune (Nghi Loc district) said that this is the vineyard that he and his wife "risked their own" to experiment with nearly a year ago. Up to now, the garden is full of fruit, visitors come to visit and "win" to buy, so he and his wife are very happy.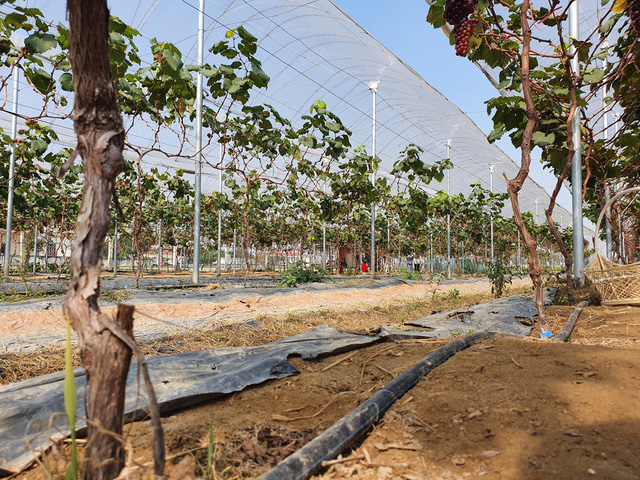 The original 400 seedless black vineyards of Mr. Hai and his wife brought it to be planted for the first time in Nghe An.
Mr. Hai said, last year he and his wife learned about the model of growing seedless black grapes. Seeing that there was no such vineyard in Nghe An province, he was determined to build a small experimental garden.
In early 2021, Mr. Hai renovated 1,100m2 of his family's productive land to be suitable for growing grapes. The owner of this garden then spent 50 million VND to import 400 grapes and then went back to experiment. In addition to the money to buy seeds, he also spent an additional 300 million VND to hire people to build rigs, cool houses, fertilizers and care.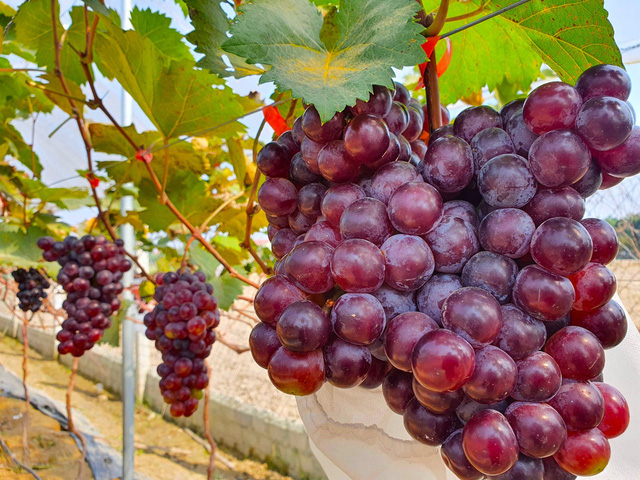 After 7 months of tending, Mr. Hai's vineyard is ripe beyond expectations.
" I have to learn a lot more online because the land of Nghe An is rainy, sunny, hot, and cold, so it's very difficult to grow grapes. I always have to monitor very carefully so that when I detect an abnormal problem, I can handle it immediately, otherwise, grapes will spoil, there will be no fruit ", Mr. Hai said about the initial difficulty when bringing the vineyard to trial planting.
After more than 7 months of care, Mr. Hai's vineyard has flowers and bears fruit. The whole garden is gradually ripe, the bunches of succulent berries make him and his wife happy. Mr. Hai estimated that 400 vines planted in the trial yielded about 4 quintals of fruit.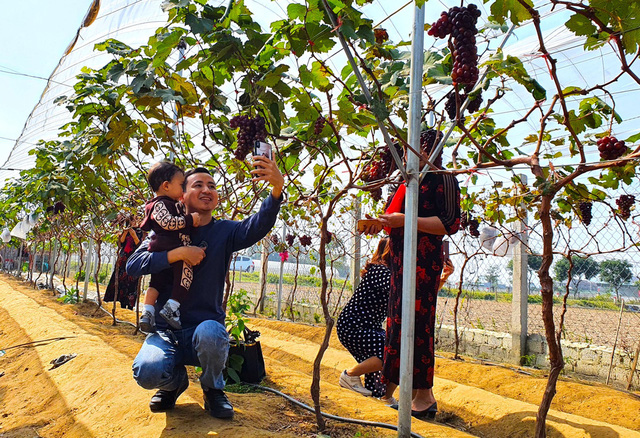 Hearing that there is a specialty vineyard right in Nghe An, many people and families flocked to take pictures and check-in.
Nearly a month ago, Mr. Hai opened the vineyard door for tourists to visit and take pictures for 20,000 VND/person. Knowing that the vineyard is beautiful and is the first vineyard of Nghi Loc area, City. Vinh, so many people flocked to visit and take pictures.
After each visit to take pictures, people "win" to buy grapes right in the field for 150,000 VND / 1 kg. The bunches of ripe, clean grapes are picked by tourists themselves, so everyone is delighted.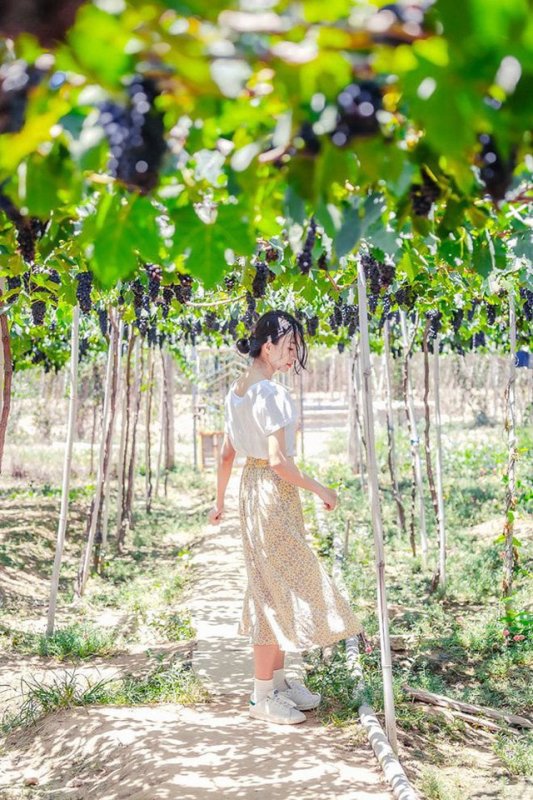 Many beautiful young girls also come to take advantage of "virtual life".
Due to scattered grapes, many visitors came later, even though they wanted to buy, but only received a shake of the head from the owner of the garden.
" My wife and I did not expect that many tourists come to visit and take pictures. Tourists take pictures and post them on Facebook, so more people know and come. One day, my garden welcomes up to 500 tourists. Many people competed to buy grapes but did not have them for sale. Currently, there are not many ripe grapes on the tree, "said Ms. Van (Mr. Hai's wife) happily.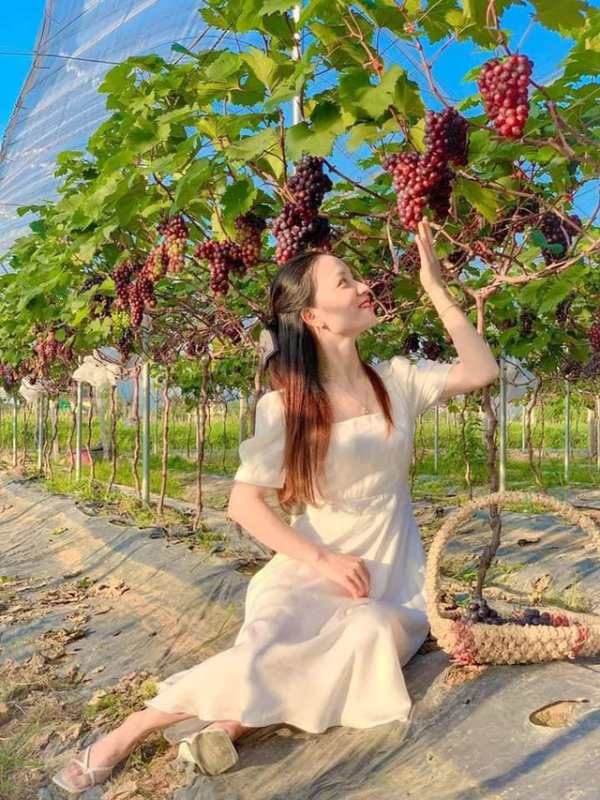 Many girls took the opportunity to take pictures as a souvenir.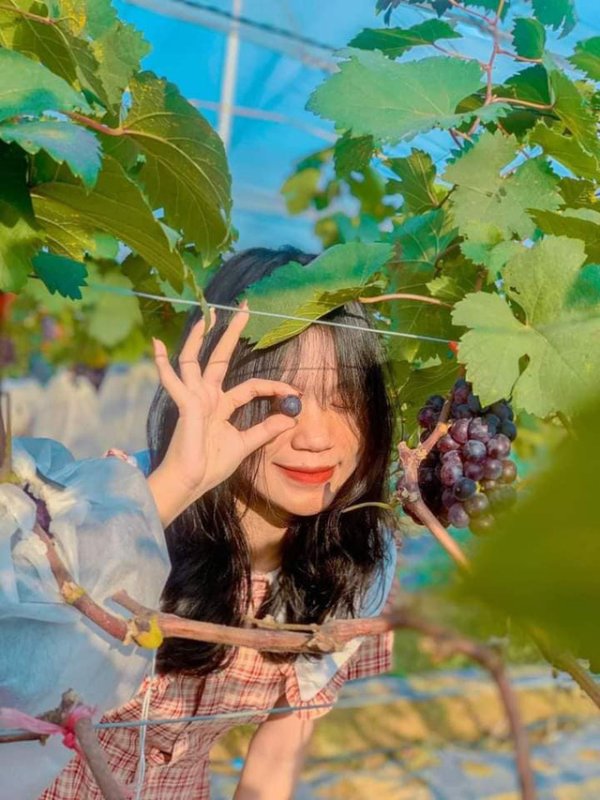 Many people are excited because this is the first time this land has grown fruit-laden grapes.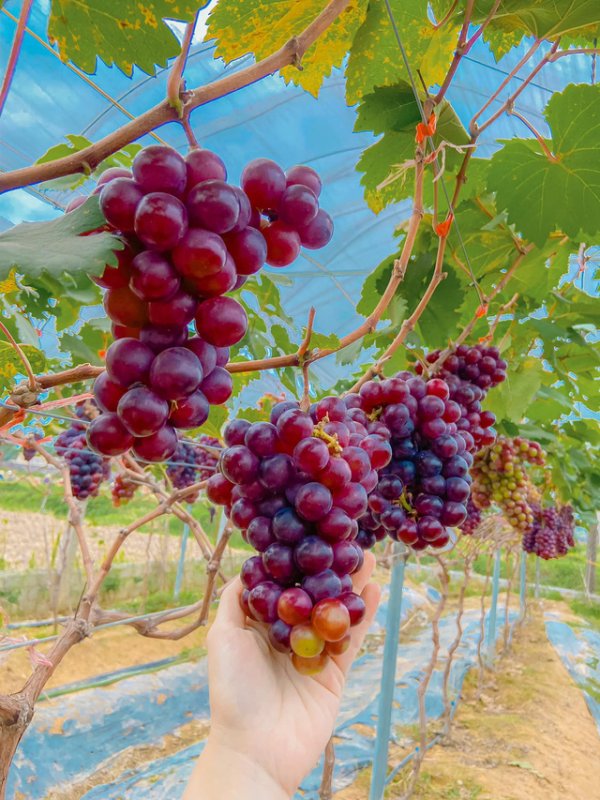 The bunch of ripe grapes full of fruit makes people excited.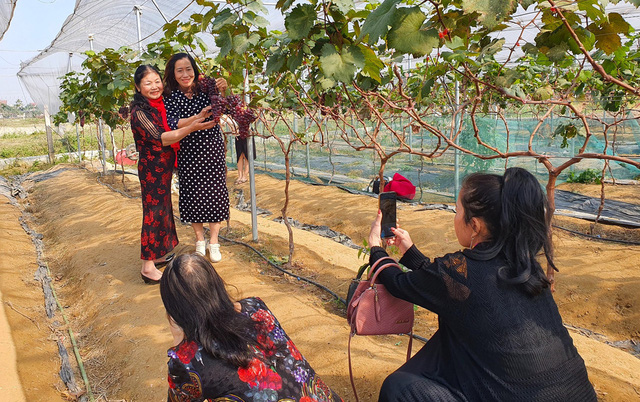 Not only young girls but also middle-aged women also took advantage of taking photos as souvenirs.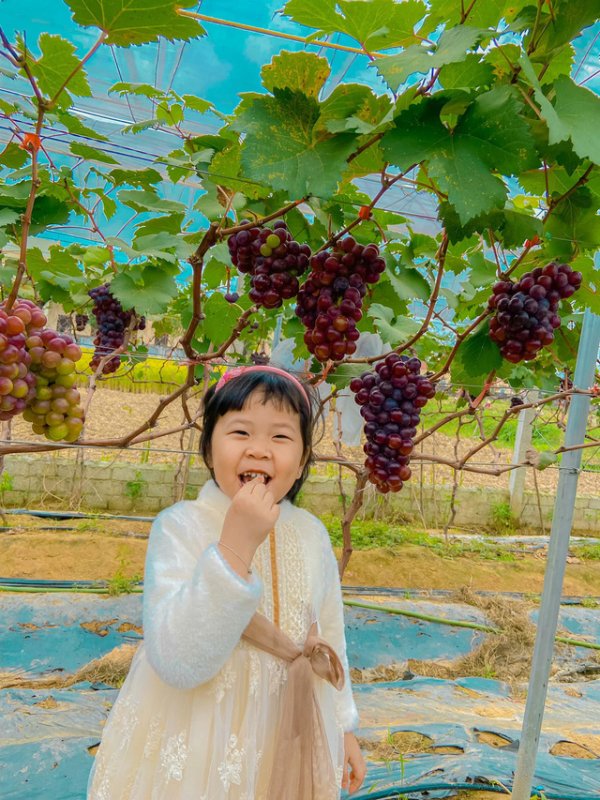 Many children also follow their parents to take pictures and pick grapes to eat right in the garden.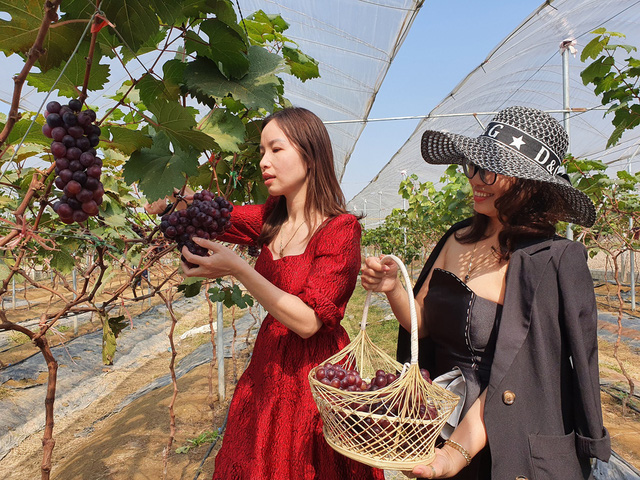 After taking pictures, visitors choose ripe grapes to buy for 150,000 VND / 1 kg.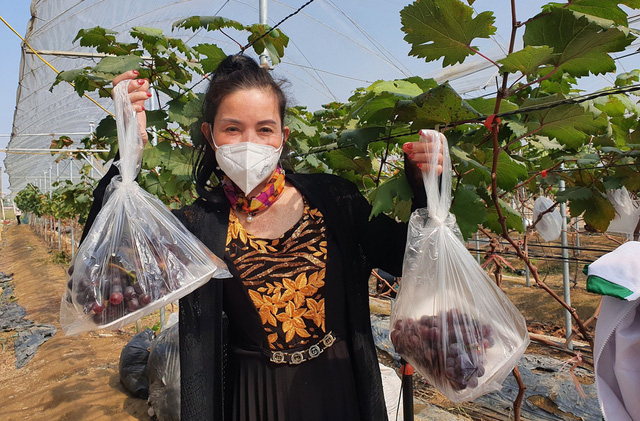 Tourists boast of buying many delicious bunches of grapes.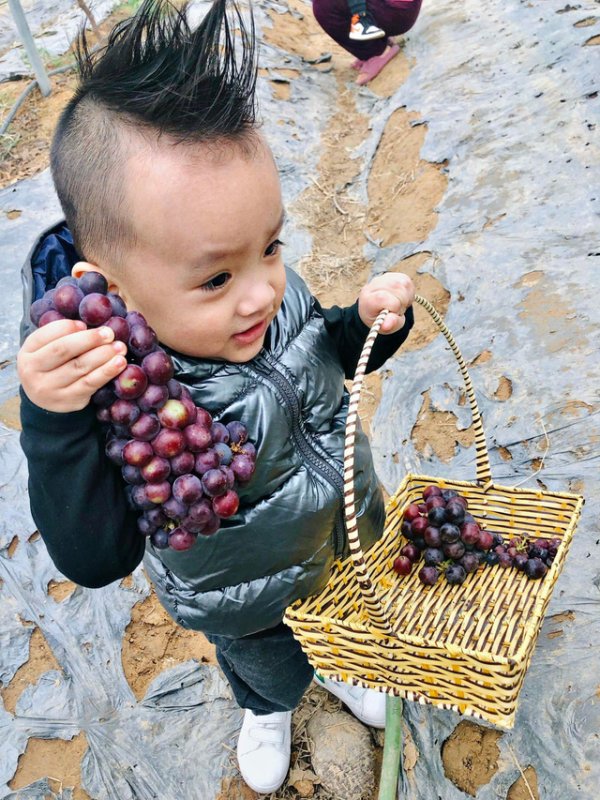 The children were delighted to be allowed to pick grapes by their parents.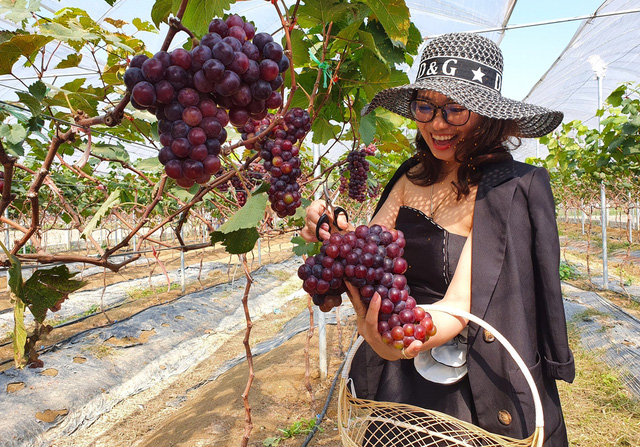 Joyful smile of a young girl when she cut ripe grapes with her own hands.
Photo: Internet
You might be interested in