Explore the traditional craft villages of Vietnam to see that the Vietnamese people have long-standing occupations, preserving the beauty of cultural values ​​over the centuries.
1. Thu Sy Village – a Vietnamese traditional craft village famous for its knitting 
Perhaps Thu Sy village is a Vietnamese traditional craft village that few people know. However, this is a craft village with a history of up to 200 years old, located in Tien Lu district, Hung Yen province. This is the place to preserve and develop the knitting profession that was formed about 2 centuries ago.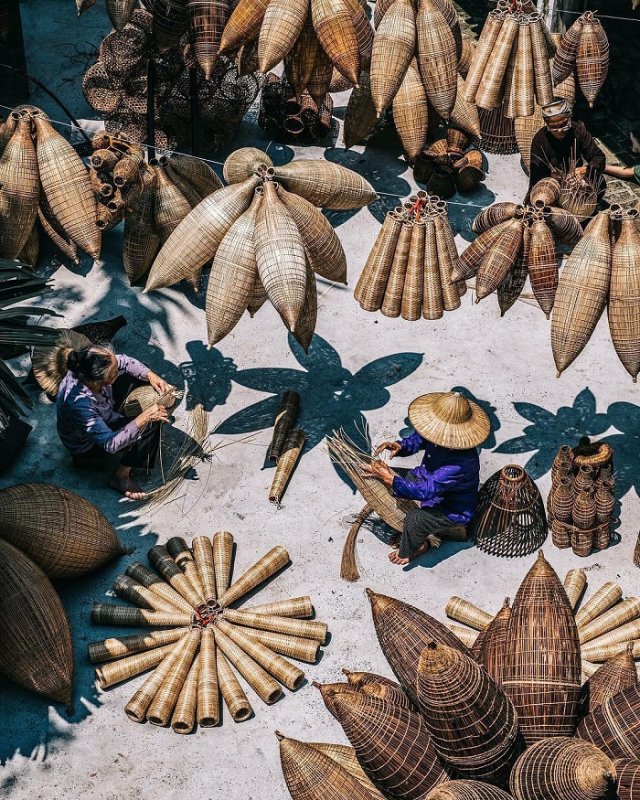 Thu Sy village is located in Tien Lu district, Hung Yen. Photo: @thevietnamwanderers

For many first-time visitors to Hung Yen , knitting seems to be very new and strange. However, when you see it, you will realize that this is a very familiar object. It is a kind of fishing gear made from bamboo, cork,… forming many different shapes, serving for fishing.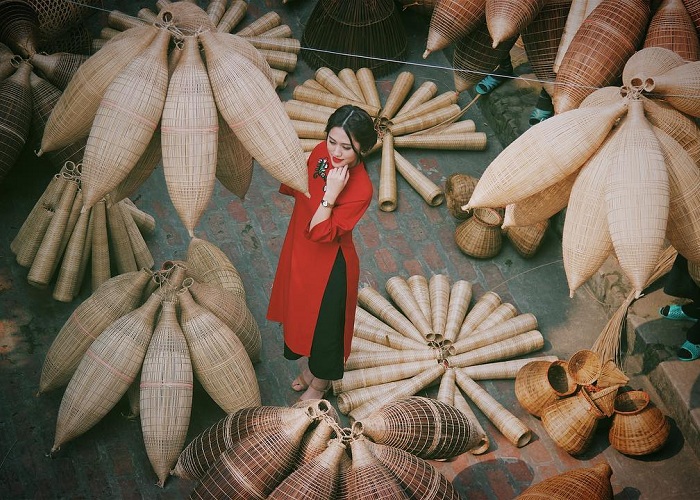 This is a craft village specializing in that production – a fishing gear of the Vietnamese people. Photo: @hanhsandy

In Thu Sy village, Hung Yen, there are more than 500 people doing knitting work, concentrated in two villages of Tat Vien and Noi Lang. Visiting this ancient village, visitors seem to be nostalgic about the distant past. A traditional Northern village with dark tiled roofs, moss-covered walls, and old people with gray hair but those knitting hands are quick.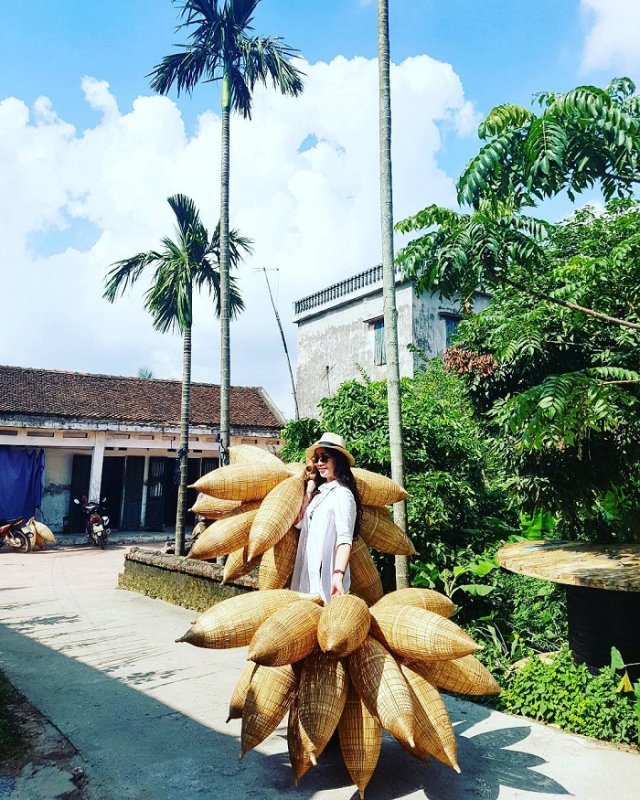 In Thu Sy village, there are about 500 people doing knitting. Photo:@tuong.san1711

Knitting is inherently a handicraft, so all stages are handmade. People have to work hard to select bamboo, then split, then sharpen, then knit, etc., all by hand. Then the finished products are those elaborate, meticulous cars that are extremely beautiful. Depending on that type, people continue to smoke it to make the product more durable and beautiful. 
 
This village is up to 200 years old. Photo: @bibimediahn

Today, that knitting craft in Thu Sy village, Hung Yen, is gradually becoming famous as the photos taken in this village spread to the tourist communities. The finished products put together to look like delicate flowers, which are not only beautiful but also show the ingenuity of the Vietnamese people when producing handicrafts.
 
>See more: Dien Khanh bronze casting village – a craft village with a history of hundreds of years in Khanh Hoa 

2. Bat Trang village – a traditional Vietnamese craft village famous for its ceramic craft
If you are a lover of traditional craft villages, you probably know the famous Bat Trang pottery village of Hanoi capital. Bat Trang craft village is located in Gia Lam district, on the outskirts of Hanoi. This place is famous for traditional ceramic production, with a history dating back to the Le Dynasty.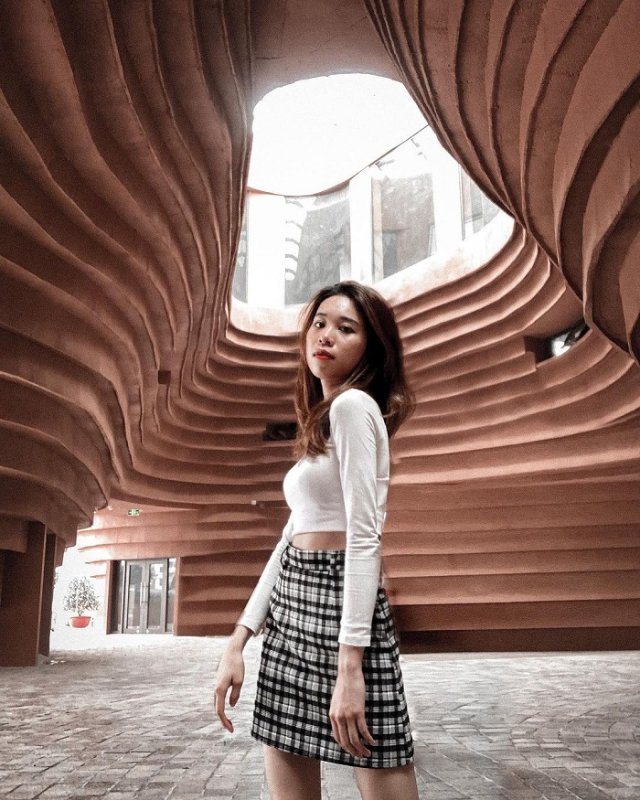 Bat Trang pottery village was formed during the Le Dynasty. Photo: @_22.chananh_

As one of the most famous Vietnamese traditional craft villages, Bat Trang becomes the coordinates not to be missed when visitors come to Hanoi. This craft village is the largest producer and supplier of ceramics in Vietnam. Currently, Bat Trang pottery has been present in many European and Asian countries.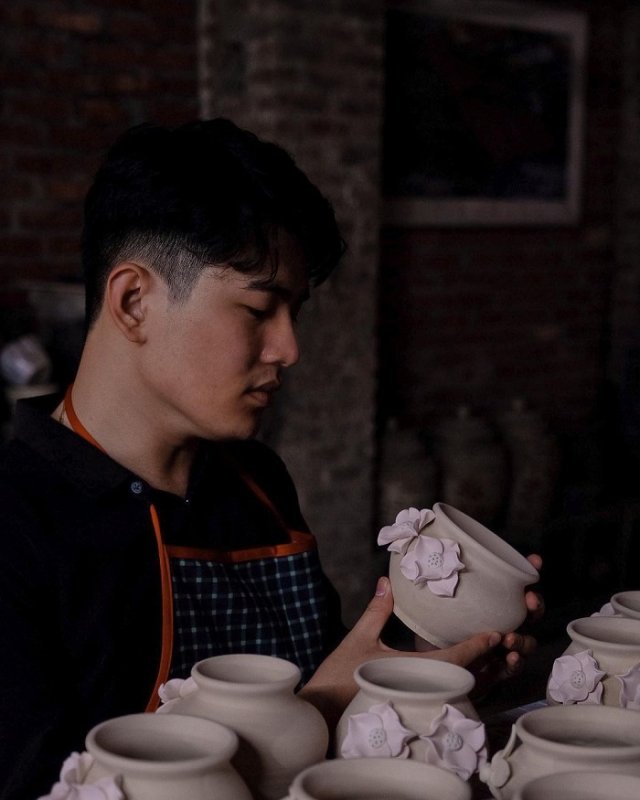 This is a craft village specializing in the production of traditional ceramics. Photo: @iamcrislei

For a long time, Bat Trang pottery village has been planned to become a tourist destination in Hanoi . However, not because of that, this hundred-year-old village has lost its old and ancient beauty. Coming here, you can visit 200-year-old wooden houses, communal houses, courtyards and participate in traditional festivals of local residents.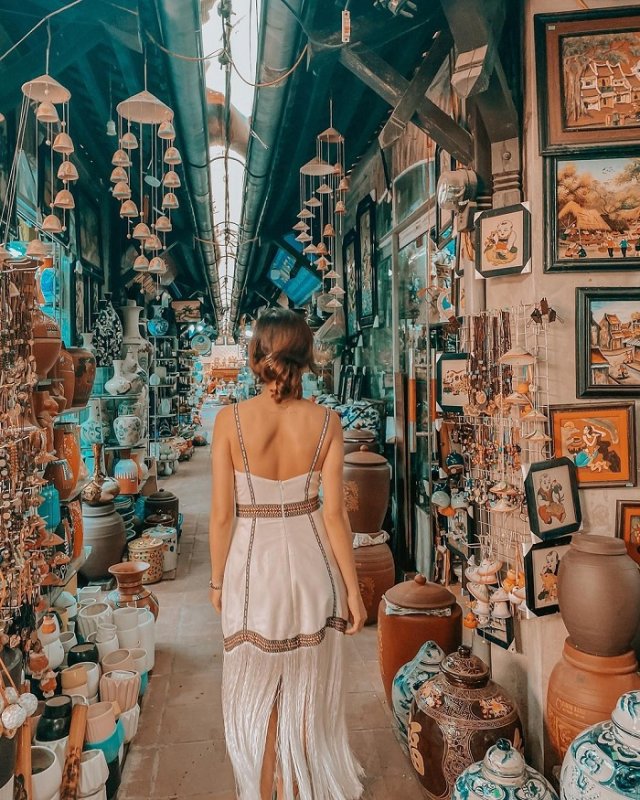 Bat Trang Pottery Market sells a lot of beautiful ceramics. Photo: @mia.ng18

In particular, when visiting this Vietnamese traditional craft village , visitors can experience pottery molding like a professional craftsman. Many production facilities in Bat Trang support visitors to mold pottery by themselves. After your work is completed, you can ask to bake it to bring it home at a cost of about 50,000 – 70,000 VND.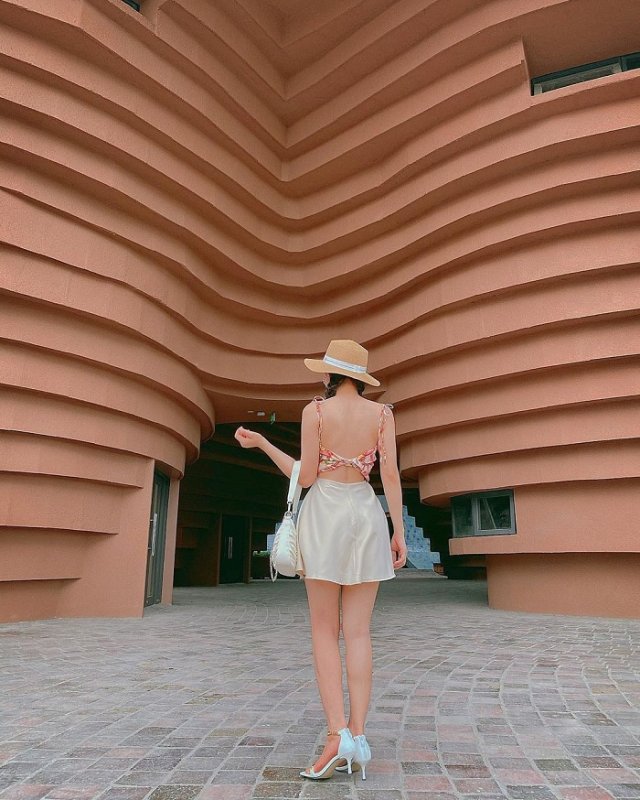 In this pottery village, there are many beautiful places for you to check in. Photo: @ viphuonglinhdan

If you want to buy ceramics as gifts for relatives and friends after the trip, visit the pottery market. This is a place that sells a lot of ceramic products, from handicrafts, souvenirs, consumer goods to rockeries, ceramics for worship, … bringing many options for visitors. 

3. Van Phuc Village – a beautiful Vietnamese traditional craft village with silk weaving 
In Hanoi, in addition to Bat Trang pottery village, visitors can also visit Van Phuc village. This is a beautiful village in Ha Dong district, only about 10km from the center of the capital. Van Phuc village is the place where silk weaving was formed about 1000 years ago, preserving the quintessence of "national soul and national essence" of Vietnamese silk production.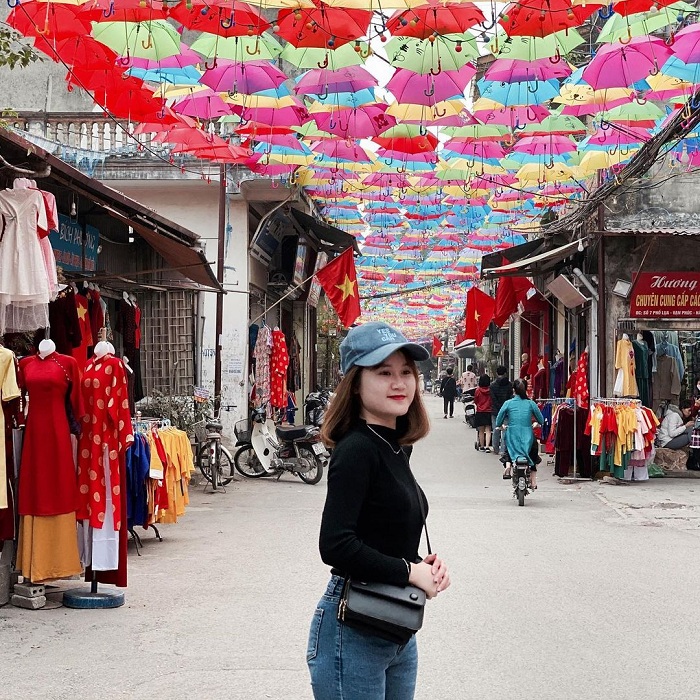 In Hanoi, there is also a hundred-year-old Van Phuc silk village. Photo: @hanhhtlatui

Today, when visiting Van Phuc Ha Dong silk village , visitors can admire a village with a harmonious beauty between ancient features, mixed with a little color of modern life. It is a place decorated with colorful umbrellas along a street corner, so that visitors can check in in virtual life.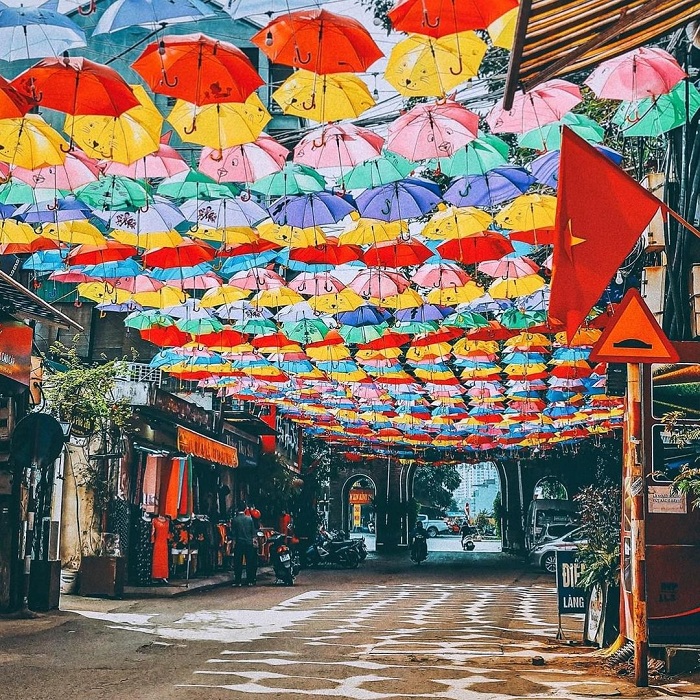 Van Phuc silk village in Ha Dong district. Photo: @pegasvn

But in Van Phuc village, there is not only a small corner to take pictures. This place preserves a lot of traditional values ​​of Vietnamese silk weaving. Going deep into the village, you will see the people's silk weaving and spinning machines. You will admire the beauty of the labor of long-time silk weavers on the loom.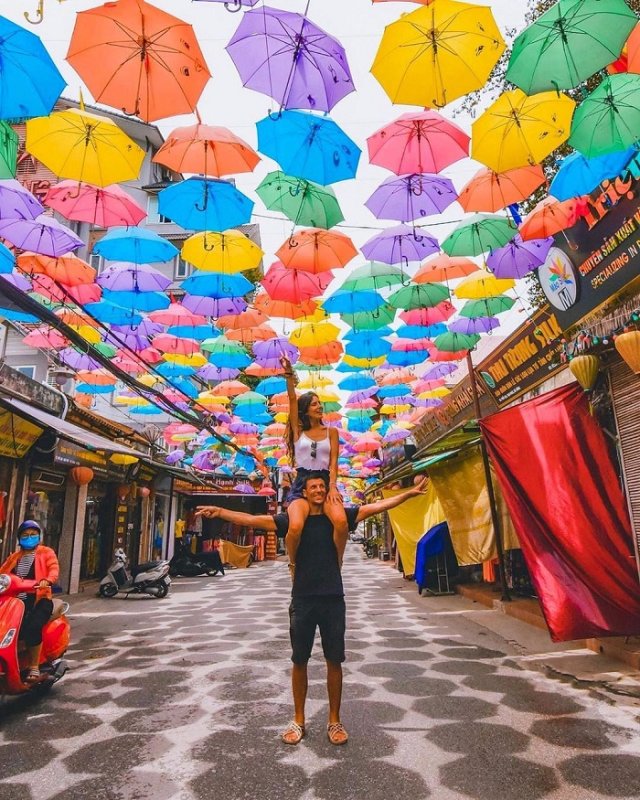 International tourists excitedly check-in Van Phuc silk village. Photo: @juntos_viajando

In particular, in Van Phuc village, there are many shops selling silk with extremely beautiful designs and colors. Silk material in Van Phuc village can be called "extreme" goods. Because Van Phuc silk was once chosen to make court clothes and was very popular under the Nguyen Dynasty.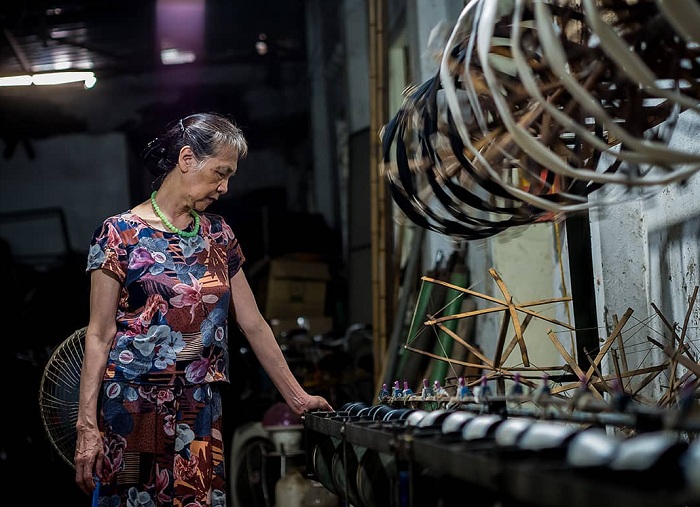 Silk artisans on traditional handmade looms. Photo: @theturopian

It is known that Van Phuc silk is woven from 100% natural silk fibers, without synthetic fibers, so it is a premium silk material. Today, the village still has about 800 households engaged in weaving, each year supplying the market with about 2.5-3 million m2 of quality silk fabric.
 

4. Thuy Xuan Village – an impressive Vietnamese traditional craft village with incense making 
Referring to the hundred-year-old craft villages in Vietnam, ignoring Thuy Xuan incense village is a big omission. This beautiful incense village is more than 700 years old, located on Huyen Tran Cong Chua street, about 7 km southwest of Hue city center.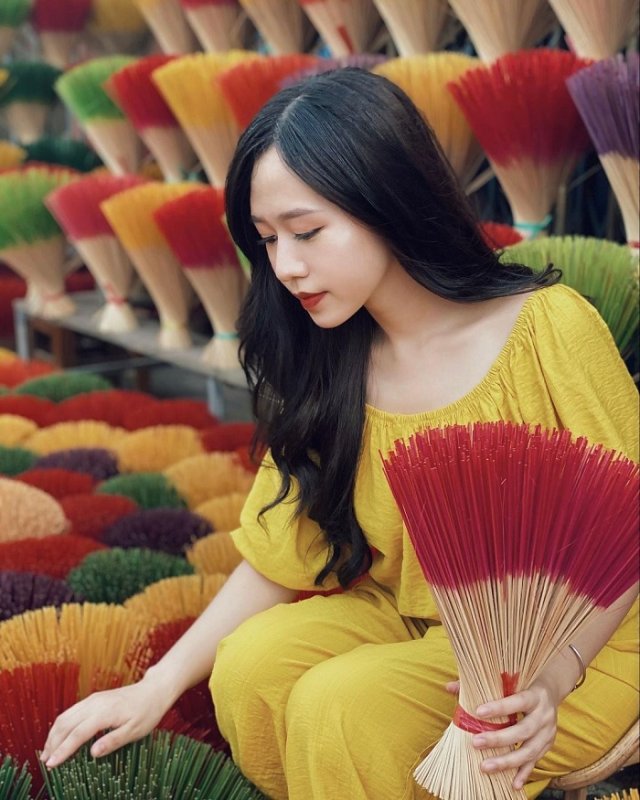 Thuy Xuan incense village is located 7 km from Hue city center. Photo: @buihangg

Under the Nguyen Dynasty about 7 centuries ago, incense-making appeared in Thuy Xuan village. At that time, this traditional craft village mainly provided incense for the court, mandarins, and people in Thuan Hoa and Phu Xuan areas. Over time, passed from generation to generation, forming a Vietnamese traditional craft village with an age of up to a hundred years.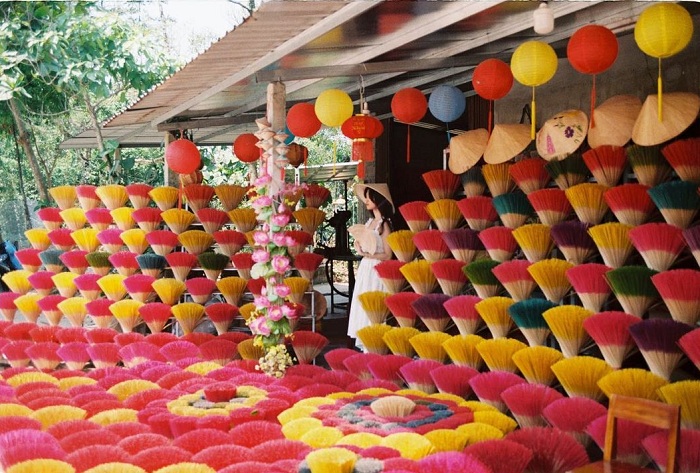 This incense village appeared about 7 centuries ago. Photo: @jannykaniee

Today, when traveling to Hue , you should visit Thuy Xuan incense village to admire a colorful picture. The village over the years still retains the ancient beauty of the central village. The highlight of it is the yards full of incense bouquets with extremely prominent red and yellow colors.
 
Colorful bouquets of incense are dried in Thuy Xuan incense village. Photo: @nhcuynh.205__

In Thuy Xuan incense village, people do not use chemicals but use agarwood, cinnamon, cloves, star anise, etc. to mix well to create an ethereal and natural fragrance for the product. Visitors here can buy incense as gifts or buy to support the people in the village.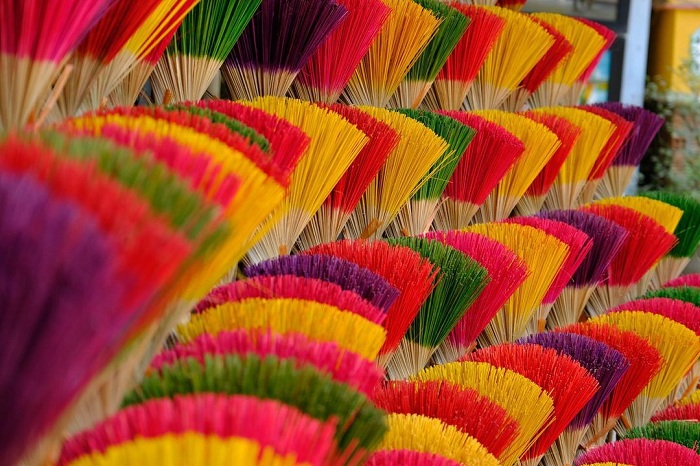 The fragrance here is free of chemicals, natural fragrance. Photo: @minhcuong_dr

As tourism to the ancient capital of Hue is growing, this incense village becomes an attractive destination for domestic and foreign tourists. Visiting Thuy Xuan incense village, you can not only take pictures with the beautiful incense drying yards. But you can also learn about the stages of making incense, enjoy a very handcrafted beauty, full of colors of the mind in Hue. 
 
This is a beautiful destination not to be missed when traveling to Hue. Photo: @ lyn_em

Each Vietnamese traditional craft village is a place to preserve the long-standing cultural values ​​of the nation. Having the opportunity to explore these craft villages to see that time cannot erase the good crafts, but on the contrary, it even more honors the professional culture that our grandparents and ancestors have built. 
Photo: Instagram
You might be interested in