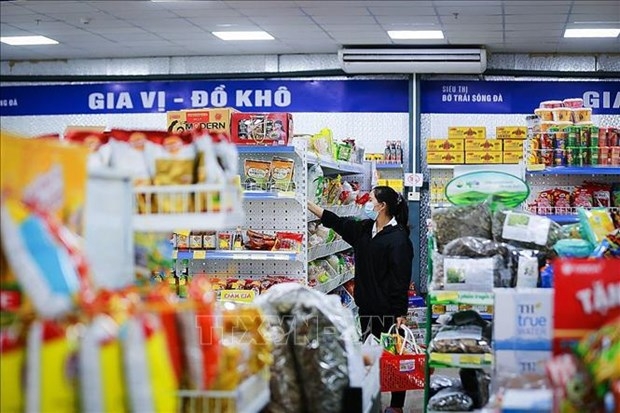 A woman chooses products at a store. (Illustrative photo: VNA)   
NDO/VNA – The Consumer Price Index (CPI) in November was up by 0.32 percent compared to October, according to the General Statistics Office (GSO).
It was driven by the hikes of prices of petrol and gas across the globe, as well as consumer goods and services in localities in the new normal.
Among 11 groups of main commodities and services, nine experienced rising prices.
In the first 11 months, the CPI went up 1.84 percent compared to the same period last year, the lowest level since 2016, attributed to the fuel price hikes by 30.32 percent year-on-year, after 20 adjustments.
Housing and construction materials posted a year-on-year expansion of 6.8 percent and education grew 2.44 percent.
Meanwhile, foodstuff inched down 0.52 percent and electricity prices dropped 1.06 percent against the same period last year.
As COVID-19 prompted travel restrictions, air ticket prices fell 21.39 percent while travel package slipped 2.42 percent.
Core inflation in November increased 0.11 percent, up 0.58 percent compared to a year ago, the GSO said. The figure saw a year-on-year rise of 0.82 percent in 11 months.
December CPI is forecast to marginally rise and the yearly average will be about 2 percent, much lower than the set target of 4 percent.
You might be interested in