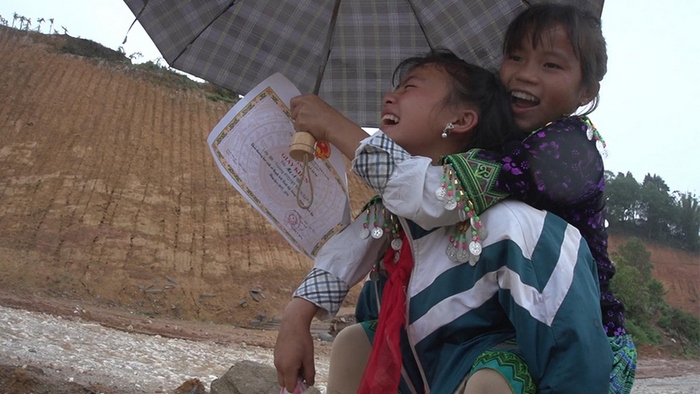 A scene from the documentary "Children of the Mist" (Photo via NDO)   
NDO – Young director Ha Le Diem has been honoured for best director in the category of International Competition at the 2021 International Documentary Film Festival Amsterdam for her documentary film "Nhung dua tre trong suong" (Children of the Mist).
This was the second most important award, only following the "best film" prize to the four-hour film "Mr. Landsbergis" by Sergei Loznitsa from Ukraine.
"Children of the Mist" (92 minutes) is about the life of Di, a 12-year-old girl descending from the H'Mong ethnic minority group located in Sapa town, Lao Cai province. From Di and her relationships around her, the female director highlighted the conflicts between ancient customs and modern values and the challenges that ethnic minority children, especially girls, have to face as they reach adulthood. Di wants to go to school but she was born in a locality with the unsound custom of "catching wife", which hindered her dream of receiving higher education. The film reflected the unfortunate consequences of this old traditional custom, including the risk of kidnapping and human trafficking.
In addition to the "best director" for Ha Le Diem, her film won the special prize voted by the jury, for the category of "the first film".
Ha Le Diem was a student of the Centre for Assistance and Development of Movie Talents (TPD) and joined the 2016 Varan filmmaking course.
The International Documentary Film Festival Amsterdam has been held annually since 1988 and developed into the largest festival of its kind, attracting filmmakers around the world.
You might be interested in