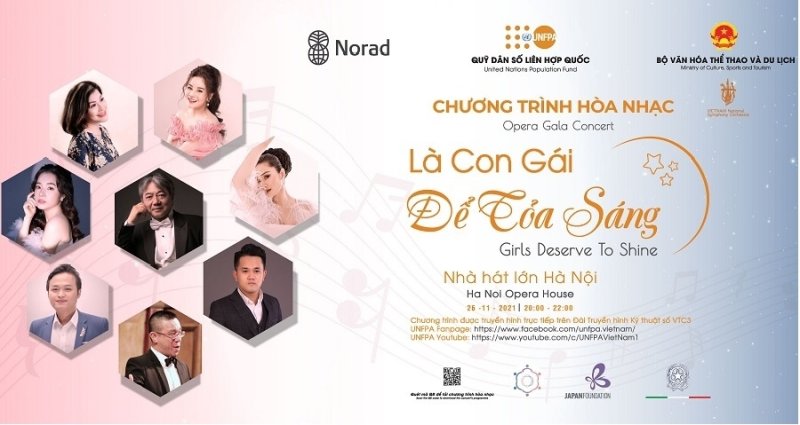 'Girls Deserve to Shine' opera gala concert to promote gender equality   
NDO - The United Nations Population Fund (UNFPA) in collaboration with the Ministry of Culture, Sports and Tourism (MOCST) and the Vietnam National Symphony Orchestra are organising an opera gala concert to take place on November 26, with the aim of promoting gender equality and the empowerment of women.
The programme will be broadcast live on digital TV channel VTC3 and on Facebook and YouTube pages of UNFPA.
This is also UNFPA's contribution to Vietnam's National Action Month for Gender Equality.
The 2021 Opera Gala Concert, with the theme "Girls Deserve to Shine", is being organised following the first ever successful Symphony Concert in 2020. Under the direction of the well-known conductor Honna Tetsuji, the Opera Gala Concert features the performance of seven successful Vietnamese opera singers, namely Dao To Loan/Soprano, Bui Thi Trang/Soprano, Le Vanh Khuyen/Soprano, Huong Ly/Soprano, Tung Lam/Tenor, Truong Linh/Tenor, and Nguyen Duc Huy/Bariton, with popular world famous works by Gioachino Rossini, Wolfgang Amadeus Mozart, Gaetano Donizetti, Giacomo Puccini and Giuseppe Verdi.
Tran Tuyet Anh, the Director of Family Department – Ministry of Culture, Sport and Tourism highlighted the important contributions of the Opera Gala Concert.
"We hope through this concert we can create a movement of soft power, bringing a strong message to every family on eliminating domestic violence against women and girls. The Opera Gala Concert "Girls deserve to shine" will boost the confidence and the honour of being girls", said Tuyet Anh.
Naomi Kitahara, UNFPA Representative for Vietnam stressed that the organisation of this concert demonstrates UNFPA's commitments to achieving Zero gender-based violence and harmful practices against women and girls. "We really want to appeal to everyone to stop domestic violence against women and girls. And we also want to appeal to everyone to stop son preference and gender-biased sex selection. Let the power of music bring us all together. Let's unite to stop these harmful practices," Naomi Kitahara said.
The organising board hope that, with the power of art and the inspiration of music, everyone works together towards an equal society where women and girls are respected and can shine.
You might be interested in