Kim Dung believes that traveling together helps to realize if you and your partner are compatible with each other, in terms of life views, interests…
In 2015, Le Thi Kim Dung and Tran Bao Trung were both born in 1991, fresh graduates, working in an auditing firm in Ho Chi Minh City. Here, the two met many friends of their age with similar travel interests. They planned to go on a trip to the North for the first time together, the destination was Hanoi, Ninh Binh, Ha Giang, and then conquer Fansipan peak – the roof of Indochina in Lao Cai.
Dung said she still remembers bursting emotions when driving on winding passes, seeing with her own eyes the craziness and majesty of the highest mountain in Vietnam, the magnificence of the Dong Van rocky plateau, and the poetic features. of Yen Minh pine forest, the nostalgic space at Pao's house… All imprinted in her memory and every September, she wants to go on a trip to the North to see beautiful memorable landscapes.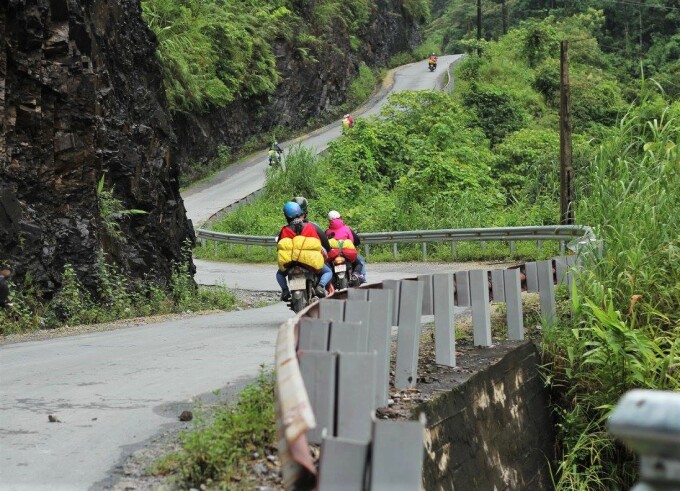 Dung and Trung's first trip to the Northwest was in 2015.
That year, Kim Dung and Bao Trung were still new friends who were assigned to ride together. Trung was the driver and Dung was in the back, she said: "I have a habit of falling asleep, he pulled my hand to hug him to avoid falling. At that time, I didn't mind, as long as it was safe. Maybe from At times like this, my husband thinks that I should "listen" to him.
Dung does not remember when the two fell in love with each other, only knowing that after regular trips every year, the two began to talk to each other more, sharing about work, life, and even plans for the future. new trip. "He cared about me more, he was there when I needed anything. When I went out and saw that I was carrying a lot of things, he took the initiative to help me, very sincere," Dung shared.
As for Trung, he noticed his friend from the first trip: "When climbing Fansipan, I thought about her all the time, then started planning to approach more deeply". After being friends for a long time, knowing each other's hobbies, sharing a love for football… the two have officially announced their dating, while the friends can't believe it, jokingly, if the two get married, they will be married. happy 4 gold thread.
"Outsiders look at us and think we're just going out. As for our personality, we're calm and he's a bit childish, it's like making up for each other. He's also funny, a creator. laughter for the group, so I also like this point," Dung shared.
Husband and wife Kim Dung and Bao Trung take pictures in Bat Xat, Lao Cai.
After 4 years together in the South to the North, in 2019, Dung and Trung officially returned to the same house after dozens of trips together. By 2020, the two have traveled through many northern provinces and cities, including impressive destinations such as Fansipan, Ta Xua, Lao Than, Pha Luong, Chieu Lau Thi peak, the western pole – A Pa Chai, "four great peaks" Ma Pi Leng, O Quy Ho, Pha Din, Khau Pha.
According to her, traveling together will help you realize that you and your partner are compatible with each other, in terms of lifestyle, eating, hobbies… "Traveling will always have problems arising, if both If the two can't get along, give in to each other, sooner or later they have to go their separate ways", Dung shared, thanks to the trips with her colleagues and friends, she and her husband returned to the same house.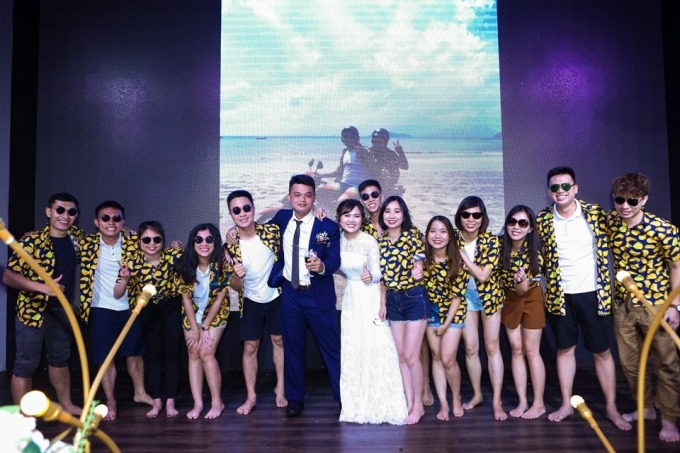 A group of colleagues traveled together to attend the couple's wedding in 2019.
In 6 years, from a colleague, soul mate to a life partner, the two have traveled together on more than 30 large and small trips, from the plains to the mountains to the sea, all over the country. In addition, the two have also had overseas tours in Korea, Taiwan, Malaysia, Indonesia, the Philippines, Myanmar, and Singapore.
In 2021, due to the influence of Covid-19, the two could not carry out their plans to travel together. "Back then, we weren't in love, but he also said that he would save money to take me to Europe to travel. Then after getting married, both of them planned to go to Japan, to go to Europe, but it still didn't come true because of the epidemic. very funny". Dung expressed. Follow vnexpress
You might be interested in