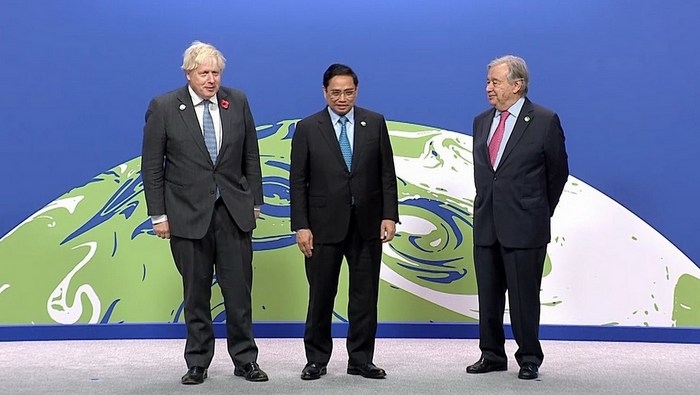 UK Prime Minister Boris Johnson and UN Secretary-General Antonio Guterres welcome Prime Minister Pham Minh Chinh to the COP26. (Photo: VNA)   
NDO/VNA – Prime Minister Pham Minh Chinh attended the opening ceremony of the 26th United Nations Climate Change Conference of the Parties (COP26) in Glasgow, Scotland on November 1 afternoon (local time).
As a large-scale and top important international conference on climate change, the event drew leaders and representatives of 197 parties to the United Nations Framework Convention on Climate Change (UNFCCC), including over 120 heads of state and prime ministers, UN Secretary General Antonio Guterres, and leaders of international organisations and financial institutions, multinational corporations and non-governmental organisations.
At the event, leaders expressed their concern over the increasingly serious impacts of climate change on the Earth.
They reaffirmed that the international community needs to take urgent actions right now, make stronger commitments and strive more to cope with the current climate crisis.
Speakers also emphasised the need for developed countries to fulfill their commitments to mobilise funds in support of developing nations' adaptation and resilience efforts, saying that COP26 is the last chance to restore nature and protect the future of humanity.
Prime Minister of Barbados Mia Amor Mottley highlighted the dire impacts of climate change on the survival of countries in the Pacific and Caribbean regions, and stressed the need to address financing, transformation, and adaptation issues to achieve the goals of the Paris Agreement. She said the current situation is a "red alarm" for the G7 and G20 countries.
Italian Prime Minister Mario Draghi announced that the G20 countries will stop providing funds for coal-fueled power projects by the end of this year.
Meanwhile, United Nations Secretary-General Antonio Guterres recommended that countries commit themselves at the highest level and emphasised the need to form financial and technological alliances to aid developing nations in green growth and protecting vulnerable people against the effects of climate change.
Vietnamese Prime Minister Pham Minh Chinh will deliver an important speech at COP26 on the afternoon of the same day to affirm Vietnam's strong determination and commitment to joining hands with the international community in response to climate change – one of the current biggest global challenges.
You might be interested in