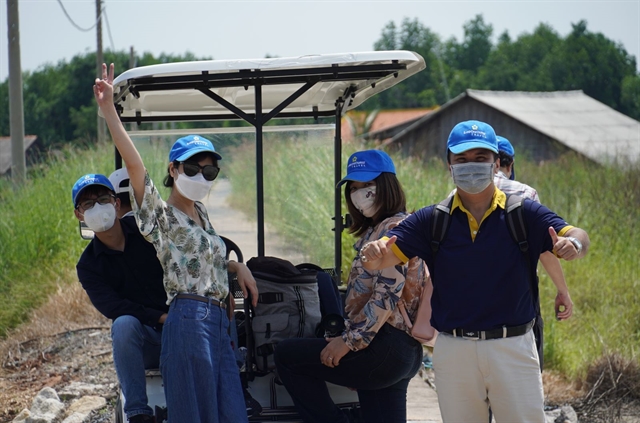 HCM CITY — The Saigontourist Group on October 24 launched a river tour from Bạch Đằng wharf in downtown HCM City to  tourist attractions in Cần Giờ District, one of the first efforts to revive the tourism sector as the city eases COVID-19 curbs.
Fifty tourists left for Vam Sat Ecological Park and Thiềng Liềng Island in Cần Giờ by a Greenlines high-speed ferry. They cruised on the Sai Gòn River and explored the Cần Giờ wetlands and the area's signature dishes.
The coastal district is noted for its vast mangrove forests and wildlife sanctuaries, and was designated the first Mangrove Biosphere Reserve in Viet Nam in 2000 by UNESCO.
Trương Thanh Vinh, a five-star hotel employee in the city, said he had visited Cần Giờ several times but it was his first river trip to the place.
A trip with friends was a relief from the mental strain after months of travel restrictions due to the pandemic, he said.
Speaking at the launch ceremony, Nguyễn Thị Ánh Hoa, director of the city Department of Tourism, said the river tour was aimed at diversifying safe travel products, gradually reviving the tourism industry.
The department will co-ordinate with travel firms and local authorities to run more such river tours, including Bạch Đằng- District 7- Cần Giờ and Bạch Đằng-Củ Chi-Bình Dương.
In the past few years the city has been launching a number of them, including Bạch Đằng- District 7, Bạch Đằng - Bình Quoi, Bạch Đằng - Củ Chi, Nhieu Loc - Thị Nghe Canal, and Bạch Đằng - Củ Chi - Bình Dương. —VNS
You might be interested in