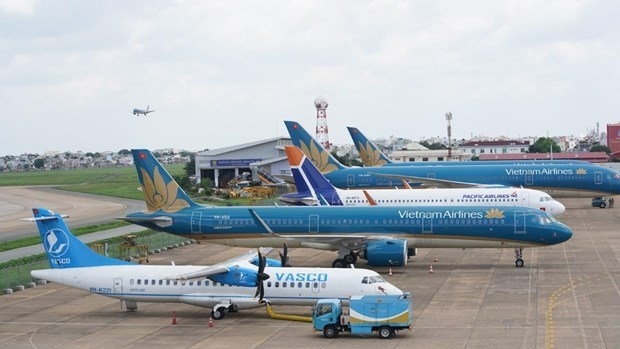 Aircraft of Vietnamese airlines (Photo: VNA)   
NDO/VNA – The Ministry of Transport has allowed to increase frequency of domestic flights, including those in the Hanoi-Ho Chi Minh City air route.
In a decision signed by Deputy Minister of Transport Le Anh Tuan, the ministry stated that a temporary guideline for safe and flexible operation of passenger transport amid COVID-19 will take effect until November 30. Its implementation will be reviewed after the first 15 days.
Accordingly, a maximum of six flights each way daily will be allowed on the routes connecting Hanoi – Ho Chi Minh City, Hanoi – Da Nang, and Da Nang – Ho Chi Minh City from October 21 – November 14, and the number will be raised to seven during November 15-30.
On other routes, the maximum will be four flights each way per day.
The Transport Ministry has also proposed that airlines no longer need to keep middle seat empty on flights from October 21, but passengers have to meet one of the three conditions to fly, which is either having a certificate for full vaccination for at least 14 days and no later than 12 months before departure, or recovery from COVID-19 no later than six months before departure, or testing negative to SARS-CoV-2 using RT-PCR and rapid antigen testing methods no later than 72 hours before departure.

You might be interested in