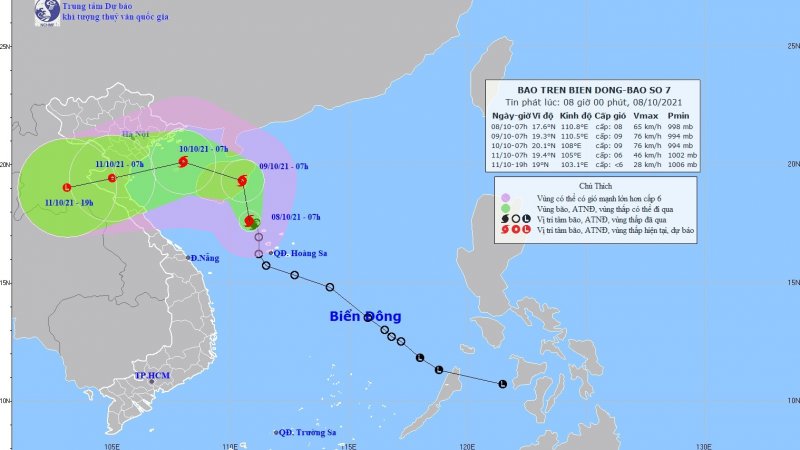 The projected path of Lionrock (Photo: NCHMF)   
NDO - A tropical depression has strengthened into a tropical storm named Lionrock, becoming the seventh storm in Vietnam this year, expected to bring heavy rains over the coming days.
As of 7am on October 8, the system was located right to the northwest of the Hoang Sa (Paracel) Islands, sustaining winds of 60-75 kilometres near its centre, with gusts of up to 100 kilometre per hour, according to the national weather service.
Lionrock is forecast to move northwards at a speed of 10 kilometres per hour over the next 24 hours before turning west-northwest and entering the Gulf of Tonkin on October 10.
The tropical storm is then projected to change its direction to south-southwest, losing strength and making landfall in the provinces in the south of the Red River Delta and north central region on October 11.
Torrential rains of 100-200mm are forecast to lash the northeastern region from October 9 afternoon to October 11, with some places recording rainfall of over 250mm.
Meanwhile northwestern region will experience total rainfall of 50-100mm on October 10-11.
For the central provinces from Thanh Hoa to Quang Binh, pouring rains will amount to 150-350mm over three days to October 12.
The national weather agency has issued warnings of flash floods and landslides for mountainous areas and localised flooding in lowland and riverside.
You might be interested in