The combination of fresh vermicelli, flour, jaggery, and coconut milk creates a fatty, sweet, delicate dish with a slight fragrance.
Banh Canh is a dish with more than a dozen types with all kinds of sweet and salty flavors throughout the three regions. The Southwest region is famous for Ben Co cake soup in Tra Vinh with broth made from meat, bones, rice flour noodles, side dishes including heart, kidney, pork intestine, and meat. In Ben Tre, Tien Giang, there are duck soup cakes, noodles cooked with minced Siamese duck meat marinated in spices, adding coconut milk, onions, and pepper to taste very fragrant and greasy. In Dong Thap, it is a sweet soup cake, a soup dish eaten as Sweet Soup used for dessert or as a snack when hungry, eating snacks in the morning or early afternoon.
Cake soup is associated with the childhood of many people. On a small day, every year to the fourth lunar month, many people together cross hundreds of kilometers by boat on the river to come to Chau Doc in Ba Chua Xu. The trip was long day and night, grandparents brought rice and a stove to cook rice on the boat. When returning, the whole family did not forget to buy An Giang specialties to use in the family or as gifts for neighbors, including jaggery to cook Sweet Soup, make cakes, fish stock is delicious. My mother specializes in cooking sticky rice and Sweet Soup for sale at the market, so the snacks of childhood are also associated with the dishes she cooks, especially sweet soup cakes.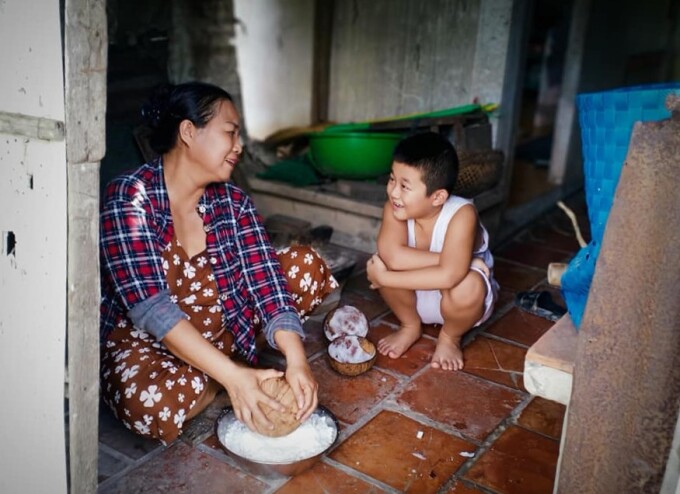 The process of scraping coconut to make milk to cook Banh Chung. Photo: Le Huu Tuong
A popular dish with simple ingredients such as rice flour, coconut milk, and jaggery mixed in a certain ratio to have a harmonious, sweet, fragrant, and fatty taste. Homemade rice noodle soup may be different from the restaurant or made directly from rice flour, knead the dough from fresh vermicelli until smooth, then mix with flour, making this way the cake is both chewy and soft.
Coconut chooses very dry fruit, peels off the hard outer shell, uses a razor to remove all the fibers so that when scraping, the coconut rice is whiter and cleaner. Ma still uses the old-fashioned coconut scraper table, each layer of thick coconut rice is finely grated, then pressed with a towel to get the best juice, this juice is brought to a boil and added a little salt to taste.
Chopped jaggery and cooked with very boiling water, add the boiled rice cake stalks, if you like the flavor of pandan leaves, you can also add a few stalks of fresh pandan leaves in the pot to cook together, but I still love the characteristic aroma. inherent to jaggery than.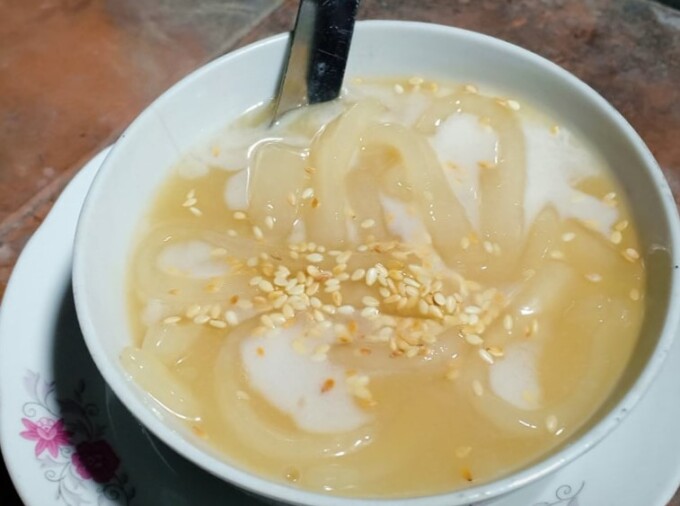 A cup of sweet soup cake evokes many childhood memories. Photo: Le Huu Tuong
When the stem is clear and slightly yellow because of the sugar water, put the coconut milk in the pot, do not stir it up, but save it for each serving. When the pot of Banh Chung is still hot, take it out into a bowl, add a piece of roasted sesame, the sweet aroma of sugar and the fat of the juice rushes straight to the nose, making the sweet-minded people have to hold a spoon to scoop it up and eat it hot. It doesn't taste good when it's cold and the scent goes away.
The noodles are smooth and chewy, the sweet taste of jaggery penetrates the inside, combined with the gentle fat of coconut milk and the sweet aroma of sugar, making the taste and smell explode. Every time I eat sweet soup, I remember the boat trips up the Hau River to Chau Doc.
You might be interested in