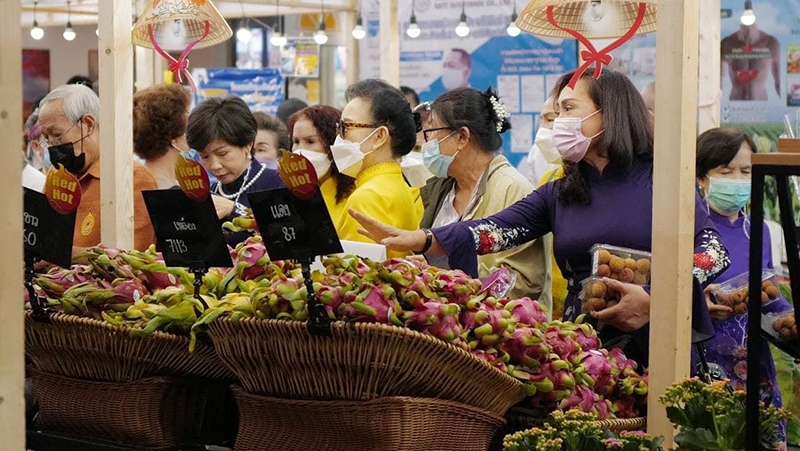 Thai customers buy dragon fruit and lychee imported from Vietnam.   
NDO - Despite being a powerhouse in exporting agricultural products, Thailand also has huge demand for imported fresh fruit and vegetables. There is an opportunity for Vietnamese agricultural exporters to explore this market worth billions of US dollars.
In 2020, Thailand exported fresh and processed vegetables and fruit worth more than US$4.2 billion. With relatively similar climate and geographical conditions, Thai and Vietnamese agricultural products share many similarities. However, Thai products often have a higher level of competitiveness.
However, Commercial Counselor of the Vietnamese Embassy in Thailand Tran Thanh My affirmed that Thailand has the potential to be a significant export market for Vietnamese enterprises. Although Thailand exports many agricultural products, the country also imports a large amount of vegetables, tubers and fruits.
Thailand imported more than US$2.6 billion worth of fresh and processed vegetables and fruit in 2020. Meanwhile, Vietnam has several strong products that Thailand cannot compete with, such as lychee and dragon fruit.
Many Thai enterprises have long imported dragon fruit and lychee from Vietnam to sell in large supermarket systems. They also import agricultural raw materials to Thailand for processing.
Attending the 5th Vietnamese Goods Week in Thailand – Udon Thani 2021 organised by the Vietnamese Embassy in Thailand in collaboration with Central Group, we witnessed the preference of Thai consumers for Vietnamese agricultural products. Stalls selling lychee, dragon fruit, and coffee always attracted a large number of Thai customers seeking information and buying products.
The Bac Giang lychee, although its price is two to three times higher than that of Thailand, still won favour in this market. Wanchai, a Thai customer said: "Although the price is a bit expensive, I find Vietnamese lychee very delicious. Vietnamese lychee exported to Thailand has become a specialty."
This event is one of a series of trade promotion activities the Vietnamese Embassy's Trade Office organised in recent years to promote the export of Vietnamese agricultural products to Thailand. Because of the COVID-19 pandemic, Vietnamese enterprises could not be present in Thailand, but they still sent their products to the event. The Vietnam Trade Office affirmed that such events have achieved very positive initial results.
Chief Merchandising Officer of Central Food Retail Emmanuel Couronne said: "Central Food Retail has imported Vietnamese agricultural products into Thailand since 2006 including dragon fruit and sweet potatoes. We have brought lychee to the Thai market since 2017. Currently, we are negotiating with Vietnamese enterprises to import more agricultural products."
Besides Thai customers, Vietnamese goods are also consumed by another group of , the Vietnamese Thai community, according to Tran Thanh My. "We chose Udon Thani to hold this Vietnamese Goods Week as there is a large Vietnamese Thai community here. This is a customer group with high potential because they have great demand for Vietnamese products and they also have many small shops and supermarkets to distribute Vietnamese products," My added.
She noted that although Vietnamese agricultural products have good quality and competitive prices, they have yet to achieve any great advantage over Thai products. "Vietnamese businesses need to learn more carefully about market demand to meet the set standards. That means we should export and sell what the market needs but not what we have," My added.
Emmanuel also shared that "For Vietnamese agricultural products, we choose products that have strengths and do not face much competition from Thai products. At the same time, we focus on importing value-added products such as agricultural products with geographical origin, or with advantages such as high-class flavors or out-of-season fruits."
He said that Vietnamese businesses need to focus on improving food safety and complying with Thai standards as well as ensuring continuous supply to expand the presence of Vietnamese products in the Thai market.
According to Tran Thanh My, when exporting goods to Thailand, Vietnamese enterprises need to find reliable partners and agencies to assist them in registering the import and circulation of these products in Thailand. The import process also has many other regulations and the Trade Office of the Vietnamese Embassy is always ready to support Vietnamese enterprises.
NAM DONG - TUAN ANH
You might be interested in