No matter who you travel with, Quy Nhon is always a great destination that deserves to be visited once in your life, in addition to the list of delicious restaurants, beautiful places, cute homestay, the list of cafes view The beauty in Quy Nhon is also the information you need to update when coming to this coastal country. 
Quy Nhon has never been HOT with travel followers because of not only beautiful scenery, super delicious food, friendly people, but this country also has dozens of beautiful cafes for you to check-in. Visiting beautiful view cafes in Quy Nhon is a familiar hobby of many traveling believers, going to a cafe not only to drink coffee but also to chat, enjoy the strange atmosphere of the sea, or simply to look at the scenery. Enjoy the beautiful scenery of the seaside town. So when traveling to Quy Nhon, which cafes should you visit? Note the list of super HOT cafes below to check in as soon as you have the opportunity.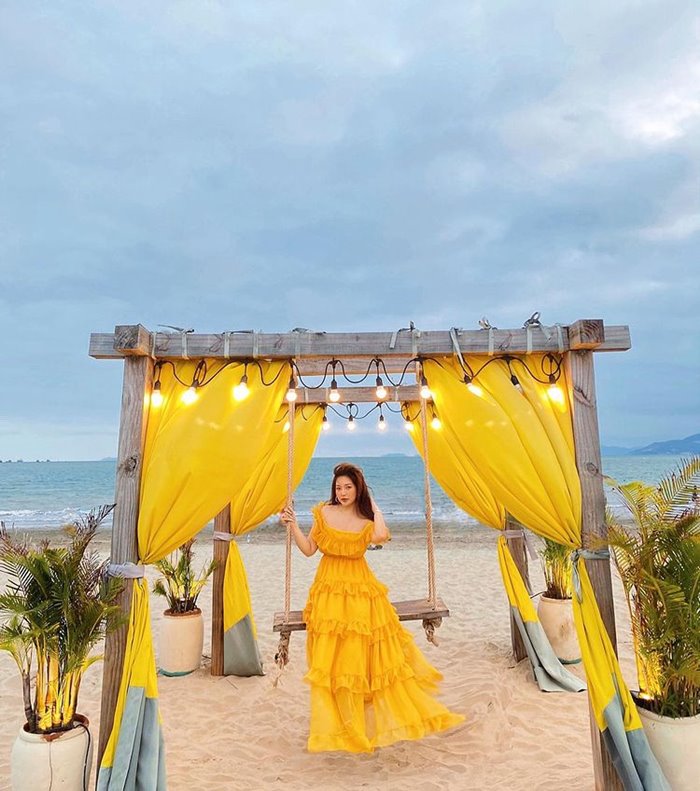 Quy Nhon has many hot cafes for visitors to check-in. Photo:@xianghuang94

The beautiful view cafes in Quy Nhon must definitely visit 

1. Life's A Beach Motel & Cafe
Located on the coast, this beautiful view cafe in Quy Nhon is a great choice for those who both want to enjoy attractive drinks and want to watch the immense sea. The owner of this cafe is British, but the style of the shop is bold in the coastal region of Vietnam when using bamboo as the main material. The view here is extremely airy and beautiful, the drinks are also very attractive with juices, smoothies, tea, coffee, and mixed drinks. In particular, the restaurant also serves both Eurasian dishes and local seafood at reasonable prices.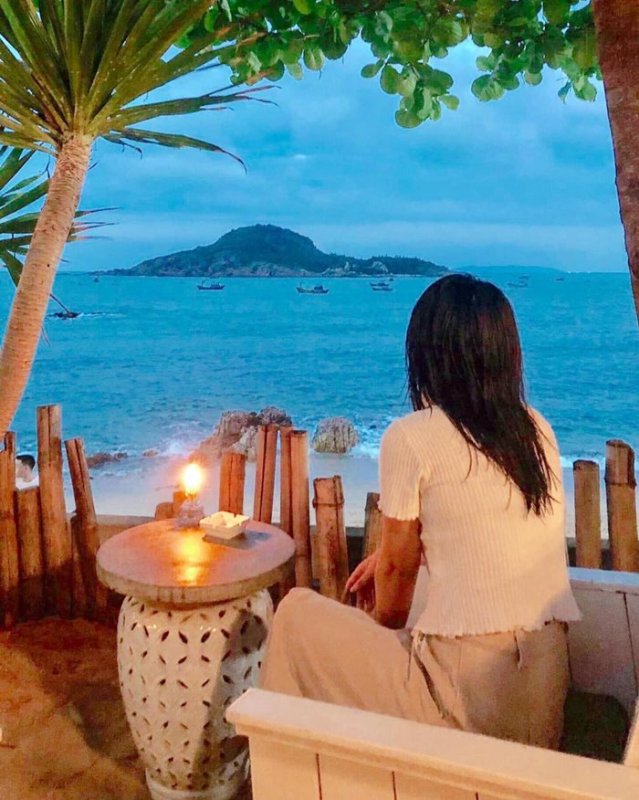 Located on the beachfront, Life's A Beach Motel & Cafe has a very nice view. Photo: Life's A Beach Motel & Cafe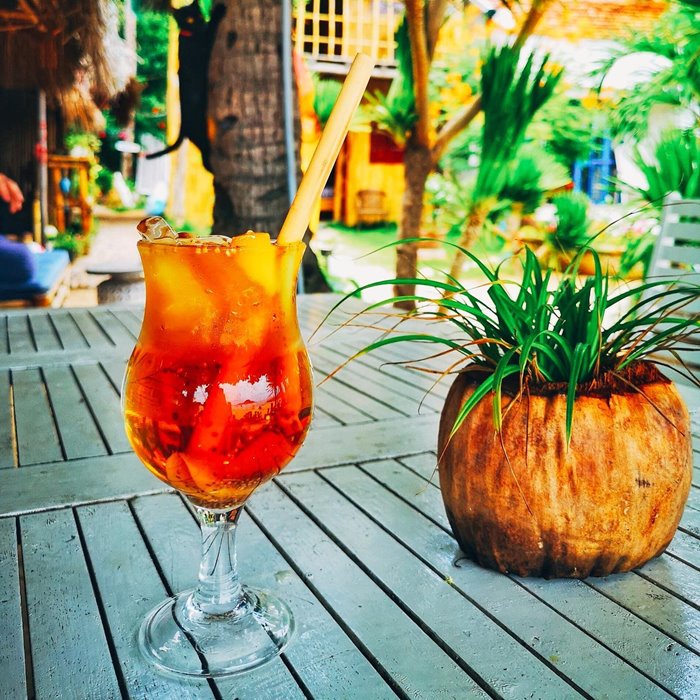 Attractive tropical style drinks. Photo: Life's A Beach Motel & Cafe

Address:  Group 2, Area 1, Bai Xep, Ghenh Rang, City. Qui Nhon

2. Surf Bar Cafe 
This is a famous cafe in Quy Nhon and also a familiar check-in place for visitors. The shop is located right on the beach with a beautiful view, where you can relax comfortably and watch the strange seascape. The decor here is quite simple with the main color and white and yellow bearing the look of romantic Korean dating cafes.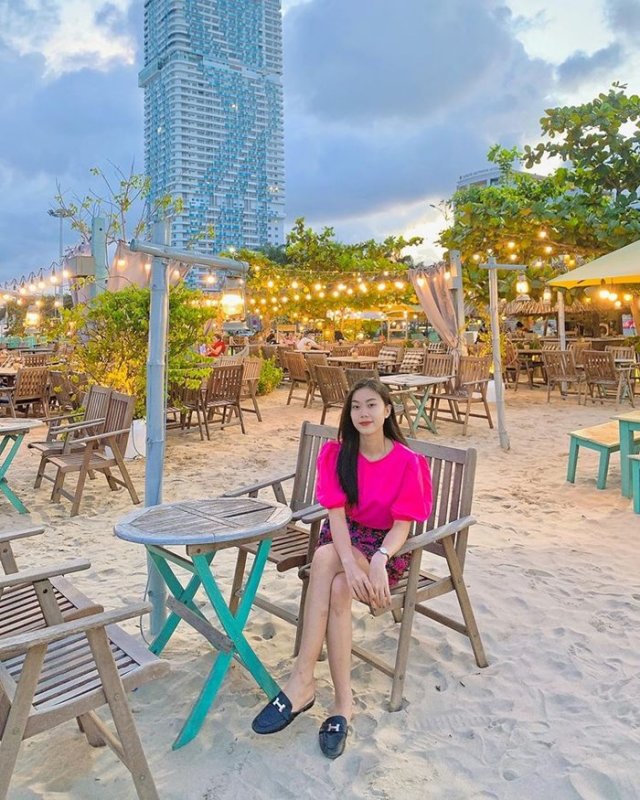 Surf Bar Cafe has a very open space. Photo:@-thaonguyen_
The tables and chairs here are arranged in very neat areas, the outdoor space is airy with lots of shimmering lights in the evening, soft and relaxing music. The drinks of this beautiful view cafe in Quy Nhon are very diverse with lovely labeled cups.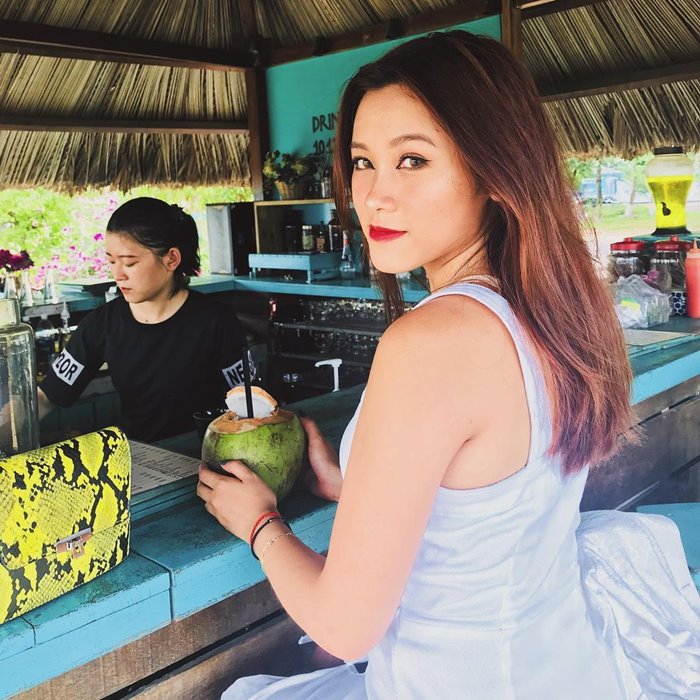 Natural drinks at Surf Bar are very popular. Photo:@itsmxwine

Address: Xuan Dieu Street, Le Loi Ward, Quy Nhon City
> See also: 'Breaking the island' list of popular places to eat in Quy Nhon 

3. Marina cafe system 
Coming to Marina, your first impression will be the green appearance that is extremely suitable for a coastal city. The space inside is very open with the design of many large glass windows, flowers, and green trees full of life. The space here is both classic and modern and sophisticated for you to enjoy relaxing moments or chatting with friends. Especially, although there are 3 shops in the same system, the style of each shop will be different, creating a very unique highlight.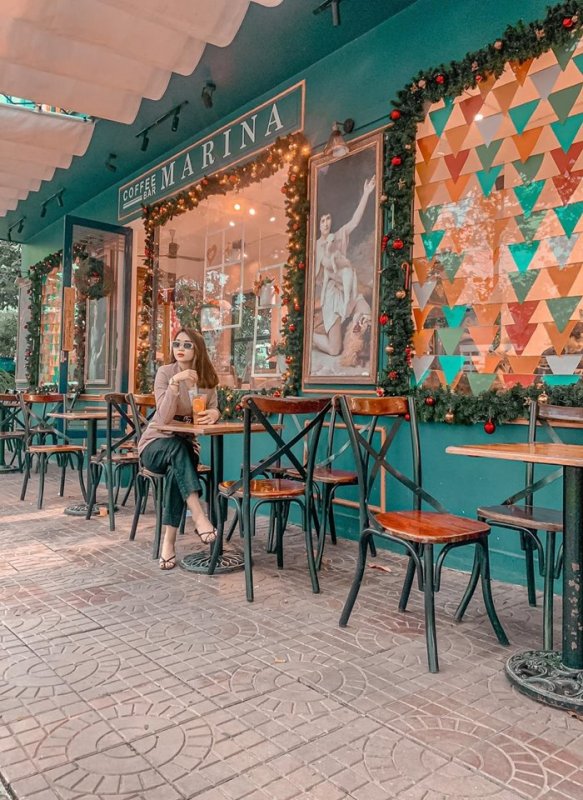 Marina Coffee has a system of 3 shops, each with 1 style. Photo:FB/Marina Coffee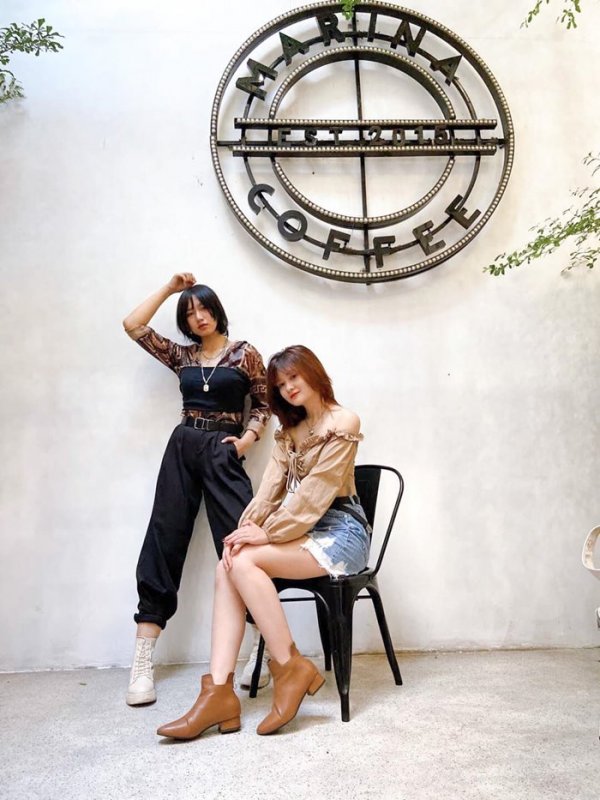 There is no shortage of good check-in corners. Photo:FB/Marina Coffee
Marina Coffee's drink menu is quite diverse with fresh fruit juices and mixed drinks. Besides, the shop also serves fruits and extremely attractive snacks, the price is extremely affordable compared to the common ground and space.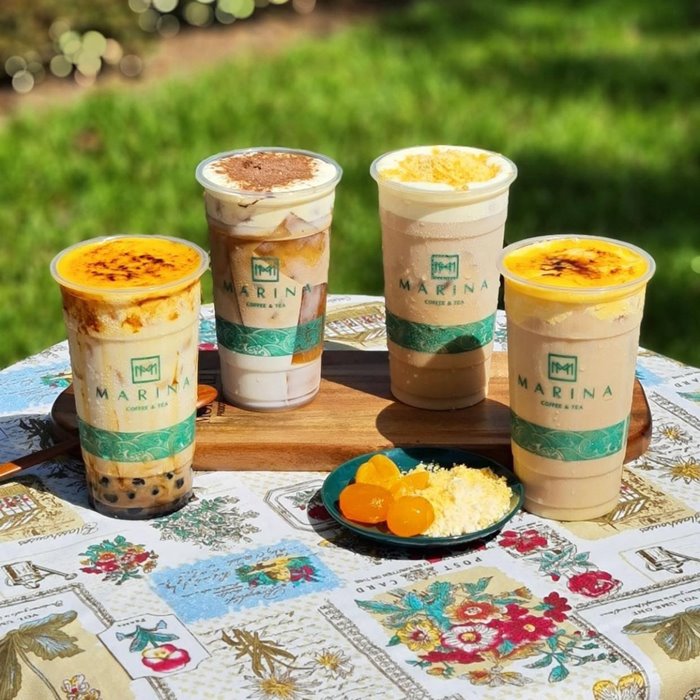 The drink is attractive both in appearance and in taste. Photo: FB/Marina Coffee
Address: This shop has 3 different establishments at 188 Nguyen Thi Dinh, Quy Nhon City (Marina Roya), 138 Doc Bao, Tran Phu, Quy Nhon City ( Marina Garden), and 10 Tran Quy Cap, Le Loi Ward, Quy Nhon City ( Marina Coffee). 

4. S-Blue Coffee
S-Blue Coffee is in the top of beautiful view cafes in Quy Nhon that are loved by tourists because of its direct view to the most beautiful square in the city. Not only that, from this cafe you can look at the sea with white sand beaches and clear blue water.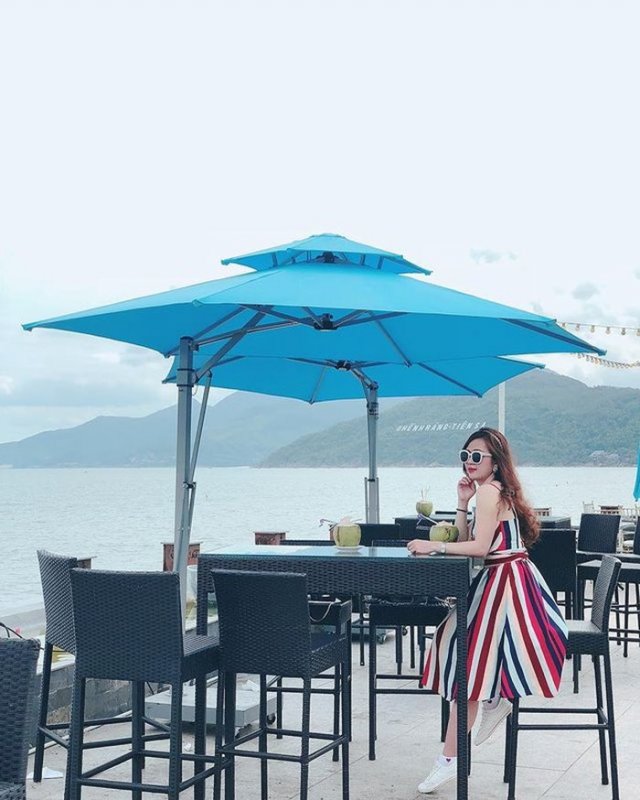 S-Blue Coffee has a very beautiful sea view. Photo:@berry.trinh
This cafe has 2 main spaces, indoor and outdoor, if the indoor is luxurious, the outdoor area brings the airiness of the cloudy day and the night is romantic and peaceful. You can comfortably check-in quietly watching the sea listen to soothing music and enjoy delicious drinks. The price at this shop is a bit high compared to the common ground, but with the great view and space, it's totally worth it.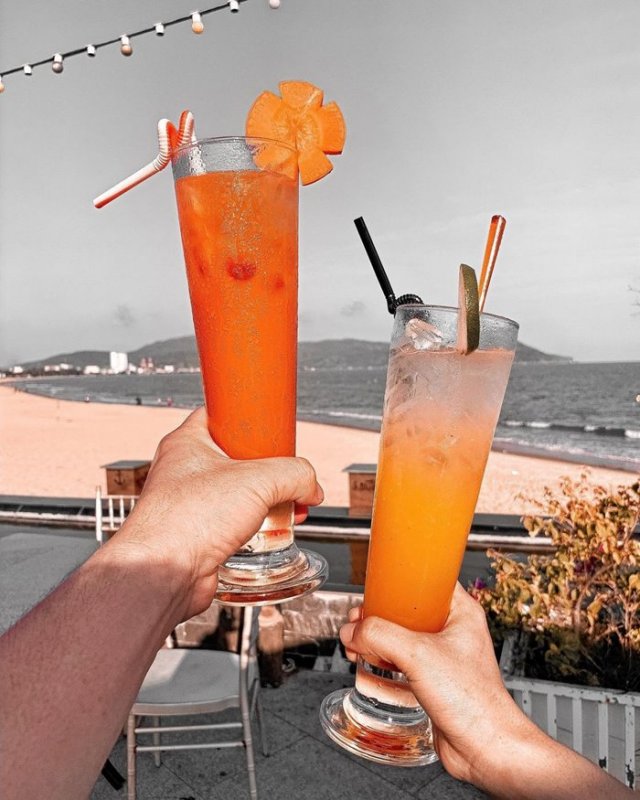 The drinks are very attractive. Photo: @taitrinh28
Address: Central Square, Xuan Dieu Street, Quy Nhon City, Binh Dinh

5. Santorino Coffee & Tea
If you have fallen in love with the romantic beauty of Santorini in Greece, when you come to this cafe in Quy Nhon, you will definitely be very excited. The shop is decorated with blue and white as the main color, many accents, Greek standard dome architecture.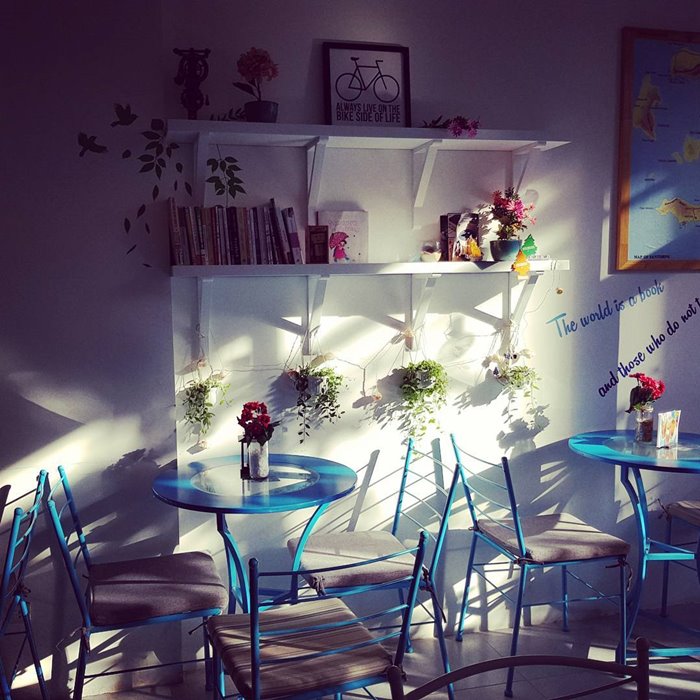 A beautiful little corner of Santorino Coffee & Tea. Photo: @In_Phong
The delicate, sophisticated but not distracting design of the restaurant makes many visitors love it. Especially in the late afternoon visiting this cafe, you will feel like you are immersed in the space of real Santorini while enjoying the view and enjoying delicious drinks. In addition to attractive drinks, the beautiful view cafe in Quy Nhon Santorino Coffee & Tea also serves snacks so you can comfortably linger until bored without feeling hungry.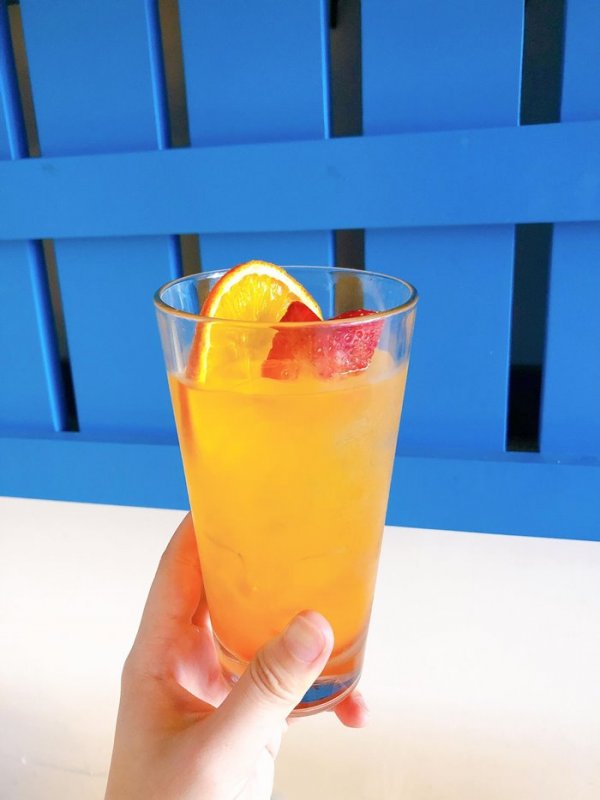 The advantage of Santorino Coffee & Tea is not only the space, but the drinks here are delicious. Photo: Santorino Coffee & Tea
Address: 81 Tran Phu, Le Hong Phong, Quy Nhon City, Binh Dinh

6. 1990 Cafe Quy Nhon 
Located at the corner of the road, so less traffic, quiet, good view, 1990 Cafe Quy Nhon is very popular with young people. The decor of this shop has a nostalgic vintage style with space and antique furniture in the subsidy period. That's why the space here becomes very rustic, comfortable whether you visit during the day or at night.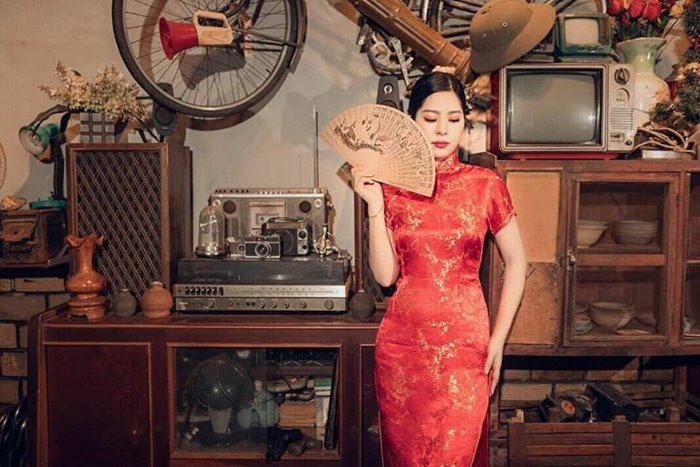 1990 Cafe Quy Nhon has rustic and nostalgic space. Photo:FB/Cafe 1990 Quy Nhon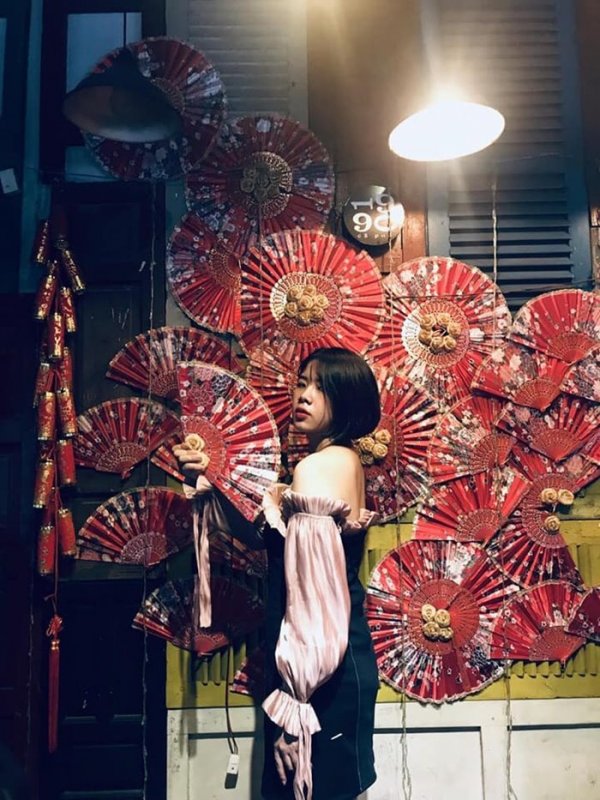 Bacgrouk check-in was very nice. Photo:FB/1990 Cafe Quy Nhon
In particular, in addition to the space and view, 1990 Cafe Quy Nhon also organizes interesting music performances, so when you come here, you can immerse yourself in the joyful and vibrant atmosphere of the youth of this coastal city. A light Recommend for those who come for the first time is to try the drinks in the Local drink section of the shop and the coffee here is also very good.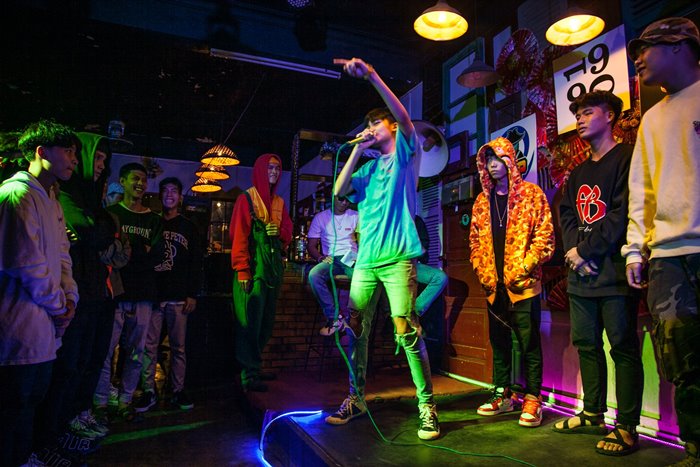 This bar often has very interesting live music / Aucostic events. Photo:FB/1990 Cafe Quy Nhon
Address : 07 March 31st Street, City. Quy Nhon, Binh Dinh
In addition to the above suggestions, there are other cafes with beautiful views in Quy Nhon that you can refer to and check-in, such as Quy Nhon Brotherhood Coffee, Quy Nhon Bus Cafe, Quy Nhon Xua, Moc Tra Cafe Quy Nhon… 
Just enjoying the beautiful scenery, enjoying delicious drinks, and being able to comfortably shoot and live virtual life are the things you will definitely fall in love with when visiting the beautiful view cafes in Quy Nhon. If you have come to this beautiful city, do not hesitate to do a small tour around the beautiful cafes of this romantic coastal country. 
Photo: Internet 
You might be interested in