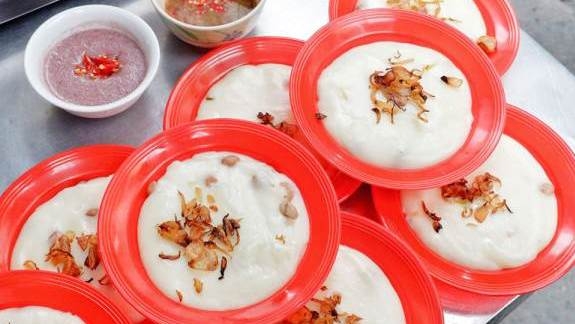 Banh duc with shrimp paste. (Photo acquired by VnExpress)   
Rice flour cake, or 'banh duc', a popular old-age Vietnamese dish, eaten with shrimp paste has proven to be an intriguing culinary combination in Saigon.
Made from rice flour mixed with limewater and peanuts, banh duc, a traditional dish enjoyed across the country, can be eaten with molasses, honey, stir-fried mince pork, braised pork, and braised fish, among others.
Banh duc served with shrimp paste (mam tom), the pungent yet savory Vietnamese sauce, has become a recent addition to Saigon's culinary landscape.
To prepare the simple dish, first mix the rice flour with limewater, adding salt to taste. Then, cook the mixture, making sure no clotting occurs. As the mixture thickens, add a small amount of cooking oil and peanuts, usually right near the end.
The rice flour mixture can then be scooped onto plates to cool and set.
Served with well-seasoned shrimp paste, big eaters could devour 3-4 plates of banh duc at once. With the dish prepared in advance, customers are free to order as much as they desire.
The chewy yet savory cake, served with shrimp paste, lime juice and added chilies, along with some stir-fried shallots, creates a joyous harmony, ideal for both an afternoon-snack and dinner.
VnExpress
You might be interested in