The best attractions in Phan Thiet and the beach of Mui Ne comprise geographical wonders, traditional fishing villages, pristine beaches, and verdant mountains, not forgetting ancient structures that date back as far as the 9th century. Needless to say, visitors have plenty to see and do during their holiday in the capital of Binh Thuan province.

While Phan Thiet and Mui Ne are among the busiest coastal towns in Vietnam, it remains relatively untouched by urban development, making it an ideal retreat from the bustling cities of Saigon and Hanoi. The most famous attractions here are the Red and White Sand Dunes, where travelers can enjoy a fun-filled day of riding ATVs or sliding down the slopes on rickety sleds. With that being said, there's more to this town than the extraordinary desert plains, so we've compiled a list of Phan Thiet and Mui Ne's most popular attractions.
Traveling by motorbike
Mui Ne is a place loved by the backpacking community because of its beautiful beaches, rich cuisine and many attractive attractions. Beautiful natural landscape with green, romantic beaches and affordable prices, Phan Thiet – Mui Ne tourism is increasingly becoming an attractive destination for domestic and foreign tourists. Located in the tropics, less affected by the Northeast monsoon, hot and dry climate, it can be said that Mui Ne is an attractive place for tourists in all four seasons of the year. In addition, this place also attracts visitors by the unique and impressive types of tourism that can't be forgotten in the journey. Not only that, this land is also an attractive cultural tourism destination with diverse communities of Chinese and Cham people… Traveling to Phan Thiet, you can not only visit,
Coming to Mui Ne, the easiest way to explore this place is to rent a motorbike. Motorbike rental in Mui Ne ranges from 150,000 to 200,000 VND/day. You have to be very careful because the traffic here is quite messy. One piece of advice for you is to always wear a helmet if you don't want to be fined by the traffic police.
Traveling by motorbike makes you feel quite comfortable and flexible to discover many different places, many beautiful beaches and the daily life of the people here.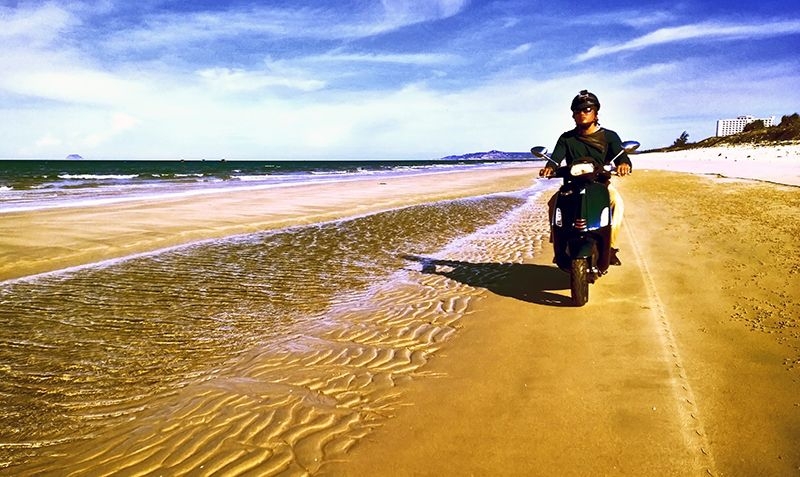 Motorcycles are the cheapest and most convenient means of exploring Mui Ne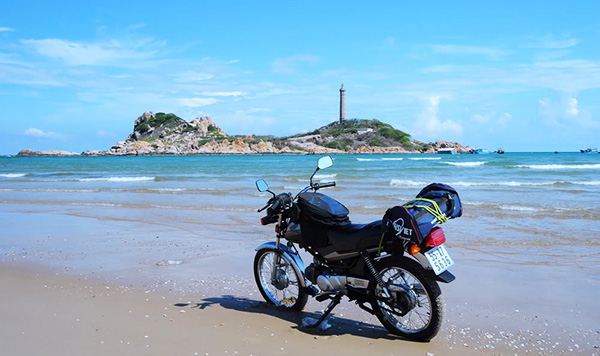 Traveling by motorbike
Visit the seafood market at dawn
For a long time, Mui Ne Phan Thiet has become one of the attractive destinations chosen by many tourists for their vacations. This place not only brings the poetic and peaceful beauty of the green beaches, the coconut groves resting on the white sands but also makes me miss the extremely attractive dishes. In particular, Mui Ne is extremely famous for fresh and delicious seafood dishes that you cannot miss when you have the opportunity to visit this place.
Mui Ne Market at dawn gives you the most authentic view of the life of Vietnamese fishermen. One by one fishing boats come ashore, the boathouses together sell the caught seafood to local traders, restaurant owners and sidewalk eateries. The image of people busy buying and selling, the net full of fish and fresh seafood will surely leave you with many impressions.
Few people call it a market here because the buying and selling activities are spontaneous, take place very quickly, and usually, only people buy wholesale and then leave the termites for the markets. All activities start at dawn when the fishermen return from a night of casting their nets and end when the sun has risen. Therefore, the seafood here is extremely diverse and fresh. All kinds of fish, shrimp, squid, …. Fresh, iridescent on the newly caught net, everyone would love to buy it right away if they come here early in the morning.

Walking along with the fishing village when it is early morning, you will easily encounter all kinds of extremely fresh seafood, displayed separately in each bucket and pot for buyers to choose easily. The seafood here is not only fresh, but the price is also "softer" than the market. In particular, after catching seafood, it can be processed on the spot and sold to customers. So, coming to Mui Ne fishing village, you can just relax in the fresh air of the sea early, buy the freshest, most delicious seafood at the cheapest price and can enjoy it on the spot. .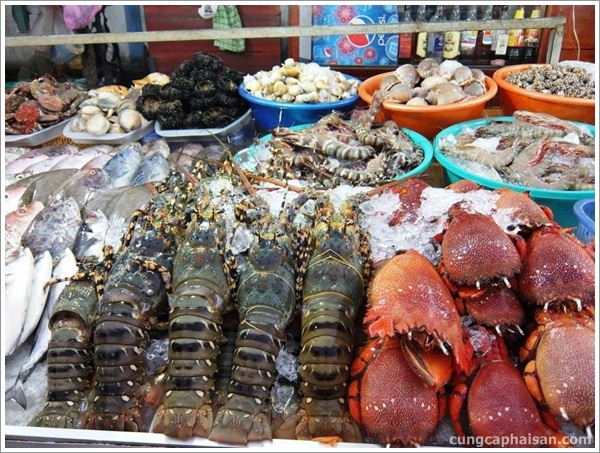 Mui Ne fresh seafood market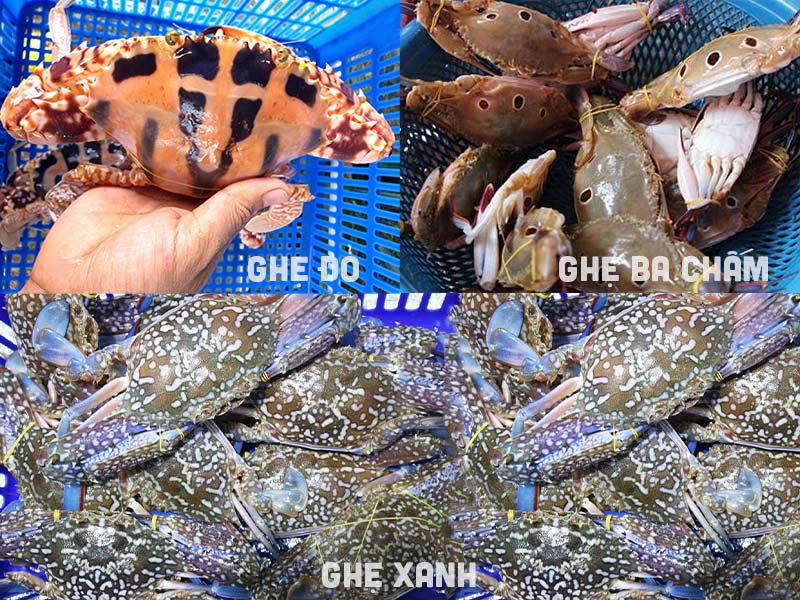 Visit the seafood market at dawn
Watch sunrise and sunset at Mui Ne
For those who love photography, love to see the natural scenery, watching the sun is an activity not to be missed when traveling to the sea, especially the beautiful seas like the sea in Phan Thiet – Mui Ne.
Sunrise and sunset are the most beautiful and fanciful hours of the day. There is nothing more beautiful than when you enjoy the scene of a small fishing village that becomes unexpectedly magical at those moments. The scenery is like being bathed in the magical shimmering light, colorful boats adorn the blue water surface. Sightseeing and enjoying relaxing moments for yourself is an experience not to be missed.
A small note for you guys in advance, depending on the location of the hotel – resort you stay, it will take different times to reach these places, but you should plan your schedule in advance, because the sun At Phan Thiet – Mui Ne, it was early morning from 5 o'clock, and rose from 5:30 o'clock to nearly 6 o'clock.
If you choose Doi Duong beach, you will see the activities of the people of Phan Thiet is a daily morning, everyone goes to the sea to soak their feet and exercise along the beach. The people of Phan Thiet are also very friendly, seeing that you are a tourist, trying to take a good photo, they will be willing to help you with the best angles, or even take a souvenir photo for you. .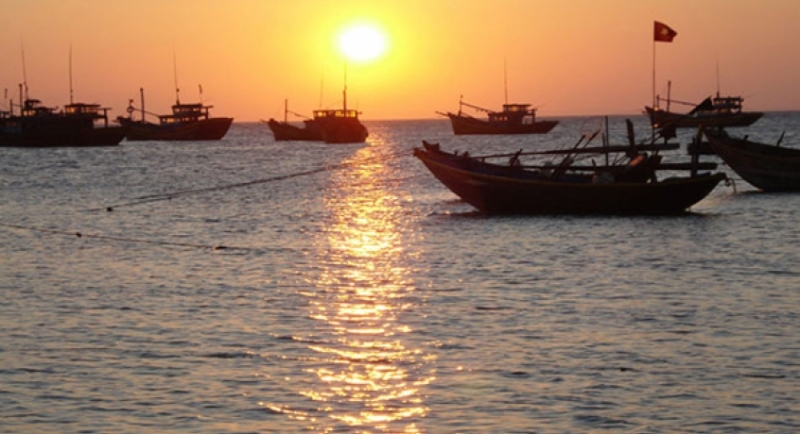 Watch the sunrise in Mui Ne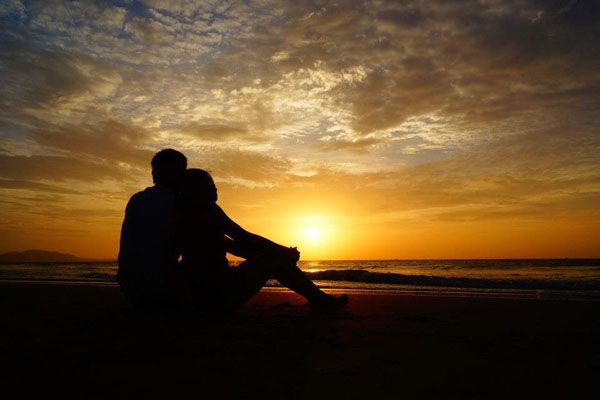 Mui Ne sunset
Mui Ne Red Sand Dunes
Mui Ne Red Sand Dunes, also known as Golden Sand Dunes, is located near Hon Rom beach, Mui Ne, about 25km from Phan Thiet city. This is an attractive tourist attraction in Mui Ne that visitors cannot ignore when coming to Phan Thiet.
Golden Sand Dunes have many colors such as: red, white, pink, gray-white, black red… in which red sand and yellow sand make up the majority of this sand dune, other colors are just parts of the sand dunes. little. Each sand color is located in different areas, not mixed together, so it is easy to distinguish. The overall sand dune is not actually red due to the sand, but because the sun's reflection at sunset has created a red background covering the sand dunes. It is very nice to take pictures here at sunset.

– Red: makes up the majority, so you can easily see most of it on this sandhill.
– White color: lying on the beach and mixed with impure sand.
– Pink: see a lot next to Suoi Tien.
– Gray-white color: concentrated on the border of Ninh Thuan and Binh Thuan.
– Red and black: sandy, hard and dry mud is concentrated in Bong Lai Tien Canh Mui Ne.

It is because here that the sand has many iron colors that have formed an extremely unique art form that is Sand Painting, Sand Painting uses natural uncolored sand, sand is taken from many different sandy areas but is taken from different sources. from the Golden Sand Dunes is the most because the sand here has many colors. This art form is highly appreciated by foreigners.
A great place for you to catch the beautiful sunset moment. The sand dunes are considered a local natural wonder, you will feel like you are standing in the middle of the desert right next to the beach.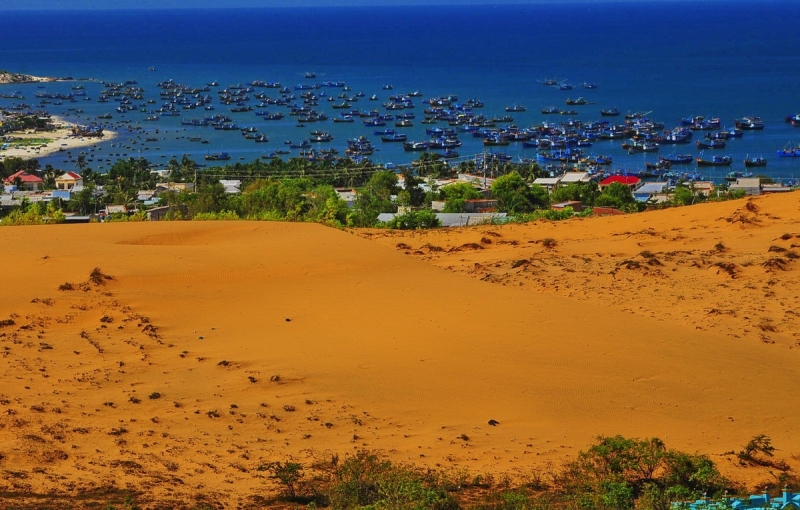 The red sand dunes are as beautiful and poetic as standing in the middle of the desert right next to the beach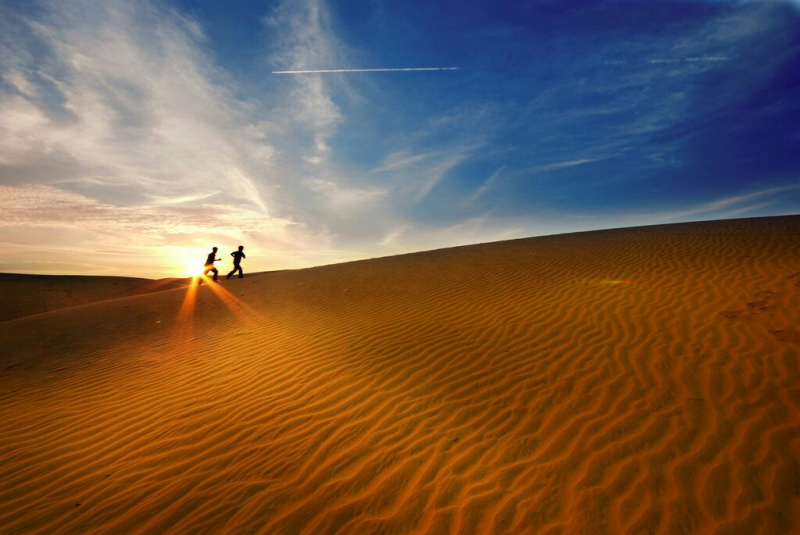 Mui Ne Red Sand Dunes
Fairy Stream
After the total solar eclipse event on October 25, 1995, Mui Ne seemed to shine because scientists and astronomy enthusiasts from all over the world gathered here to admire the solar eclipse. Since then, the romantic landmarks of Mui Ne have been discovered, including the Fairy Stream, Mui Ne.

Fairy Stream Mui Ne – a favorite tourist destination of many tourists not only at home but also abroad. With white – red-orange color is the main color that makes Suoi Tien unique and mysterious. Not clear, murmuring, Tien stream in Mui Ne is impressed by the beautiful orange-red water.
The water in Suoi Tien only reaches the ankles of visitors, so visitors can freely wade under the cool water, from which visitors seem to forget the intense heat of Phan Thiet. There, all afflictions seemed to be emptied; Only joy exists in the mind of the visitor. So if tourists come to Phan Thiet, do not miss a wonderful place like Fairy Stream. Fairy Stream Mui Ne has a beautiful fairy scene, so a series of Mui Ne tours choose Fairy Stream as an attractive stopover.
Fairy Stream Mui Ne is called a stream but is actually a small stream near Rom island in Mui Ne ward, Phan Thiet city. To complete the journey to discover the Tien stream, visitors should walk about 2km from Vo Nguyen Giap street (the beginning of the stream) to Huynh Thuc Khang street (the end of the stream).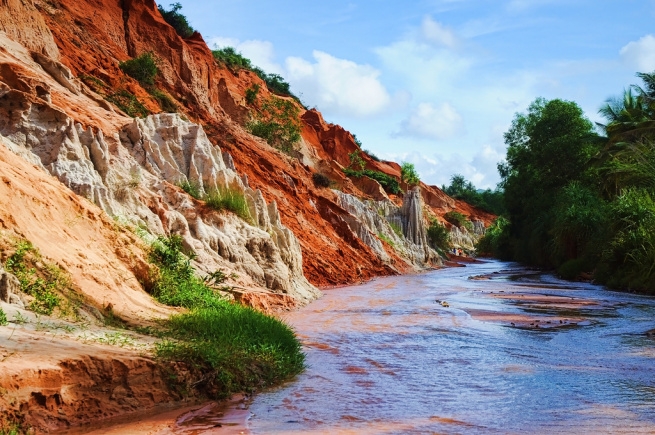 Suoi Tien is like a place "carrying a fairy scene"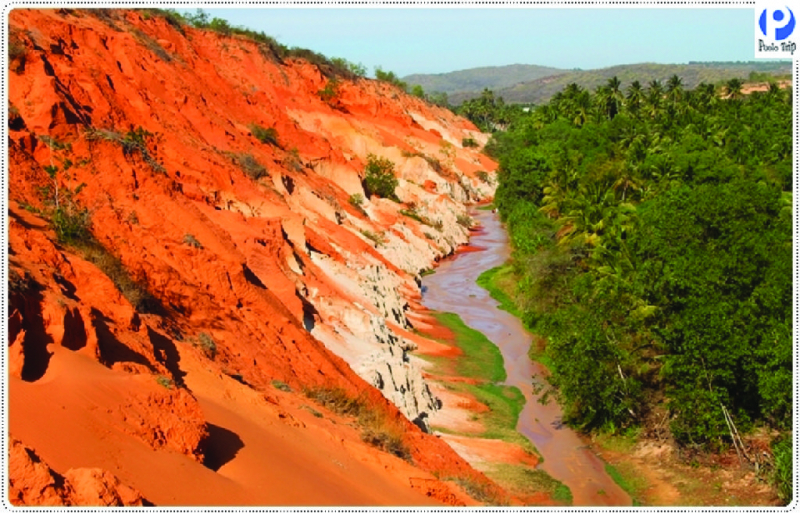 Fairy Stream
Cycling in Bau Trang
You can experience sea travel, enjoy attractive seafood dishes in many different destinations in our country. However, sea tourism combining exploring endless sand dunes and experiencing unique terrain motorcycles is only available in Phan Thiet.
Dubbed as the sub-Saharan desert of Phan Thiet tourism, the sand dunes attract with their wild and wonderful beauty. Coming to Bau Trang, you will go through a road like the American West, the asphalt road is covered with endless sand slopes, up and down undulating in the high blue sky.
Bau Trang Sand Dunes conquer visitors with unique sandy terrains. Particularly, the types of sand here are also extremely rich. There are white sand, yellow sand, fancy red-orange sand… Every time the wind blows, the sand changes shape from the wavy, undulating, valley or becomes massive sand walls. . Experiencing Bau Trang tourist area, you will have the opportunity to enjoy the peaceful lake, the lotus season is so beautiful. Or participate in interesting games such as sandboarding, test driving off-road motorcycles… will also be happy memories for you during your vacation.
Sitting on a motorbike, crossing the immense sand slopes, you will feel the heat like the fire pan of Bau Trang sandhill, enjoy the rare breeze blowing through, immerse yourself in the natural space, Surely you will not be able to forget those feelings when discovering this place of Phan Thiet tourism.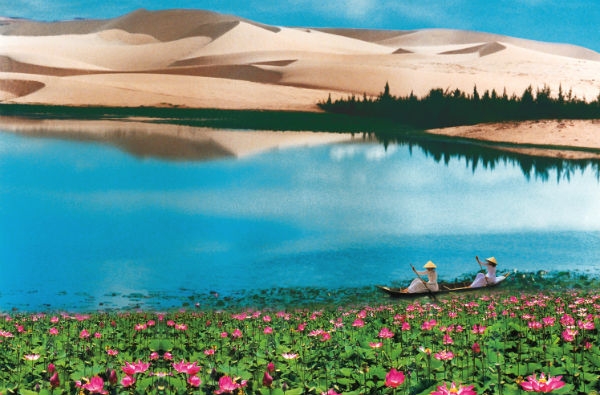 White Sand Bau Mui Ne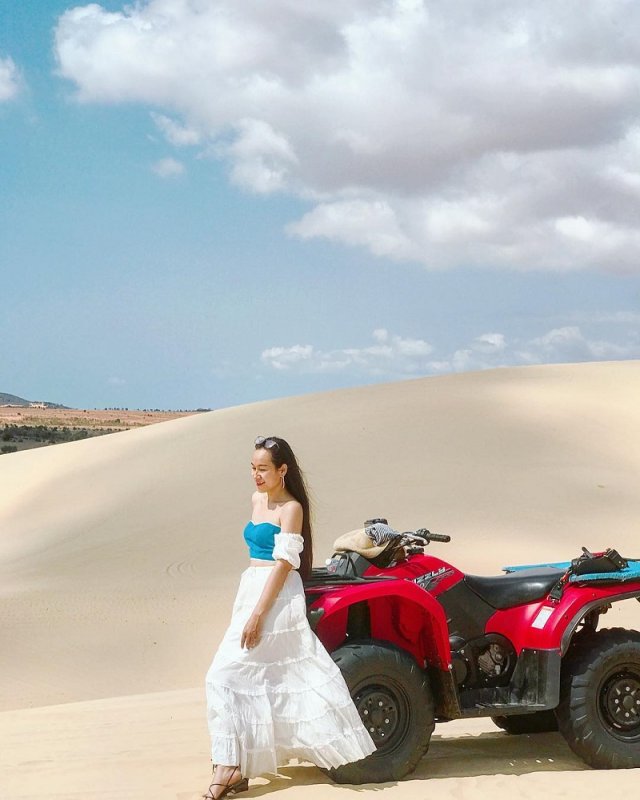 Cycling in Bau Trang
Phan Thiet fish sauce
Phan Thiet fish sauce has long been famous throughout Vietnam. With a rich source of seafood, the year-round sunny climate has created many brands of fish sauce. Today, food safety is a top priority for people in choosing fish sauce. Therefore, traditional fish sauce is a top priority choice for home cooks.
"My hometown is famous for the profession of anchovy fish sauce, so famous that when friends know Phan Thiet, they all say loudly: Phan Thiet has that fish sauce." That's right, Phan Thiet is known as the hometown of fish sauce – a famous spice that can be listed on the list of foods with unique Asian flavors. However, its smell is not very pleasant to many people.
You can directly watch the processing of water at the factories here. Phan Thiet fish sauce is mainly made from anchovies. The anchovies caught are carefully selected, when salted, do not wash because before being brought ashore, the fish has been washed with seawater. People use cylindrical wooden barrels to salt fish.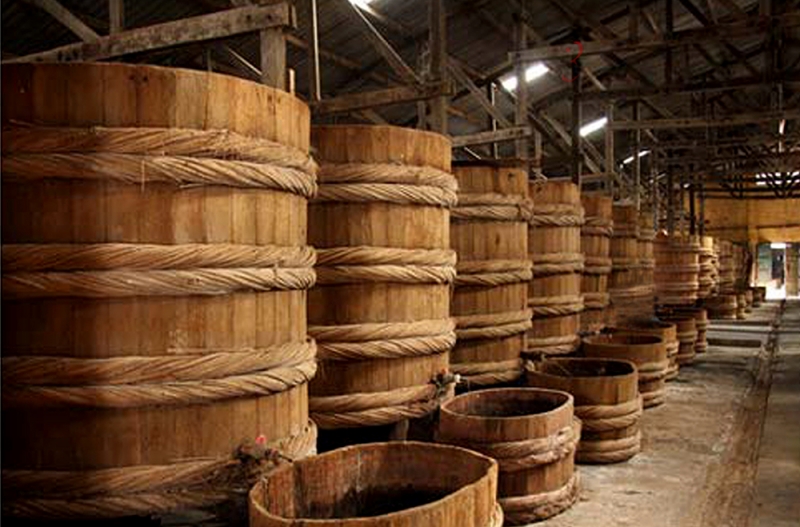 Phan Thiet fish sauce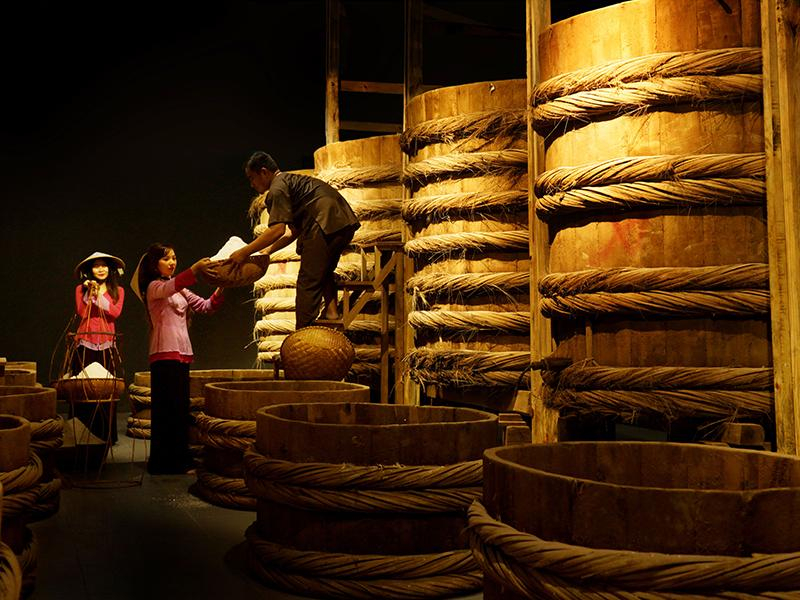 Phan Thiet fish sauce
Kite flying on the long stretch of beach in Mui Ne
Phan Thiet is a city in Binh Thuan province. Phan Thiet has long been a famous beach tourist destination in Vietnam with its long white sand beaches, blue sea and soaring coconut trees. Traveling to Phan Thiet, you can not only visit and admire the scenery but also enjoy a lot of delicious dishes made from fresh seafood, and have extremely interesting experiences including Kite flying.
The annual kite-flying festival in Phan Thiet always attracts a large number of tourists, at the festival, there will be hundreds of kites of all colors, sizes, and shapes being released into the sky. There are kites from 15 -30m long with many shapes such as octopus, birds… and many genres: glowing umbrellas, umbrellas spinning in the wind… and flying in the deep blue sky. Despite the sunny weather, visitors from all over participated with great enthusiasm.
Mui Ne boasts perfect windswept beaches for visitors to comfortably kite-surf. This Mui Ne beach is the most ideal place for windsurfing in Asia. Here, there are many short-term windsurfing courses for beginners and competitions for everyone.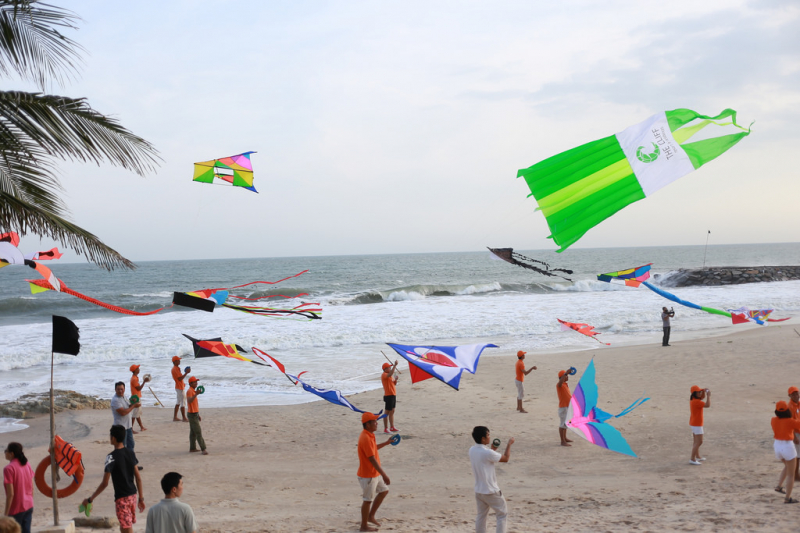 The kites flutter in the wind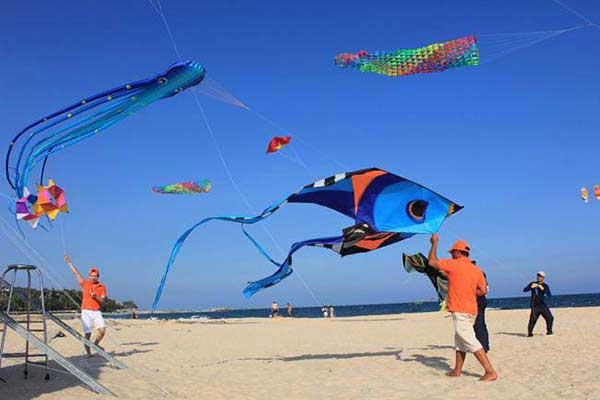 Kite flying on the long stretch of beach in Mui Ne
Find a beach to go for a walk to spread the soul
Once you've experienced many things to do at the hotel's beach with a variety of activities, why not try a walk on the beach to open up your mind.
You can go to some places like:
Hon Rom: Hon Rom is the name of a small mountain located in Long Son hamlet, Mui Ne ward, about 2km from Phan Thiet city. Hon Rom beach is located at the foot of the mountain, the sea water is cool, calm and few rocks. Hon Rom is famous for its lyrical and poetic beauty that moves people's hearts. If visitors want to enjoy the bustling and vibrant atmosphere, they can visit the beach in front of Rom island. And the beach behind Rom Island with a quiet and peaceful scene is a suitable destination for those who want to find a place to relax and rest.
Rang Beach: Bai Rang or Rang beach is the most beautiful beach of the city. Phan Thiet. Bai Rang is about 15 km north of the city center, lying under dense coconut groves that look like a very beautiful coconut forest.
Co Thach Beach: Stretching on a part of the beach of Binh Thanh commune, Tuy Phong district, is a 7-color stone beach located in Co Thach tourist area. Stones come in many different sizes and shapes. This rock has been recognized by the Vietnam Record Book Center (Vieetbook) as "The most colorful and shaped rock in Vietnam". Between the rows of poplars and the vast white sand area, the appearance of the rocky beach as the heart of the moon has drawn more and more tourists to come and enjoy.
Ganh Son: Go to Co Thach, turn right through Binh Thanh fishing village, follow the sea for about 5km, you ask for directions to Ghenh Son, in Chi Cong commune, Tuy Phong district. In the clear morning or in the calm afternoon, the sea is calm, from the top of the cliff, you can see the whole scene of the bustling and cozy activities of the fishing village. The red color of the rock and the blue color of the sea seem to blend together to create a harmonious shade that is both near and far, both damaged and real… Ganh Son is truly a gift of nature that is not known to many people.
…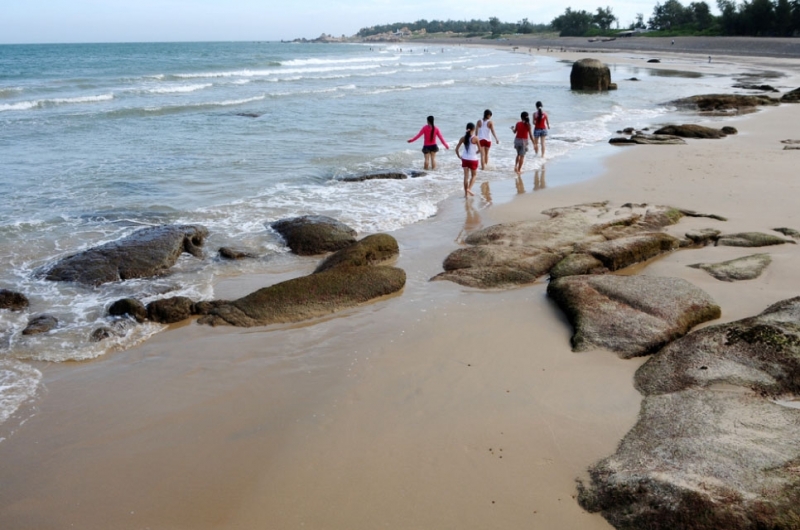 Find a deserted beach, do whatever you like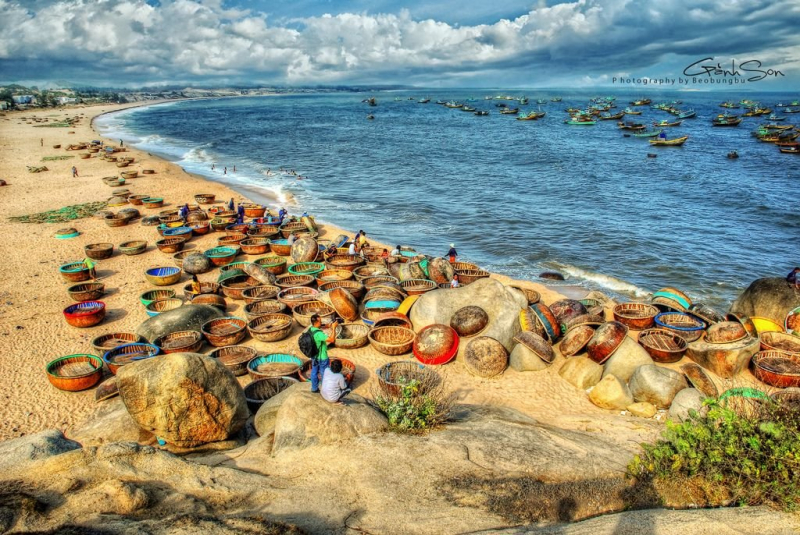 Find a beach to go for a walk to spread the soul
Enjoy specialties in Mui Ne
After moments of immersing in the cool seawater or wandering on the windy and sunny sands at the tourist destination of Mui Ne. Then stop at the following culinary addresses to enjoy the delicious and very unique specialties of this famous land.
When asked "what to eat when traveling to Mui Ne?", people often think of seafood dishes that few people know that there is a delicious, delicious, cheap, and attractive specialty in Mui Ne coming from the sunny and windy sand dunes. Those are the dishes made from the Thunder, a reptile that lives in the sand. Sandstorm is quite similar to lizard but is bigger and longer, mainly eats young shoots, and drinks night dew, so the meat is very firm, tough and sweet.
You can enjoy fresh seafood dishes at affordable prices in Mui Ne. Grilled scallops with onion fat, sprinkled with some peanuts and served with salt and pepper lemon are some of my favorite dishes here. In addition, you can enjoy other unique dishes such as snake, crocodile and turtle meat.
Mui Ne has many kinds of fruits, from lychee, mango to mangosteen, papaya, .. you are spoiled for choice and enjoy. In addition, dragon fruit is a popular fruit grown here. The dragon fruit gardens on both sides of the road stretch, the flavor has its own characteristics.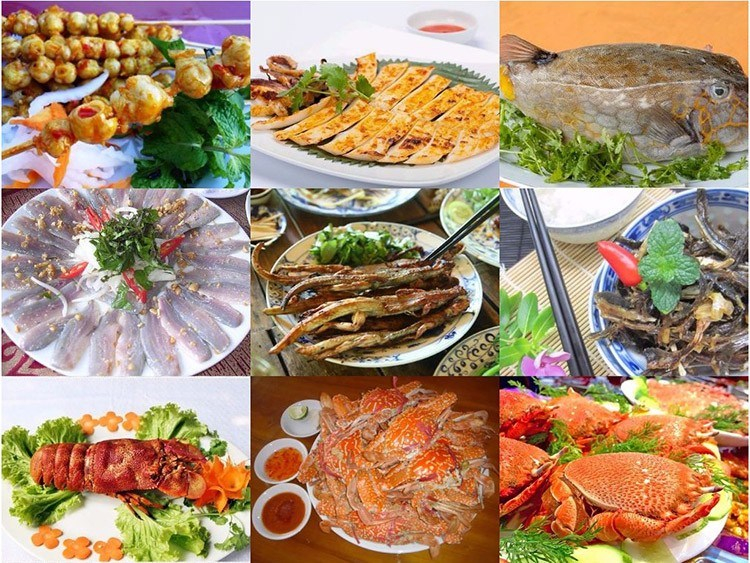 Enjoy specialties in Mui Ne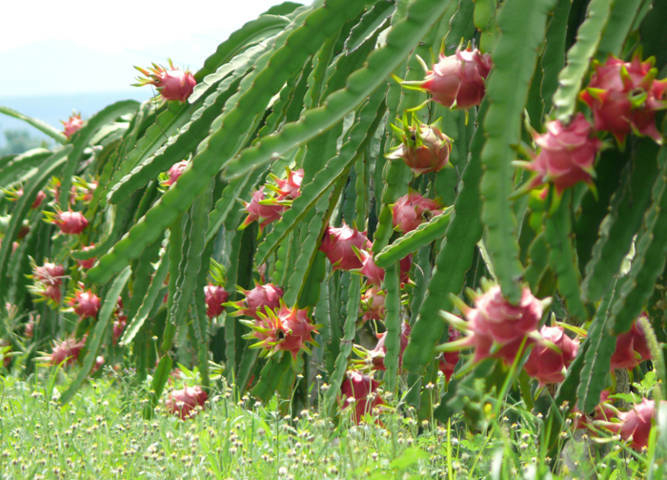 Dragon fruit garden in Phan Thiet
With things to try when traveling to Mui Ne, the Vinlove has just been updated here. Hope you will have a meaningful vacation. Now, what are you waiting for? Pack your bags and let's go.
You might be interested in