Ecotourism associated with community tourism is the choice of many tourists when coming to Tuyen Quang. Let's join Vinlove to name the ecotourism destinations that are attracting many visitors to Tuyen Quang right below the article.
Na Hang Hydropower Lake
Na Hang Hydropower Reservoir is located in the area of ​​two districts of Na Hang and Lam Binh. This place is about 100km from the city center, so moving to this tourist destination in Tuyen Quang is also very convenient and not too difficult. Coming to Na Hang Hydropower Lake, you will feel very relaxed mentally. Because the scenery here is always filled with eye-catching green colors and always gives you a fresh and cool atmosphere to rest. Anyone who comes to Na Hang to travel has the same feeling that they should go here to travel in the summer. Because summer is the time when this place has beautiful natural scenery and it is also the time when the water season comes back.
At the time of autumn, Na Hang Hydropower Lake has very cool weather, so traveling will also be very pleasant. This time is very convenient for visitors to go to more places without feeling tired because the weather is neither too hot nor too cold. If you go in the wintertime, you will be able to admire the wonderful natural scenery that is engulfed in a white mist that covers everywhere. The feeling of being immersed in the sky and in the vast nature will make you feel very interesting. It seems that the soul also becomes more open, relaxed, and refreshing.

Address: Located on Gam river, in Vinh Yen commune and Na Hang town, Tuyen Quang province
Boat rental price: From 100,000 VND – 200,000 VND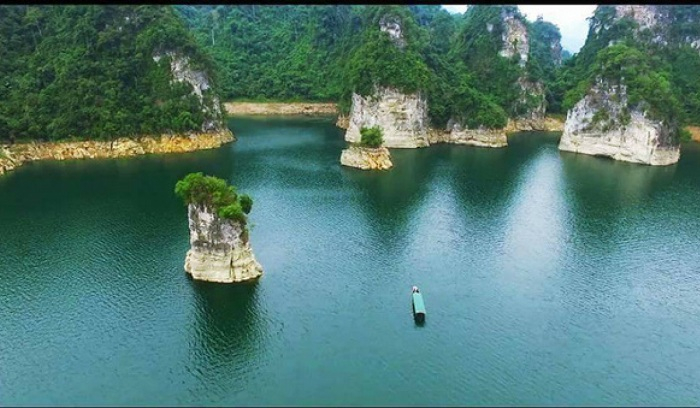 Na Hang hydroelectric lake bed
Majestic Waterfall
If you have the opportunity to come to Tuyen Quang, remember not to miss the opportunity to visit the majestic Mo waterfall . This is a waterfall with attractive beauty that many people liken it to a soft, flowing cloud of hair. At the foot of the waterfall is a small clear lake. If you are adventurous, you can dive to the bottom of the lake to admire the magical caves with stalactites of all shapes.
In the middle of the mountainous landscape, you will be led to visit this waterfall on a small canoe. The feeling will be refreshing, comfortable and pleasant. In particular, when you come here, you will find the spirit of joy, optimism and love of life more.
Coming to Mo waterfall , you will no longer have to wonder what is beautiful about Tuyen Quang? Because of the beautiful natural scenery here plus being able to freely soak in the cool and soothing water will make you not want to leave. You will feel more relaxed in this trip.

Address: Dream waterfall in Na Hang town, Na Hang district, Tuyen Quang province
When you come here, you only need to spend 20-30,000 VND to park your car when you come to Thac Mo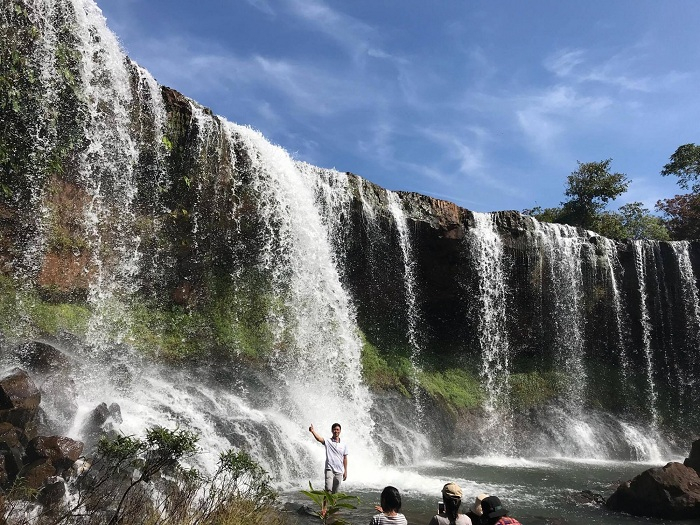 Mo Waterfall, Na Hang
Ban Ba ​​Chiem Hoa Waterfall
Coming to Chiem Hoa district, Tuyen Quang, you absolutely cannot ignore an ideal place called Ban Ba ​​waterfall . This place will bring you an interesting discovery journey. Because to be able to conquer this waterfall, you will have to overcome 3 cascades. Although it is not too steep, it is also very difficult because you will have to cling to the rock to climb up. A special feature of this tourist destination is that the boundary between each cascade will have a small puddle. This is a place where you can enjoy swimming and cool off.
Besides, coming to Ban Ba ​​waterfall, you can stop to rest at real houses of indigenous people and enjoy special dishes such as coriander, grilled stream fish, lam rice, hill chicken… the taste of the mountains and forests of Tuyen.

Address: about 40 km from the center of Vinh Loc town, Chiem Hoa district, Tuyen Quang province
Entrance ticket price: 30,000 VND/pax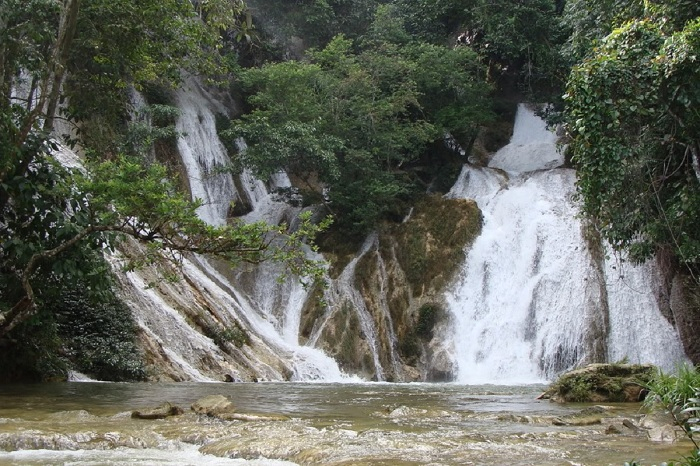 Ban Ba ​​Waterfall
Tan Trao relic in Son Duong
When asked what is beautiful in Tuyen Quang? Just go to Son Duong and you will have the answer. Because in Son Duong district, there is a famous Tan Trao relic site that is known by many tourists. Therefore, if you want to learn about the cultural and traditional values ​​of Tuyen Quang province, do not miss this place.
Previously, Tan Trao was the revolutionary base and the place where historical events of our nation took place. It was the witness for the historic event that marked the victory of the August Revolution in 1945. At this historic site, you will have up to 17 monuments to explore. In which, there are famous names such as Tan Trao communal house, Hong Thai communal house or Na Lua shack, Tan Trao banyan tree, Hang Bong shack. These are all historical relics marking the resistance war of our nation. Do not forget to visit the Tan Trao tourist site when you come to the majestic Tuyen Quang piece, rich in revolutionary traditions.

Address: Tan Trao Commune, Son Duong District, Tuyen Quang Province
Ticket price: 20,000 VND/person.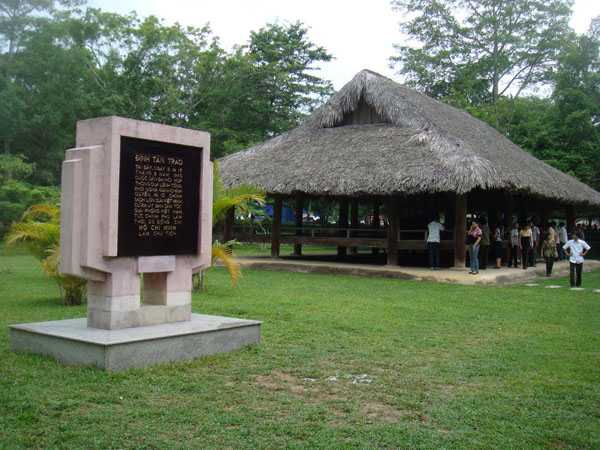 Tan Trao relic site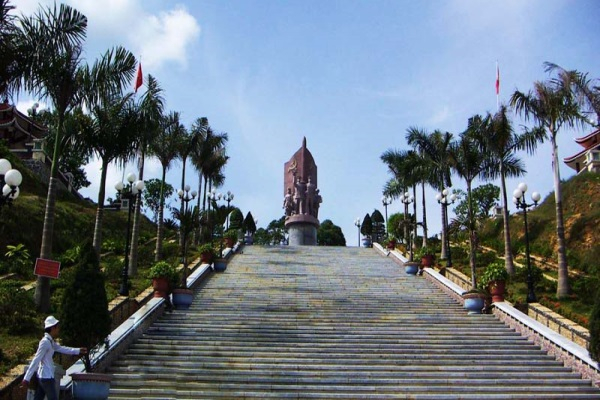 Cultural and traditional attractions
My Lam Mineral Spring
My Lam Mineral Spring is a certain resort destination you should not miss when visiting Tuyen Quang. With 2 mineral bath facilities with modern equipment, located in the middle of hot water mines, in the planning area of ​​entertainment and resort areas of My Lam mineral spring tourist area.
Currently, My Lam Mineral Spring is expanding the types of tourism services to serve tourists:- Indoor mineral bath.- Group mineral bath, family (8-10 people).- Mineral mud bath- Therapy, massage.- Recreational activities: tennis, football, community activities, campfire.- Providing tourism products: specialties of the mountains, medicinal products. , pure mineral water is bottled on modern lines.

Asia Hotel with luxurious and comfortable equipment, rich products and services in operation has contributed to providing high-quality tourism products and services for visitors to My Lam Mineral Spring. .
Comfortable bedroom
Mineral water swimming pool;
Mineral bath tub, jacuzzi bath;
Medicine bath – sauna massage
Serving food and entertainment
Rent a conference hall, wedding party… very convenient.
Address: Phu Lam Commune, Yen Son District, Tuyen Quang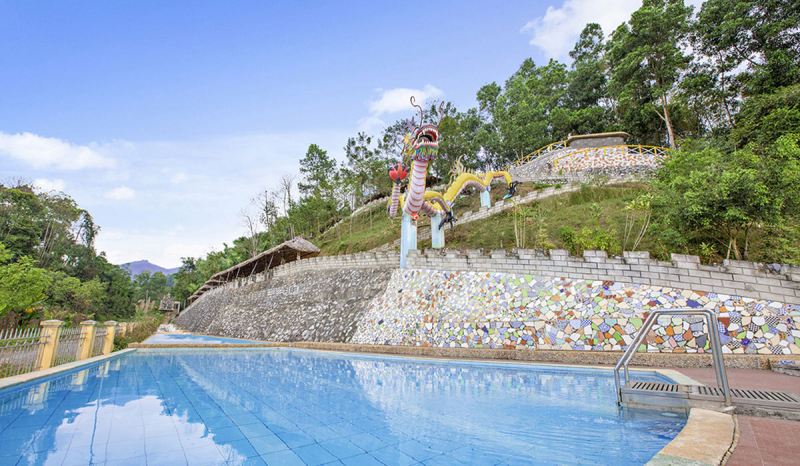 My Lam Mineral Spring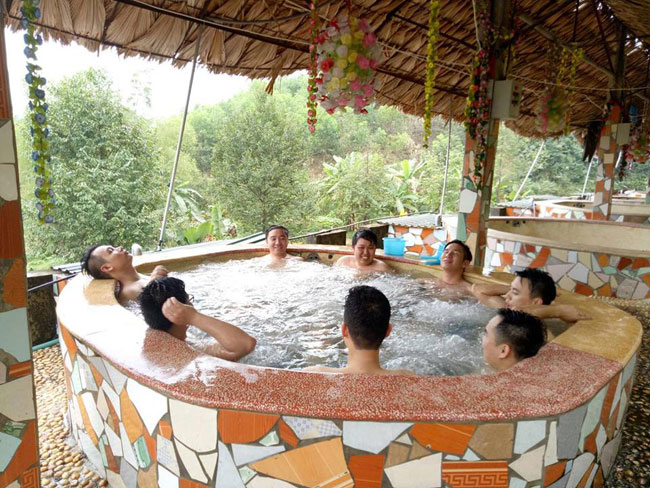 Refreshing resort service
Tien Cave – The 2nd Phong Nha Ke Bang of Vietnam
As a beautiful cave complex located in Thong Nhat village, Yen Phu commune, about 60km from Tuyen Quang city, Tien cave is also a good suggestion for your trips to Tuyen Quang. With the beauty bestowed by nature, this cave is considered as the second Phong Nha Ke Bang cave of Vietnam. You just need to go along Highway 2 to the North to reach the Tien cave complex.
The stalactites are millions of years old, with all different shapes to create a unique scene that will make visitors admire. Tien cave has three gates, located 300m from the foot of the mountain, the road is winding and complicated, but when you admire the scenery in the cave, all fatigue will disappear. The cave has a very large area with a capacity of up to thousands of people. The feeling of breathing the fresh air and receiving the cool breeze gently swaying is great. It helps to make your mind more relaxed and peaceful, lighter.
Address: Thong Nhat village, Yen Phu commune, about 60km from Tuyen Quang city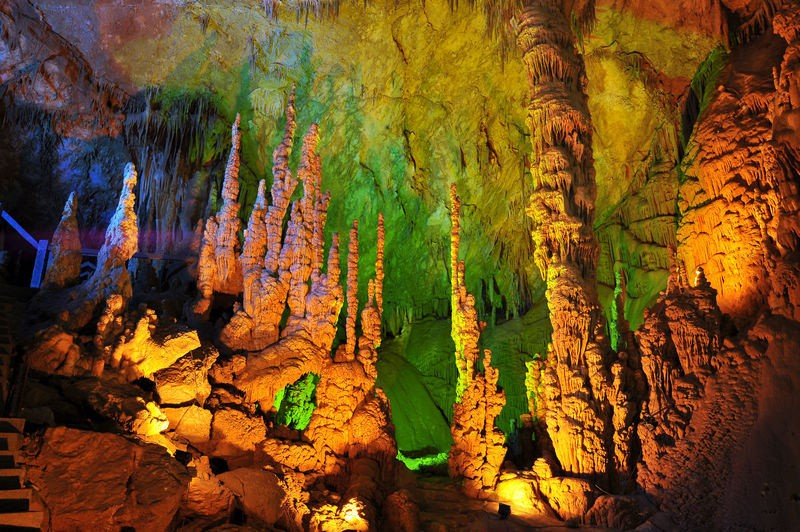 Fairy Cave
Song Long Cave
Along with the above places, Song Long Cave is also an ideal choice favored by many tourists. To get to Song Long Cave , visitors will take about 3 hours by canoe on Tuyen Quang hydroelectric lake.
This is a beautiful cave on a rather large scale, possessing many stalactite columns with unique shapes, chosen by many tourists to visit. Song Long cave is over 200 m from the water surface of the hydroelectric lake, the cave is about 40 m high, about 50 m wide, and over 200 m deep. In the cave, there are many stalactite columns with interesting shapes, sparkling colors like diamonds, the cave is divided into many successive compartments, attracting visitors.

Deep inside the cave, you will see in cave there are many stalactite columns with many different and unique shapes, along with impressive sparkling colors. Song Long Cave is an ideal choice for those who love the wild and mysterious features of nature. Therefore, Song Long Cave is one of the fanciful Tuyen Quang tourist destinations that you should visit when you have the opportunity.
Address: Khuon Ha commune, Na Hang district, Tuyen Quang province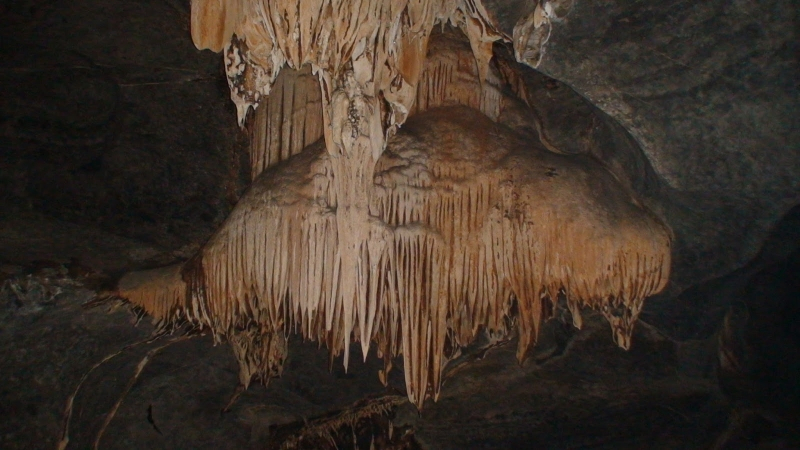 Song Long Cave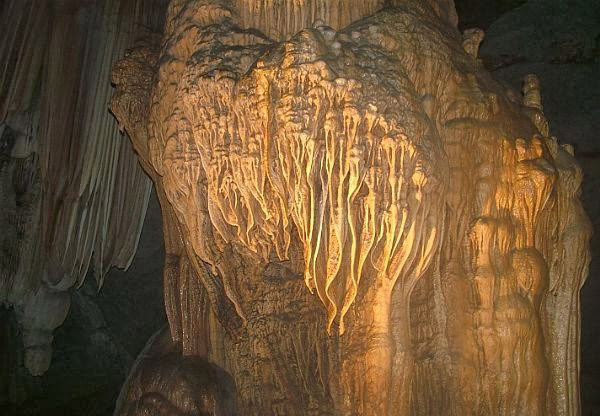 Song Long Cave
Ho Khon
Ho Khon is also a place that attracts many tourists to visit. Coming here, you will be floating on the lake, or drop yourself in a quiet space to relax. Not only has potential for tourism, Khon Lake is also known as a place to supply freshwater fish of the district. Thai Son cooperative in the area has released many types of fish such as carp, drift, tilapia, carp… Annual fish production is about 30 tons. This is a model combining tourism and local commerce. The space around this area is not too busy and noisy, so it is suitable for tourists of all ages.
Ho Khon is located in Thai Son commune (Ham Yen), about 6 km from the district center, the traffic is quite convenient to move. Khon Lake has an area of ​​​​more than 47 hectares of water surface, Khon Lake has many large and small islands scattered creating a beautiful landscape and attractive to tourists. Tourists often come here to take pictures, watch the green nature and relax by taking a boat ride on Khon Lake, visitors will see the pure beauty that nature has bestowed on the lake. In addition, Khon Lake is also an ideal place for picnics and picnics on holidays.
Address: Thai Son, Ham Yen, Tuyen Quang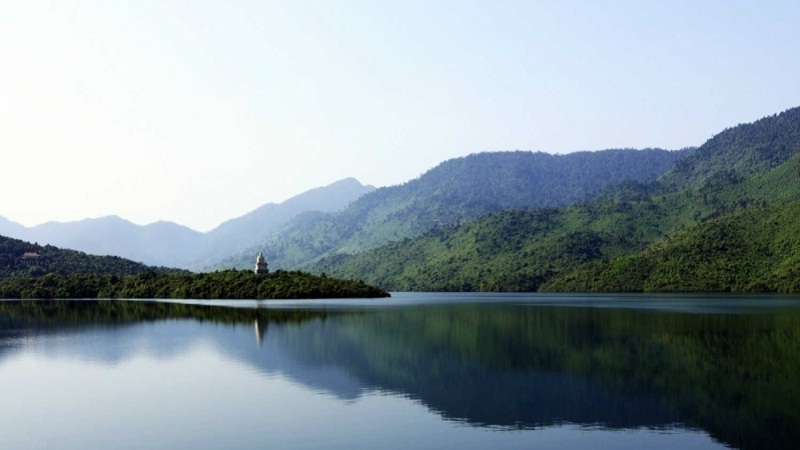 Ho Khon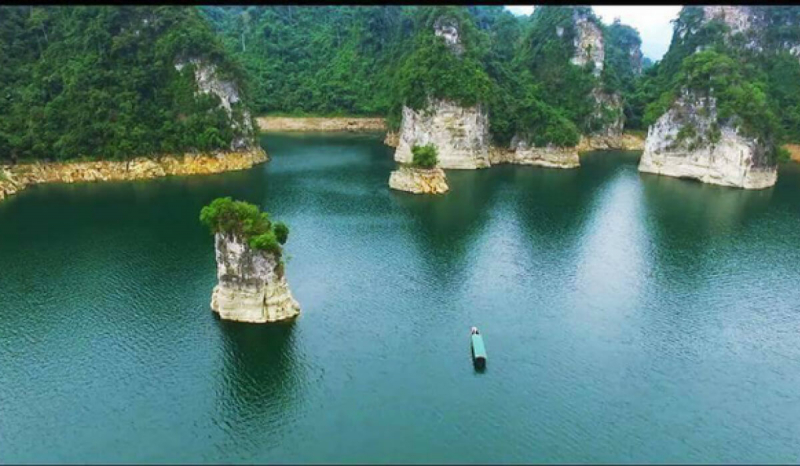 Illustration
Pac Ta Mountain
Pac Ta Mountain is a famous eco-tourism site in Tuyen Quang. Pac Pa Mountain is also known by other names such as Xa Ta Mountain, Vi mountain, known as the highest mountain in Na Hang district, Tuyen Quang. Pac Ta Mountain has a unique shape like a big elephant with wine, tourists come here to admire a lot. Standing tall, majestic, hiding and appearing in the clouds beside Tuyen Quang hydropower reservoir, Pac Ta mountain is an inspiration for writers, artists, tourists to compose poetry, painting and photography.
Boat dock at the foot of the mountain, where life takes place most crowded. It is the intersection between the stillness of heaven and human activity. Here is the place to exchange goods, and where the fishermen catch fish and bring them together at this marina. Today, Pac Ta mountain is an attractive tourist destination for tourists, who can take a cruise on the lake bed to visit hydroelectric projects, go to the temple to burn incense to pray or experience eco-tourism for many days in the primeval forests. born. Coming to Tuyen Quang, you will be floating on the charming Na Hang lake, watching the strange shape of Pac Ta mountain and mysterious caves.
Address: Na Hang District, Tuyen Quang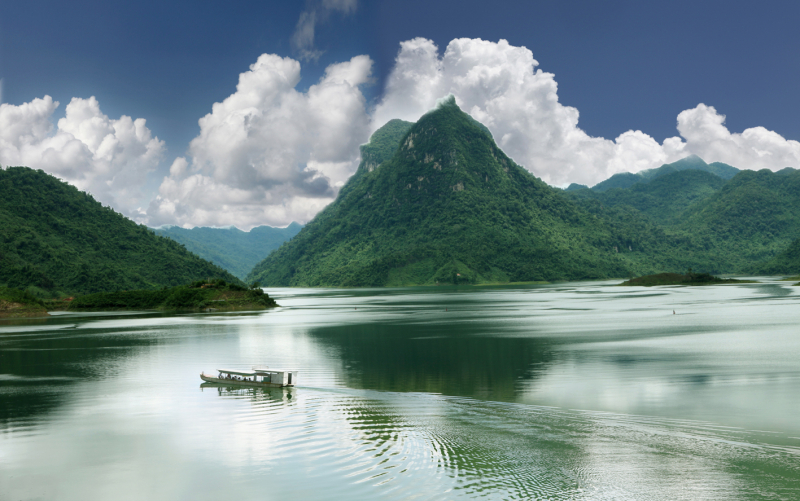 Pac Ta Mountain
You have discovered many Thai tourist attractions in Tuyen Quang, do not miss any tourist attractions that Vinlove has just introduced to you. You will surely have a wonderful experience.
You might be interested in