In addition to the famous Hue beef noodle soup, mackerel vermicelli in Da Nang or vermicelli with seasoning in Quang Nam are also popular with diners.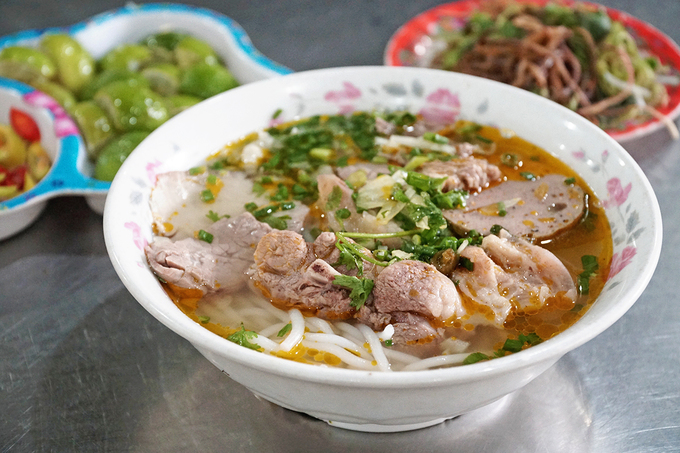 Bun bo
 was once recognized by the late famous chef Anthony Bourdain as one of the best dishes in the world. Other locals call it Bun Bo Hue to indicate the place of origin of the dish, while in Hue locals call it Bun Bo or Bun Bo with Pork. Hue people believe that a standard pot of beef vermicelli should have "clear broth, with the sweetness of the stew bone and the mild aroma of lemongrass and a very characteristic taste of fish sauce". In the bowl of beef vermicelli, besides beef, pork, and pig's blood, there are also crab cakes, some places are replaced with beef balls or silk rolls according to the preferences of diners. The dish is served with raw bananas, bean sprouts and herbs. Photo: Di Vy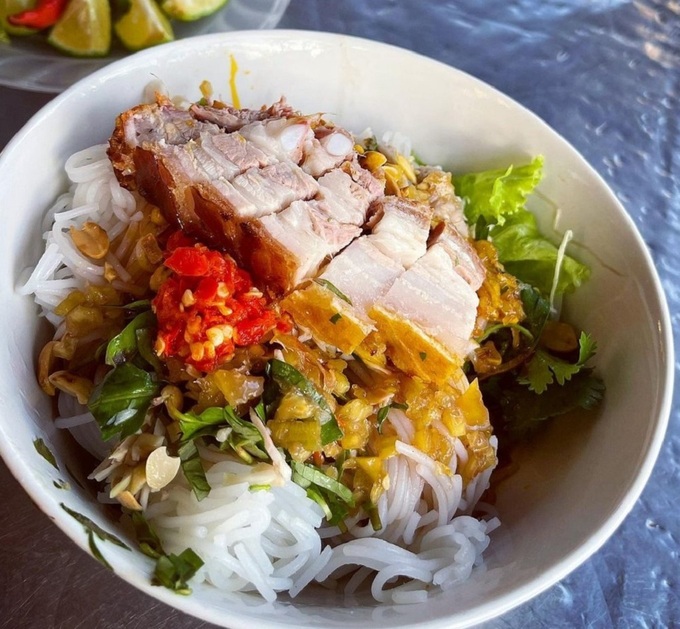 Fish sauce is a popular condiment in the central provinces. In Da Nang, Quang Nam, 
vermicelli noodles are
 like a specialty that attracts customers with affordable prices with many quality restaurants. The bowl of vermicelli is rich in ingredients with fresh vermicelli served with boiled pork, spring rolls, and raw vegetables. In addition, the dish is also a combination of crispy roasted pork with sweet and chewy young jackfruit, delicious and cool raw vegetables, the greasy and aromatic taste of roasted peanuts, spicy chili sauce and the salty taste of seasoning fish sauce. Diners are also served with a plate of sweet and sour shredded papaya to make the dish more delicious. Photo: @cukhoaiiiiiiii/Instagram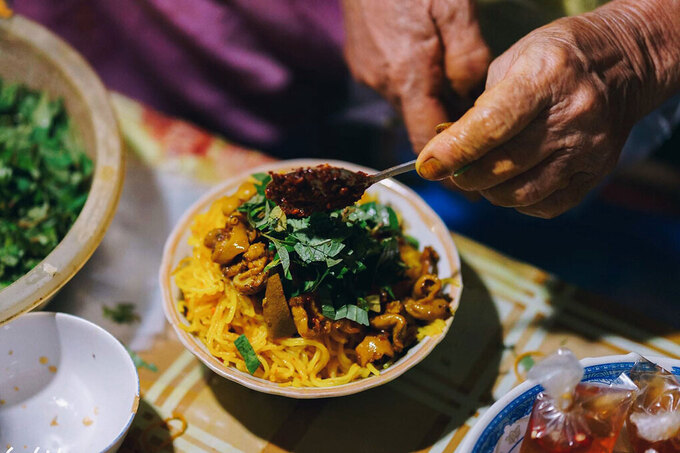 For Hue people, 
stir-fried turmeric vermicelli
 is not only a healing dish but also a popular afternoon snack, a dish with a pungent taste, suitable for eating on cold days. The dish does not have many ingredients but must be made carefully. Pork intestines are selected fresh and delicious, cleaned and then chopped, marinated with spices, fried, and fried with turmeric juice to have a golden color. The dish is served in a small bowl with fatty pork intestines, soft and fragrant vermicelli with laksa leaves and the spicy taste of chili and pepper… Photo: Visit Hue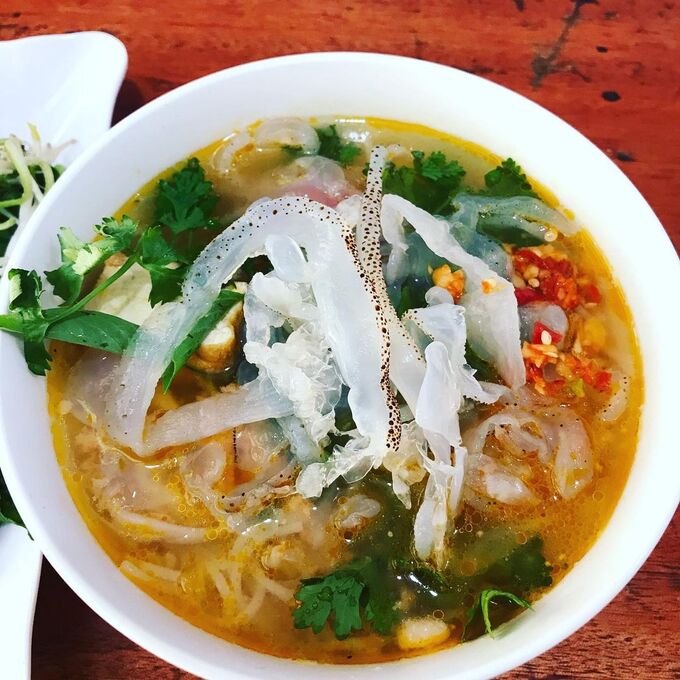 Jellyfish are abundant in the central seas such as Khanh Hoa, Binh Dinh, Ninh Thuan and are processed into many delicious dishes, including 
jellyfish noodles
 with a rich sea flavor. After catching, jellyfish are cleaned of oil and processed according to their own techniques and experiences. The jellyfish used to make this dish are usually small, milky white, and thick. An attractive bowl of jellyfish vermicelli with crispy pieces of jellyfish, with chewy, rich fish cakes, hot broth cooked from sweet sea fish. Photo: @phillipnguyen2811/Instagram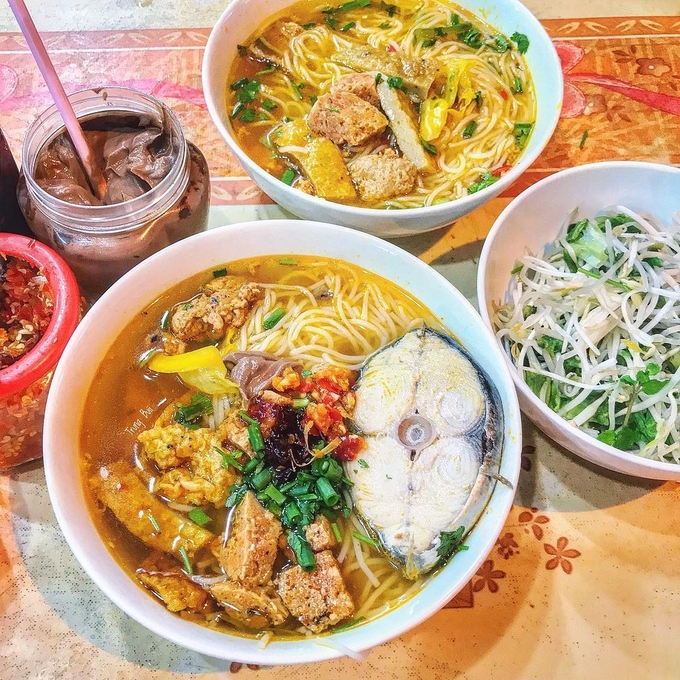 Fish vermicelli
 is also a favorite dish of diners from all over the world when coming to the Central region, especially in Da Nang, Khanh Hoa, and Ninh Thuan. The main ingredients of the dish are mackerel, tuna with sweet meat, cooked and then torn into small pieces or cut into thin slices. Vermicelli broth is cooked from fish bones or small fish to have a sweet taste, some places add pineapple and tomatoes to enhance the taste. Vermicelli with soft microfiber, filled with broth, added fish meat, fish cakes and eaten with herbs and raw vegetables. Photo: @ Trungbuii/Instagram.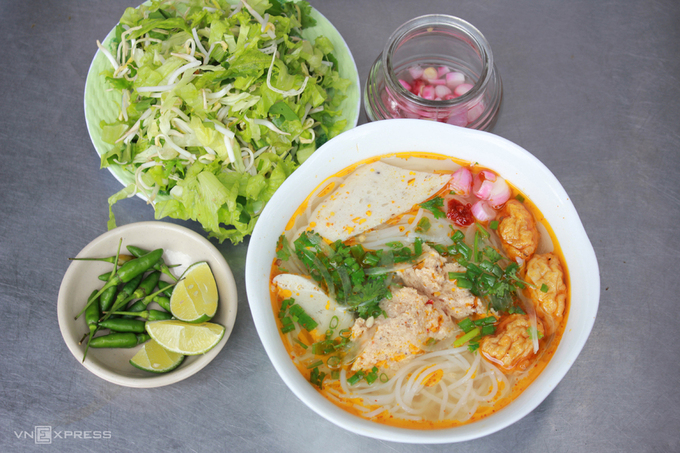 Similar to fish vermicelli, fish 
vermicelli
 in Quy Nhon, Binh Dinh has a broth made from sweet, non-fatty sea fish. The highlight of the dish is the bacon made from all kinds of sea fish such as barracuda, mackerel, termite, mackerel… The fish meat is pureed, marinated with spices according to a specific recipe and then steamed or fried. golden, rich in taste, each bowl of vermicelli has three different types of fish cakes. Fish noodle soup is often served with pickled purple onions, crispy and has no pungent smell. In addition to Quy Nhon, the fish noodle brand is also known in Nha Trang and Da Nang. Photo: Spirit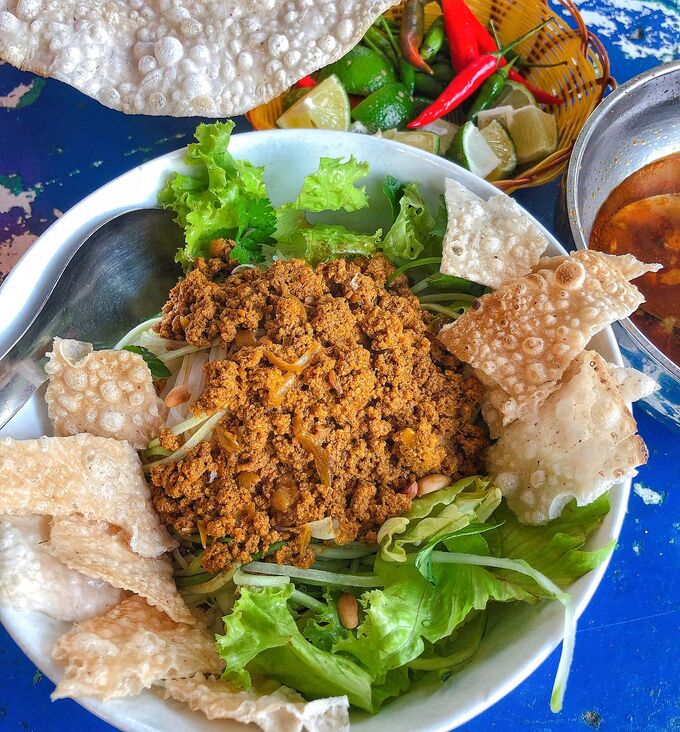 In Phu My, Binh Dinh, there is rice 
noodle
 dish that attracts diners with its fatty, meaty and delicious taste. Ram is a species of crab, with a hard shell, with sweet meat, pureed, filtered and cooked into fragrant scum. Vermicelli has more raw vegetables, grilled rice paper is placed in a bowl of fresh vermicelli, when eating, diners scoop the rice into the bowl little by little, fragrant rice water blends in each delicious vermicelli. Photo: @trangpinkyy/Instagram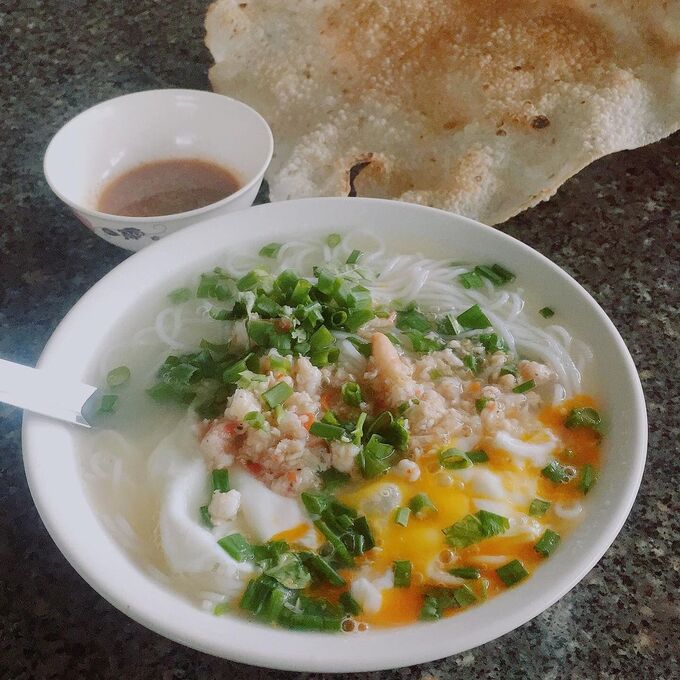 Binh Dinh 
shrimp vermicelli
 is the origin of the famous noodle dish in Phu Quoc, fresh ingredients are the highlight of this unique dish. The vermicelli is not ready-made, but when a customer calls, the new owner takes the dough and presses it into a stalk and runs straight into the pot of boiling water. Fresh shrimp, minced with a little salt, chili … then put in a bowl, add spices such as monosodium glutamate, fish sauce. At this time, the seller pours boiling water into the bowl to make the shrimp meat pale, then add vermicelli, remove cilantro, onions, and pepper until fragrant. Diners who like to eat eggs can add eggs to the beaten bowl. Served with fragrant crispy rice paper. Photo: @bgz.pomade/Instagram. Follow vnexpress
You might be interested in