KIEN GIANG – Bun trumpet Ha Tien is attractive with turmeric broth, sweet and fatty taste thanks to cooking from coconut milk and fish meat, served with raw vegetables.
The Southwest region has many delicious vermicelli dishes that are lined up as specialties. Going to Tra Vinh, tourists can eat vermicelli, visit Soc Trang to enjoy noodle soup, go to Can Tho to have vermicelli, go to An Giang to have fish noodles, and Kien Giang has famous noodle soup in Ha Tien area. .
Bun trumpet is a rustic dish, in the countryside, sellers carry vermicelli in their burdens to sell from house to house or display stalls at markets as a popular breakfast dish like vermicelli, broken rice, and porridge. Simple ingredients include fish, vermicelli, spices like turmeric, lemongrass, garlic… and importantly, coconut milk, this ingredient is the starting point for the name of the noodle dish. For the Khmer in the South, "trumpet" is the word for dishes cooked from coconut milk and has the yellow color of turmeric.
Bun trumpet dish in Ha Tien or Kien Luong, Kien Giang is not the same as vermicelli in An Giang cooked with snakehead fish, but uses an abundant and fresh source of sea fish such as barracuda, mackerel, and mackerel with sweet and chewy meat. . It is a popular dish, but in order to have a delicious bowl of vermicelli, you have to be meticulous about each stage.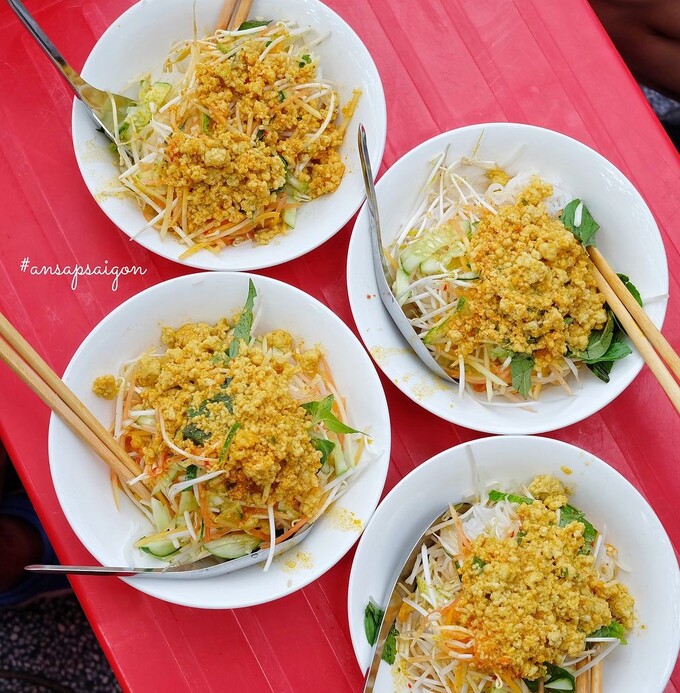 Bun trumpet costs from 20,000 VND to 25,000 VND per bowl, sold a lot in Ha Tien, Kien Luong, Phu Quoc in Kien Giang. Photo: @ansapsaigon/Instagram
Fish are bought from fresh catches of marine fish ashore, cleaned, cooked, and shredded meat. At this time, spices such as lemongrass, galangal, turmeric, chili are pureed and then fried, adding fish meat to the stir-fry, the five-spice powder can be added to increase the flavor. Grated dry coconut takes the rice and then squeezes the juice, adds warm water and then puts it in the pot of fish broth to cook, then puts the fried fish meat into the pot to cook, season to taste. The pot of trumpet water at this time has a beautiful yellow color with a subtle greasy smell of coconut milk.
The pot of trumpet water is always hot, when a customer calls, the owner quickly grabs a handful of raw vegetables of all kinds such as basil, laksa leaves, raw bean sprouts, cucumber, and shredded papaya to put underneath, the top is a layer of vermicelli. fresh. Then, the seller takes the patch and scoops out the sea fish that settles on the bottom of the pot, which has been cooked soft, soaks the flavor on top of the vermicelli, and then adds a little broth to spread it all over the bowl. The dish is well mixed, fresh, small noodles mixed with greasy bright yellow broth, alternating with soft sweet fish meat and crispy taste of vegetables, adding a piece of salty, spicy chili fish sauce that is even more attractive. .
You might be interested in