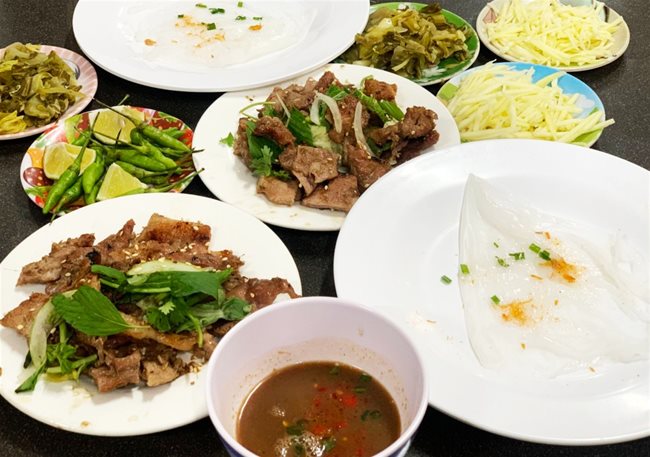 A roll of steam rice cake is filled with grilled meat, herbs and pickles
HCMC - Diners will first be served thin sheets of steamed rice cake and many plates of fillings such as grilled meat, herbs and pickles. Then comes the most challenging yet exciting moment of the meal: everybody present at the table will make rolls for themselves. This is the way to enjoy steamed rice cakes in Buon Ma Thuot City in Daklak, a province in the Central Highlands.
The dish in fact originates from the Imperial city of Hue. As far as its version in Buon Ma Thuot is concerned, it is enjoyed in a different way, though. The version is ideal for connoisseurs who like to make rolls by themselves.
Each thin sheet of steamed rice cake is topped with toasted shrimp flakes and chopped green onion oil. One plate with all the ingredients, including the rice paper, is for one roll only and will be served one at a time. Diners will pay for the number of plates at the end of the meal.
Fillings for these rolls are pickles, sliced young mangos, sliced cucumbers and herbs. But the dish cannot be fully enjoyed without grilled pork. Before the meal, the meat to be grilled must be marinaded for quite a while. A tasty slice of pork must be soft with good smell. Finally, the dipping sauce is indispensable. Diners can opt for fish sauce or mam nem (Vietnamese fermented anchovy sauce).
Buon Ma Thuot-style steamed rice cake with grilled meat is often available in evening.
You might be interested in