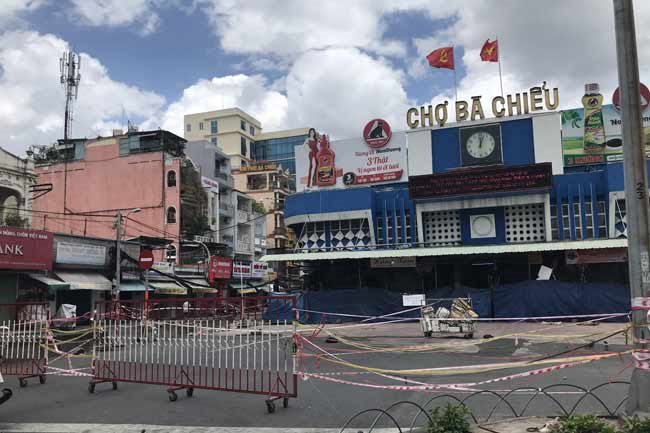 Ba Chieu Market in HCMC's Binh Thanh District is locked down as it is linked to Covid-19 cases. The city will resume the trading of essential products at traditional wet markets - PHOTO: THANH HA
HCMC – The HCMC government has directed the municipal Department of Industry and Trade, Thu Duc City and districts to resume the trading of essential goods at suspended traditional wet markets or nearby vacant sites.
The municipal government issued a document on August 9 enhancing the deployment of solutions to ensure the supply of food and essential products in the city, Tuoi Tre Online newspaper reported.
Accordingly, the Department of Industry and Trade was told to keep a close watch on the developments of the market and cargo production, distribution and circulation to prevent the scarcity of goods.
It was asked to continue market stabilization programs and boost the supply-demand connection.
It was also told to coordinate with districts to arrange sale points at traditional wet markets in line with the demands of districts and local residents, strengthen itinerant and online sale programs and enhance fresh food at convenience stores.
Moreover, the Department of Industry and Trade was told to check and instruct Thu Duc City and districts to operate traditional wet markets and goods supply points while meeting anti-pandemic requirements.
It was also asked to regularly keep a close watch on the operation of essential goods producers and coordinate with the competent agencies to remove the obstacles facing these enterprises.
The governments of Thu Duc City and districts will continue deploying the municipal government's directives on the operations of traditional wet markets if they meet safety standards.
The use of coupons should be amended to become more effective and match the capacity of goods distributors.
The city also asked distributors, such as Saigon Co.op, Satra, Lotte, Aeon, MM Mega Market, BigC, Emart and Bach Hoa Xanh, to coordinate with the local authorities to assess the local demand and increase the goods inventory and sale capacity.
They should also provide residents with information about the prices of products and packaging and delivery methods so that they can order products online to prevent large gatherings.
Due to the raging pandemic, all three wholesale markets, 201 of 234 traditional wet markets, supermarkets and convenience stores in HCMC have suspended their operations.
In some districts, all traditional wet markets have been closed, putting pressure on modern distribution channels and increasing the pandemic transmission risk.
Therefore, the resumption of essential goods booths at traditional markets is necessary.
You might be interested in