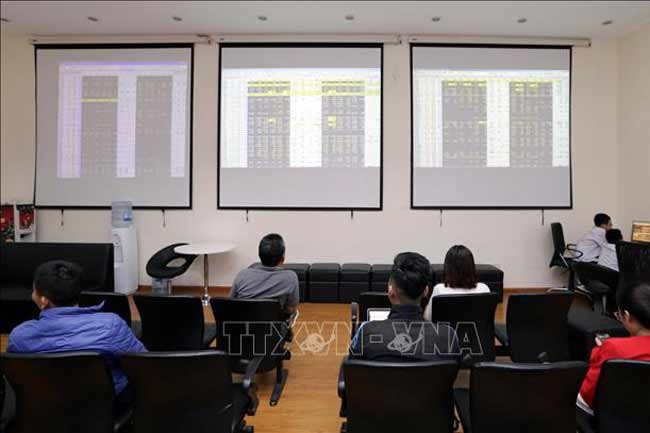 Investors monitor stock prices at Bao Viet Securities Company. The VN-Index of the Hochiminh Stock Exchange falls today, August 6, after nine rising sessions - PHOTO: VNA
HCMC – The selling pressure on many stocks, especially bank and securities ones, dragged the VN-Index of the Hochiminh Stock Exchange down today, August 6, ending its winning streak of nine sessions.
According to analysts, the stock market's correction after a long gaining streak was normal and the correction may last for one to two more sessions.
Closing the day, the VN-Index lost 4.1 points, or 0.3%, at 1,341.45 points, with 177 winning stocks and 200 losing ones.
There were nearly 736 million shares worth more than VND22.5 trillion changing hands, up 15.82% in volume and 16.47% in value compared with the session earlier. Over 54 million shares worth nearly VND1.8 trillion were traded in block deals.
Most of bank stocks on bourse inched down over 1% each, while STB and EIB dropped more than 2% each.
STB saw the largest decline among bank stocks, at 2.4%, and closed at its intra-day low, at VND30,300. However, it led the bourse in terms of liquidity with 30.92 million shares traded.
Securities stocks faced the same fate. Specifically, HCM and CTS slid 2.4% each, while VCI lost 2.5%.
Some other blue-chip stocks also extended their losses, such as GAS, GVR, HPG and MSN. Of which, rubber group GVR fell 1.9% to its lowest level of the day, at VND34,200.
On the other hand, housing developer VHM remained a bright spot as it gained 2% at VND113,900 and saw nearly 11.23 million shares matched.
On the northern bourse, the HNX-Index closed at its reference level, at 325.46 points. More than 135.3 million shares worth some VND3.2 trillion were transacted on bourse.
Three bank stocks helped save the market from a loss. Specifically, BAB ended the day at its reference price, SHB edged up a slight 0.7% and NVB expanded 1.2%.
In addition, construction firm VC3 surged to its ceiling price, and housing firm NDN soared 5.9% at VND21,600.
Meanwhile, securities stocks VND, SHS, MBS, BVS and ART fell some 3% each and APS, TVB and BSI lost over 1.7% each.
SHB was the most actively traded stock on the northern bourse with nearly 24 million shares transacted.
You might be interested in