Binh Thuan is not only Mui Ne, Phan Thiet, but also countless famous tourist attractions such as the beautiful beaches in Lagi that also make many tourists "drunk like a smoke".
Top 3 beautiful beaches in LaGi make tourists 'fatigued'

1. Cam Binh Beach
The famous beautiful beach in Lagi that almost everyone has heard of is Cam Binh beach located on Le Minh Cong street, in Mui Da village, Tan Phuoc commune, Lagi town, Binh Thuan province, and far from Saigon. about 160km.
Not only impressing with the clear and blue sea like the color of the sky, with sparkling white sand like hidden diamonds, with warm golden rays and gentle breezes shaking the green poplar, but Cam Binh Lagi is also extremely clean, making visitors fall in love.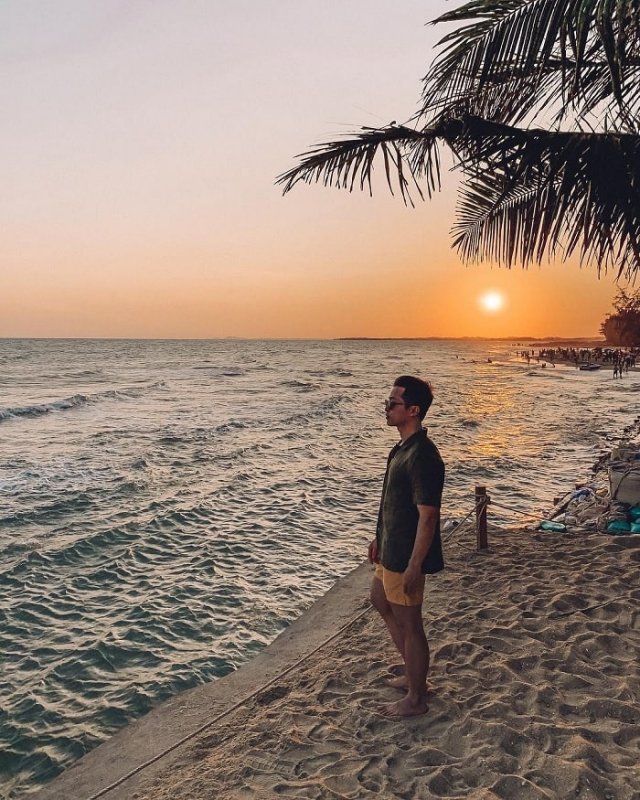 Beautiful sunset on the sea (Photo @extracheesepleez)
Yes! You are not mistaken, even though it is a famous tourist destination in Binh Thuan and welcomes hundreds of thousands of visitors every day, you will not be able to find a single piece of trash on the sea or on the sand. of this beautiful beach in LaGi and every few steps there will be a warning sign "do not litter". Thereby, we can see how admirable the management's dedication and sense of tourists here are.
Coming to Cam Binh, besides swimming, visitors will be able to participate in countless outdoor games such as windsurfing, kayaking, banana boating, scuba diving, fishing, playing beach volleyball or playing beach volleyball. mini football…and especially virtual living at the famous Coco Beach Camp .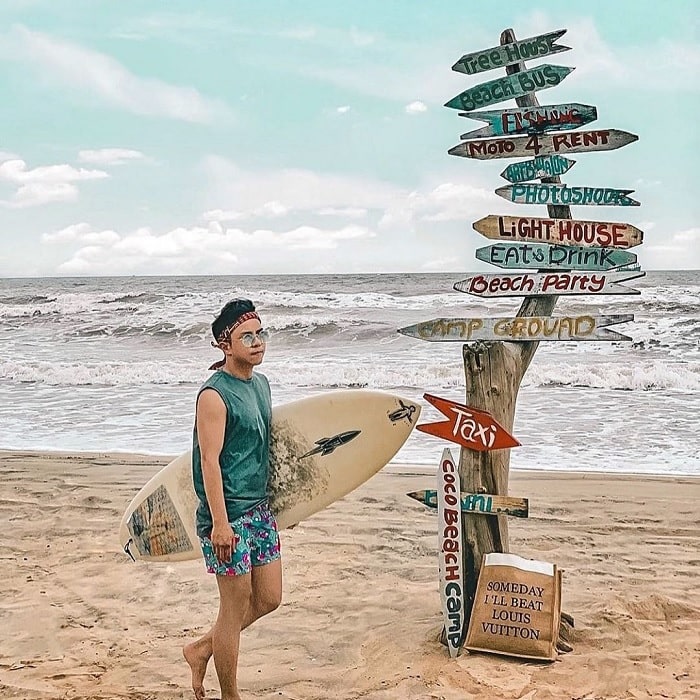 Windsurfing is a worthwhile activity in Cam Binh (Photo @liu.hi.tong)
Accordingly, colorful cotton lazy chairs are placed on the sand, wooden swings, a unique white mesh hoop, a row of colorful wooden houses with strange shapes, a camping car. Eye-catching yellow and blue mobile phones, antique phone booths or colorful Hawaiian-style bars…will definitely give you "lifetime" photos.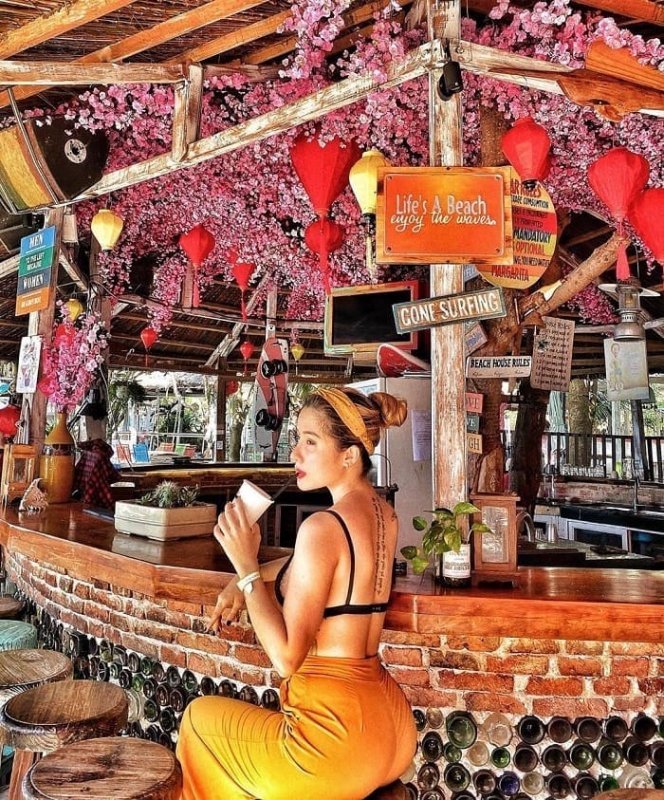 Exquisite virtual living bar (Photo @quynhbyty)
Another special feature that makes this famous beach in LaGi attract tourists is that right by the sea there are resorts, beautiful wooden homestays and unique white tents for visitors to rest overnight. so you won't waste time looking for a place to stay and have a memorable vacation already.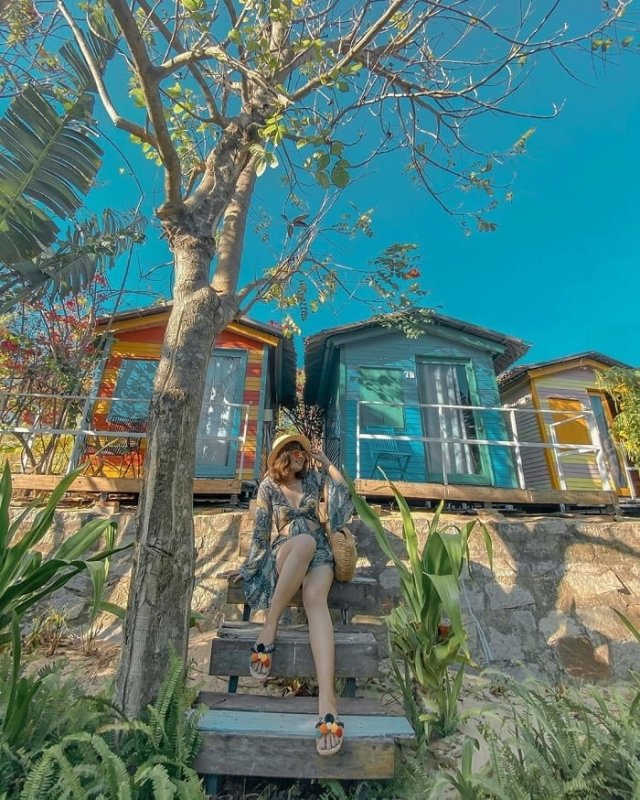 Rest place right by the beach (Photo @phannguyenminhthu2827)
2. Doi Duong Beach
The next beautiful beach in Lagi that you cannot ignore is Doi Duong beach located in Tan Binh commune, Binh Tan ward, Lagi town, Binh Thuan province and bordering Phan Thiet city. 
Not many people know, so this place is still quite wild, peaceful, and pure, but its beauty is also "not average" when the place is covered with a cool green color, from the sea and the sky. until the straight row of poplars standing solemnly on the beach, making us think that we are admiring a masterpiece oil painting.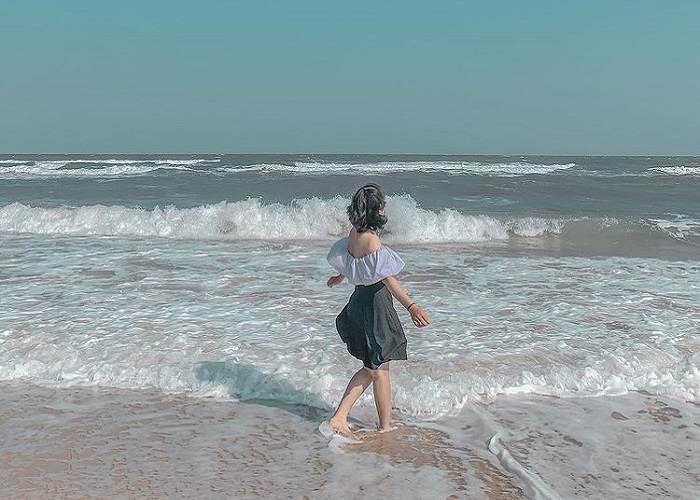 Unexpectedly blue sea water (Photo @iamnganblue_)
Coming to Doi Duong beach, you will be delighted to immerse yourself in the clear and cool water without fear of being disturbed and especially to sit under the blue canopies to enjoy the magical sunset or sunrise. shimmering like Phu Quoc in the cool breezes carrying the salty taste of the sea, making sure that all the troubles are washed away immediately.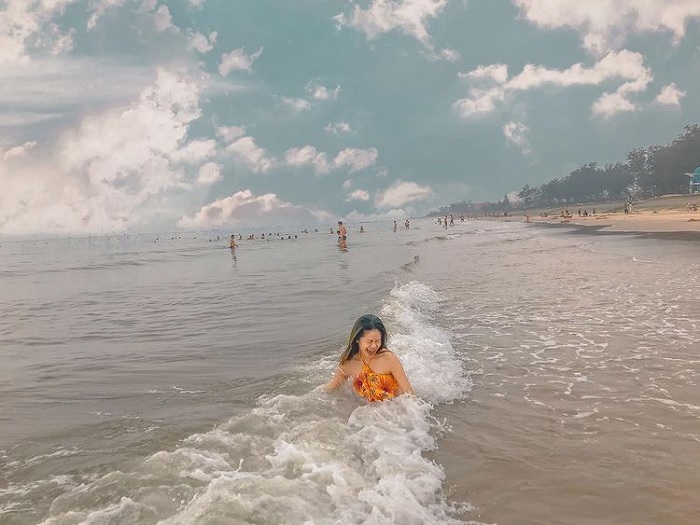 Take a shower here and get off the table (Photo @trthdieuhuyen)
In addition, do not forget to enjoy a "specialty" of this beautiful beach in Lagi , which is the beautiful little hawker stalls of the friendly ladies and gentlemen with countless attractive snacks such as rice paper. baked goods, egg rice paper, rice paper with fish sauce, can cake, fish salad, snail salad, mango and beef salad… super delicious and super cheap.
3. Tan Hai Beach
It would be a big mistake if, in the list of beautiful beaches in Lagi Binh Thuan , there is no Tan Hai beach, also known as Bai Dinh in Tan Hai commune, Lagi town, Binh Thuan province. Previously, this place was famous for a giant cliff shaped like a bird's beak jutting out into the sea, but over time, this cliff has been eroded and disappeared, leaving only a wild and quiet appearance. .
Tan Hai beach is also the least known beach in Lagi, but for those who have ever set foot here, it is impossible to forget the rolling hills embracing the curved beach, the green grass. and countless blooming flowers create a charming, strangely poetic scene.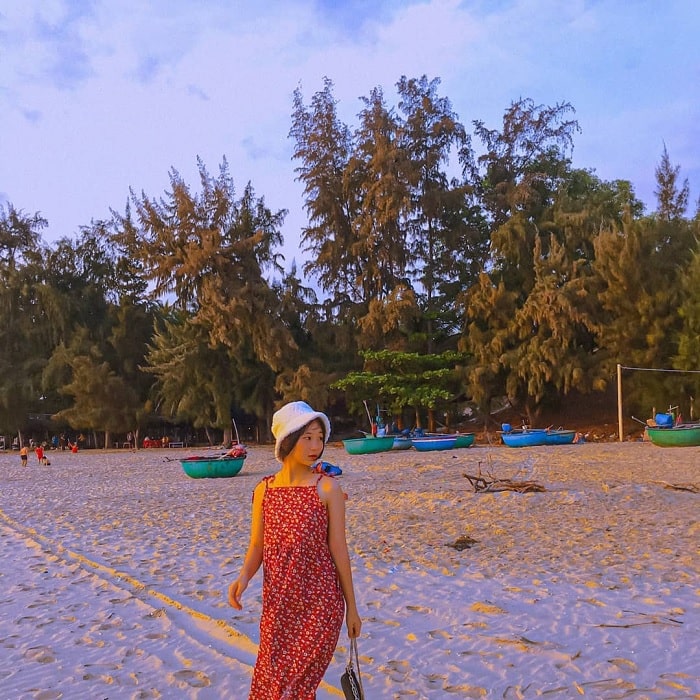 The scenery here is very peaceful and fresh (Photo @oreo.nee)
In particular, the waves here are much stronger than other beaches in Lagi , so it will be very suitable for thrill lovers who want to challenge themselves with a stimulating surf or free massage from the waves. the fee to relax.
Moreover, coming to Tan Hai tourism, visitors can also enjoy a lot of delicious and fresh seafood dishes that have just been caught such as: grilled sea urchin with onion fat, lobster, steamed king crab with salt and green chili pepper, and snails. Fried nails with butter served with bread, grilled squid with salt and chili sauce and crabs with spicy sauce… are prepared from the skillful hands of the fishermen here, will surely make you fall in love with your way home.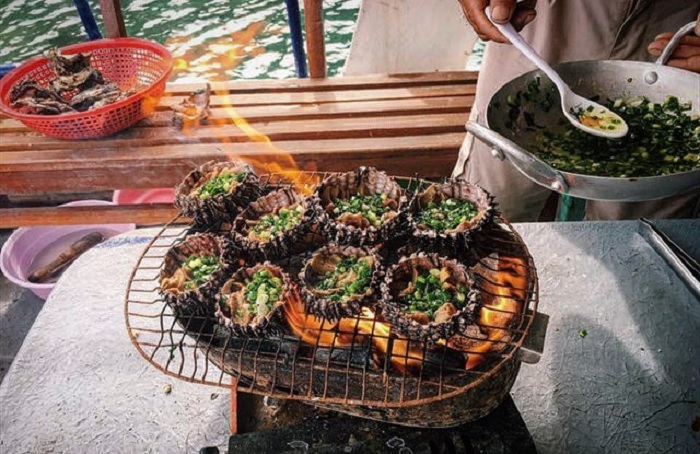 Barbecue here is super delicious (Photo @tramynguyen129)
Coming to Binh Thuan, do not only pay attention to Phan Thiet because the beautiful beaches in Lagi will also give you an extremely wonderful and memorable vacation.
Photo: Internet
You might be interested in