Parma ham, Italy
You can see this ham wrapped in pieces of cantaloupe, on crispy breadsticks, on top of pizzas, or on salad plates.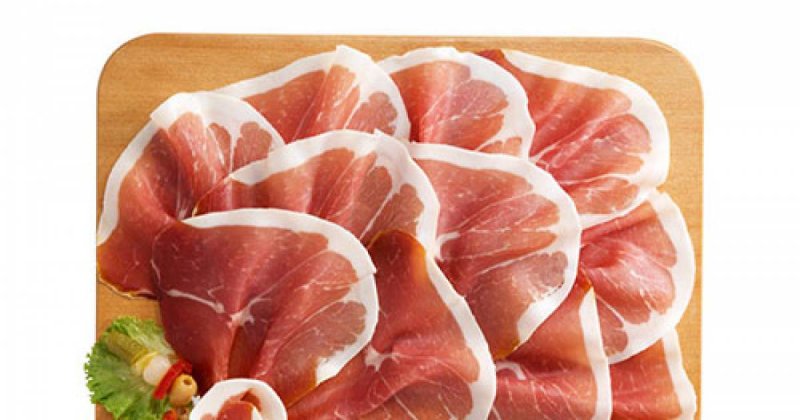 It is thanks to the salty taste of the thinly sliced ​​ham that enhances the flavor of the side dishes. Parma ham is only made from Duroc or Landrace pork. These specialists care for pigs, they only eat grain and are often fed whey to supplement them with calcium. The skin of the ham is moistly salted, and the meat is drily salted, and then they are stored in the refrigerator for about 1 week at 1-4 degrees Celsius, about 80% humidity.
Spring rolls, Vietnam
Goi Cuon is a snack made from pork, shrimp, fresh vermicelli, herbs, and some other ingredients. All wrapped in a thin layer of rice paper. This dish is served with sweet, salty, and sour dipping sauce and sprinkled with crushed peanuts.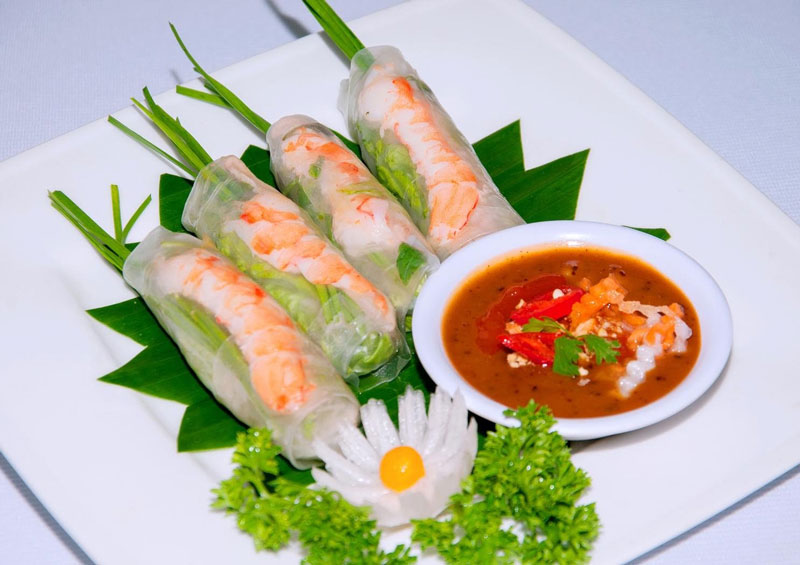 This is a dish that is considered healthy, safe and easy to use.
* Ingredients
– 200 gr shrimp
– 1 piece of bacon
– 1/2 pack of boiled vermicelli
– Thin rice paper is used to roll spring rolls
– Lettuce, herbs, basil, perilla, fish lettuce
– Some chives
– Less garlic, salt, pepper.
** Ingredients for the dipping sauce
– 1/2 cup of pho ( hoisin sauce)
– 1 onion
– 1 teaspoon peanut butter
– 1 little sugar Method
1. Shrimp with shell, wash with saltwater, Use a knife to separate the black sugar on the shrimp's back, minced garlic
2. Put the small pot on the stove, add the garlic, add the shrimp, stir with chopsticks, keep the heat low, (so the shrimp meat is still sweet, don't pour it over) water), use chopsticks to stir to prevent shrimp from burning, about 5 minutes take it out, sprinkle in a little salt, pepper, peel, cut shrimp in half or leave whole as you like.
3. Wash the chicken with salt, cook a pot of water in it, add ginger, wait for the water to boil, drop the chicken in. Boil the meat, slice it thinly or shred it, depending on your preference.
4. Bring the pot of water to a boil, put the vermicelli in it and boil it. Take out the vermicelli, drain cold water, then rinse with warm water to keep the noodles from sticking. Drain
5. Lettuce and herbs are picked, washed, and dried.
*** Roll the cake: Dip rice paper in warm water and wait for it to soften, add vegetables, vermicelli, roll 1 round. The second roll, arrange meat, and shrimp, fold the two ends of the rice paper, quickly roll your hands and cut your hands so that when eating vegetables, they do not fall out. Arrange the rolls on a plate.
**** How to make the dipping sauce:
1. Finely chopped pilgrimage. In a hot pan, add oil and fry the onions until fragrant, then add 1/2 cup of soy sauce and cook on low heat.
2. Stir-fry soy sauce with onions until fragrant, then add 1 teaspoon of peanut butter and one sugar, mix well, turn off the heat. It is recommended to keep the fire low and do it quickly so that the pho sauce does not burn. When eating, add peanuts and thinly sliced ​​carrots soaked in sugar vinegar.
Ohmi-gyu steak, Japan
The premium Wagyu beef from Japan's famous Takara farm has been recognized by the Japanese imperial palace as one of the largest sources of beef in the past 400 years.

This type of meat is often enjoyed as sashimi, drizzled with lime juice and green tea sea salt.
Pho "vietnamese
Pho is a traditional dish of Vietnam, can also be considered as one of the most typical dishes for Vietnamese cuisine. The main ingredients of pho are rice noodle soup and broth (or broth as it is called in the South) along with thinly sliced ​​beef or chicken. In addition, there are also spices such as: soy sauce, pepper, lemon, fish sauce, chili, … These spices are added depending on the taste of each user. Pho is usually used as a breakfast dish, or for dinner. In the southern provinces of Vietnam, pho is presented with additional ingredients called herbs such as onions, bean sprouts and the leaves of coriander and basil, in which coriander is the typical leaf of pho. Pho is usually beef noodle soup, but also chicken noodle soup, pork noodle soup, shrimp noodle soup, etc. Follow (nauan)
You might be interested in