Romantic golden-leaf roads like Korea are not uncommon along the S-shaped strip of land, but if you want to find a place with a romantic view like Jeju Island, you can only go to the Korean road in Phan Ri. Just Binh Thuan door.
Located in Thozoo Safari Reserve Game Lodge tourist area at km 63 on Hoa Thang – Hoa Phu road (province road 716B) – the most beautiful coastal road in Vietnam, 16km from Bau Trang and about Phan Ri Cua town center 5km has a poetic Love Road since its debut, which immediately caused a "fever" and became a hot hit virtual living spot of Binh Thuan.
The irresistible beauty of the Korean road in Phan Ri Cua
The Korean road in Phan Ri Cua welcomes visitors with the "fairy" beauty of one side of the towering mountains covered with green trees and the other side is the immense, clear and blue beach as if to mingle with The color of the sky makes us think that we are lost in Jeju Island – the paradise tourist island of Korea.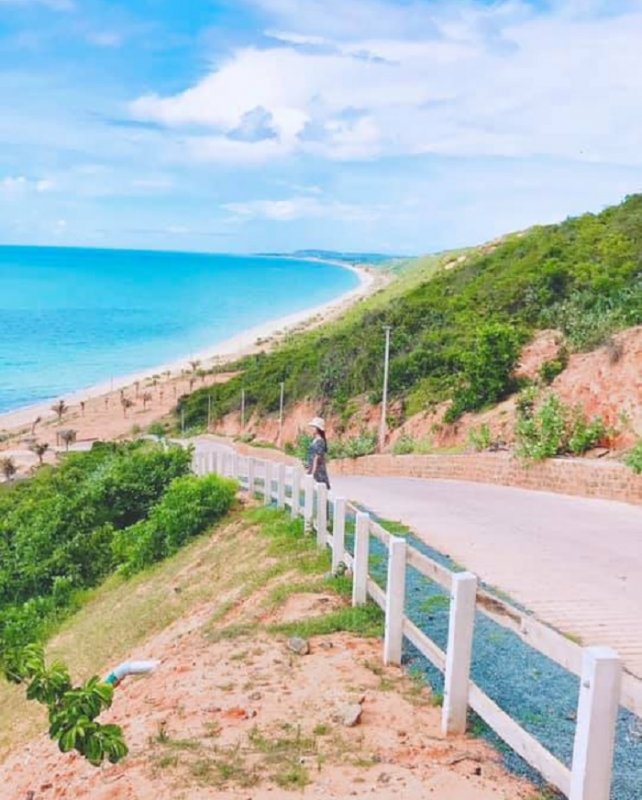 Beautiful scenery like paradise on Jeju Island (Photo Fb Bich Bo)
In particular, the side of the road is also placed a pure white wooden fence to protect the safety of visitors when traveling, but when combined with the fresh green color here, the clear white color of the sandy beach stretches far away. The sky below and the clouds floating in the sky above became such a beautiful scene that no words could describe it.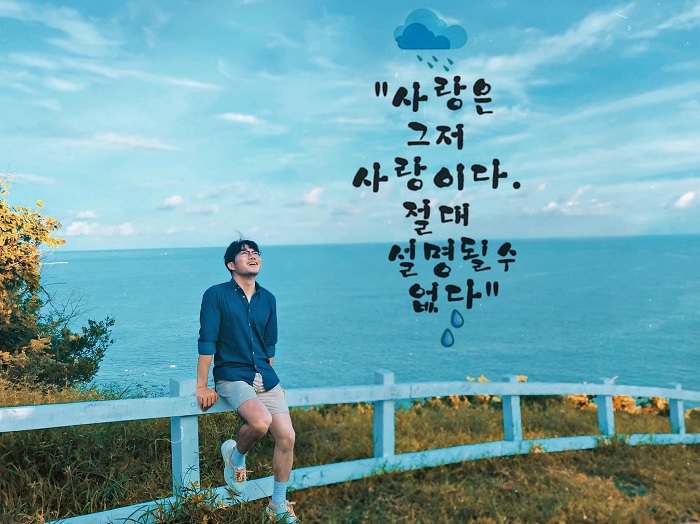 The fence increases the attraction of the road (Photo Facebook Duong Chien)
Moreover, each section on this Korean road in Binh Thuan has different unique features: the section is covered with green grass instead of dry concrete, the other is stylized by building a bridge fence. It is more exotic and sometimes reaches out to the sea to catch the wind and sky… giving visitors a lot of different emotions.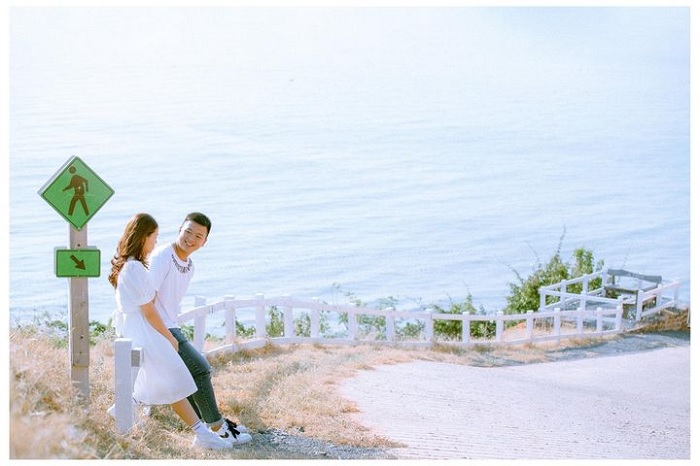 Each segment has different beauty (Photo FB Nguyen Thi Minh Hieu)
Great experiences at the Korean road in Phan Ri Cua
In a picturesque scene like this, it would be a huge omission if you didn't immediately raise your camera and make a few "flashes". Under the immensity of the sea and the sky and the endless road, it is guaranteed that no matter where you stand or any corner, you can "buy" a picture you like.
Make a picture as beautiful as a poster (Photo FB Ngoc Tuyen)
In particular, known as the road of Love in Binh Thuan , couples who are looking to keep wonderful love memories or bride and groom who want to have "great" wedding photos cannot miss it. Wherever you go, believe me, it will definitely be "peaceful" forever.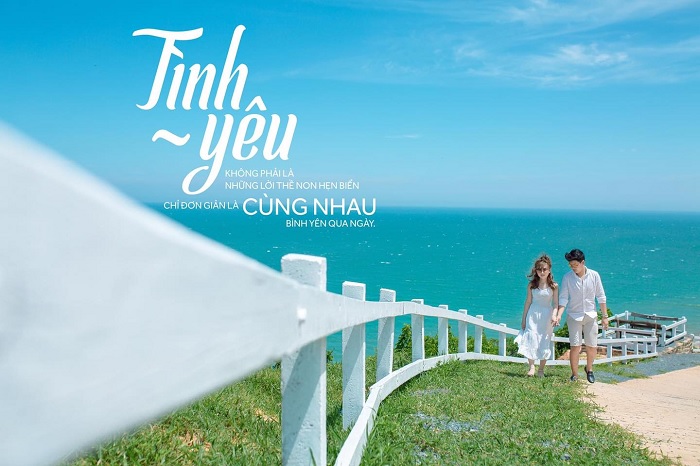 Take a couple photo here, the love will always be off the table (FB photo of Kendy Phan)
In addition, when walking here, you can also enjoy the fresh, fresh air of the trees, each cool breeze blending the typical salty flavor of the sea, listening to the sound of the waves lapping. shore like a melodious song and freely shout loudly to relieve all sorrows. And who knows, on that romantic journey, you may suddenly "bump" your life's destiny? Oh, just thinking about it makes my heart flutter.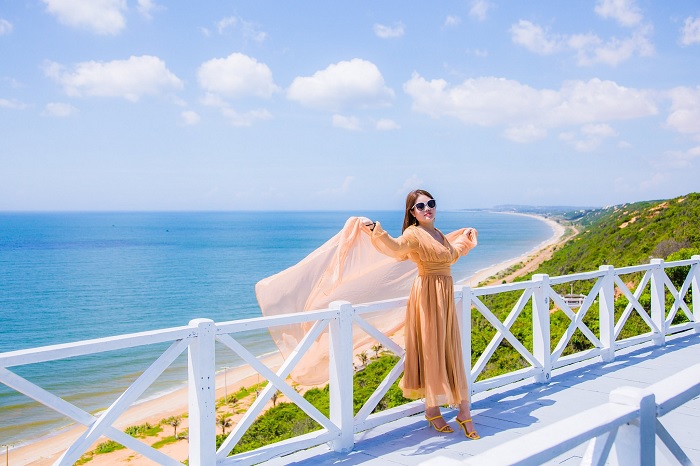 There is always a cool breeze above (Photo Fb Dinh Hieu)
Once you have set foot on the Korean road in Phan Ri Cua , do not forget to visit the famous Thozoo wooden bridge close to the sea near and far to live virtual and Thozoo Safari Reserve Game Lodge – a miniature desert between In the heart of Phan Thiet to enjoy interesting resort services such as: swimming in the sea, discovering wild animals, feeding star deer, camping fire and enjoying "delicious" dishes at the restaurant and outdoor cafe, will definitely be a great memory that you will never forget.
A few notes when visiting the Korean road in Phan Thiet
Fare: 
– Entrance (without bringing food) is 30,000 VND / person
– Day camping 50,000 VND / person
– Overnight camping is 80,000 VND/person
– If you book a table here, the entrance fee will be free
Virtual living:
– Should wear clothes with light, bright colors such as: blue, white, pink, light yellow … to tone sur tone with the background. Of course, don't forget to apply sunscreen, wear a wide-brimmed hat, bring a scarf and sunglasses to protect your skin and eyes, because Binh Thuan's sun and wind are also toxic "not the right form"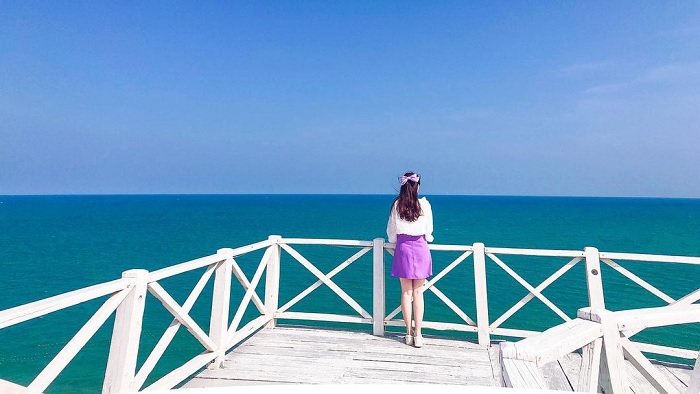 Light clothes will be very suitable (Photo @nguyenvanmaihuong)
– Should take a photo from afar to see the depth and length of the road of Love in Phan Ri Cua or take the back with the blue sky and sea to add a youthful look to the photo.
– If unfortunately, you come on a sunny day, the sky is cloudy, making the picture not exude "Korean features", you can intervene a little with editing tools such as Lightroom, Picsart, Snapseed, foodies…by increasing the light and applying a matte background, it's guaranteed to be flawless.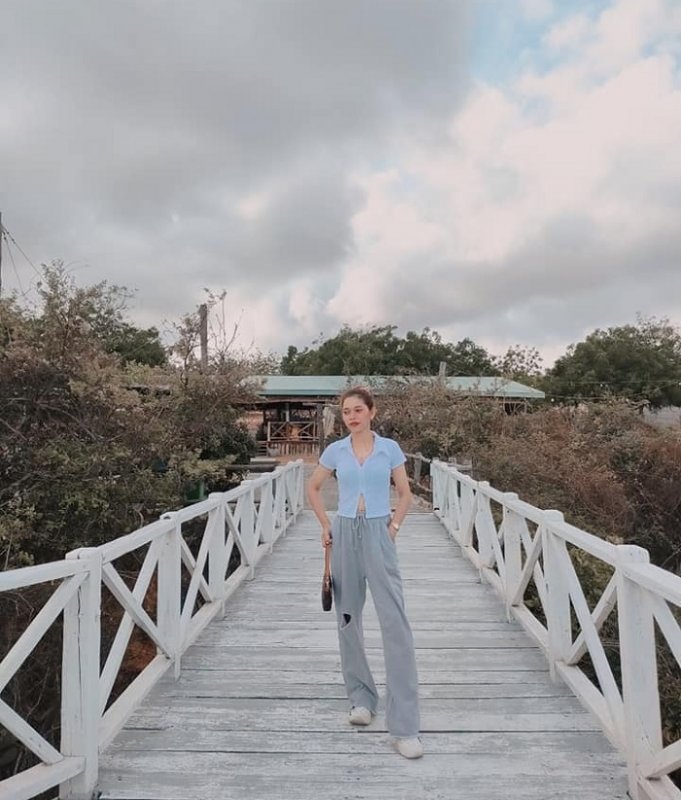 With a little color correction, it's like Korea right away (Photo Facebook Mai Nu)
If you are tired of crowded and noisy beaches, a peaceful and poetic sky on the Korean road in Phan Ri Cua is the ideal destination for your Binh Thuan trip .
Photo: Internet
You might be interested in